Return to Headlines
Weekly Message 11/20 - 11/24
Weekly Bulletin: 11/20 - 11/24
Desplácese hacia abajo para español
Hello Raven Families,
I hope you were able to enjoy the warm weather this weekend. We have a short week this week. School will be closed on Wednesday through Friday for the Thanksgiving holiday. Classes will resume on Monday, 11/27. Please see below for this week's updates.
New this week
Reflection
Thanksgiving is a time of reflection and gratitude. I am grateful for the opportunity to serve you and your students each day at Neuse River Middle School. If there is ever anything I can do to serve you, I am just an email or phone call away. I hope that you enjoy this time with your family and friends.
Athletics
Tryouts concluded on Friday, students will be notified by their coaches if they made the team.
Don't Forget:
There will be no school on Wednesday, November 22nd, the day before Thanksgiving. We hope you all have a great holiday with family and friends.
PTA News
Monday 11/20-Wednesday 12/13: Sam's Xpress Car Wash Fundraiser
Please support our NRMS PTA with a purchase of a gift card for any Sam's Xpress Car Wash. Please scan the QR code below to go straight to the link for online purchase. These make wonderful gifts for family and friends and can be used at any time of the year. Gift cards are sold for $20 (worth $25) and a percentage of all proceeds made go towards supporting our PTA. This helps PTA support the needs of our school. Link: nrmspta.memberhub.com. Purchased gift cards will then be delivered to the child's homeroom and or faculty box.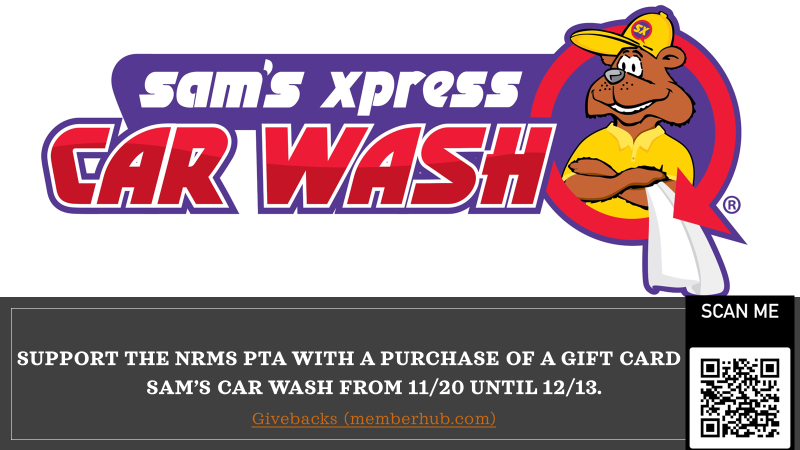 Wednesday 11/29: NRMS Spirit Night at Grand Street Pizza 4:30-9pm
Take a break from cooking & grab dinner at Grand Street Pizza on Wednesday, November 29th between 4:30-9pm. You definitely will want a change from Thanksgiving food so grab your pizza, calzones, strombolis, pastas, or subs! A percentage of the proceeds will benefit our NRMS PTA & towards supporting our school!
NRMS Spirit Night at Grand Street Pizza
Wednesday, November 29th
4:30-9:00pm
901 North Smithfield Road
Knightdale, NC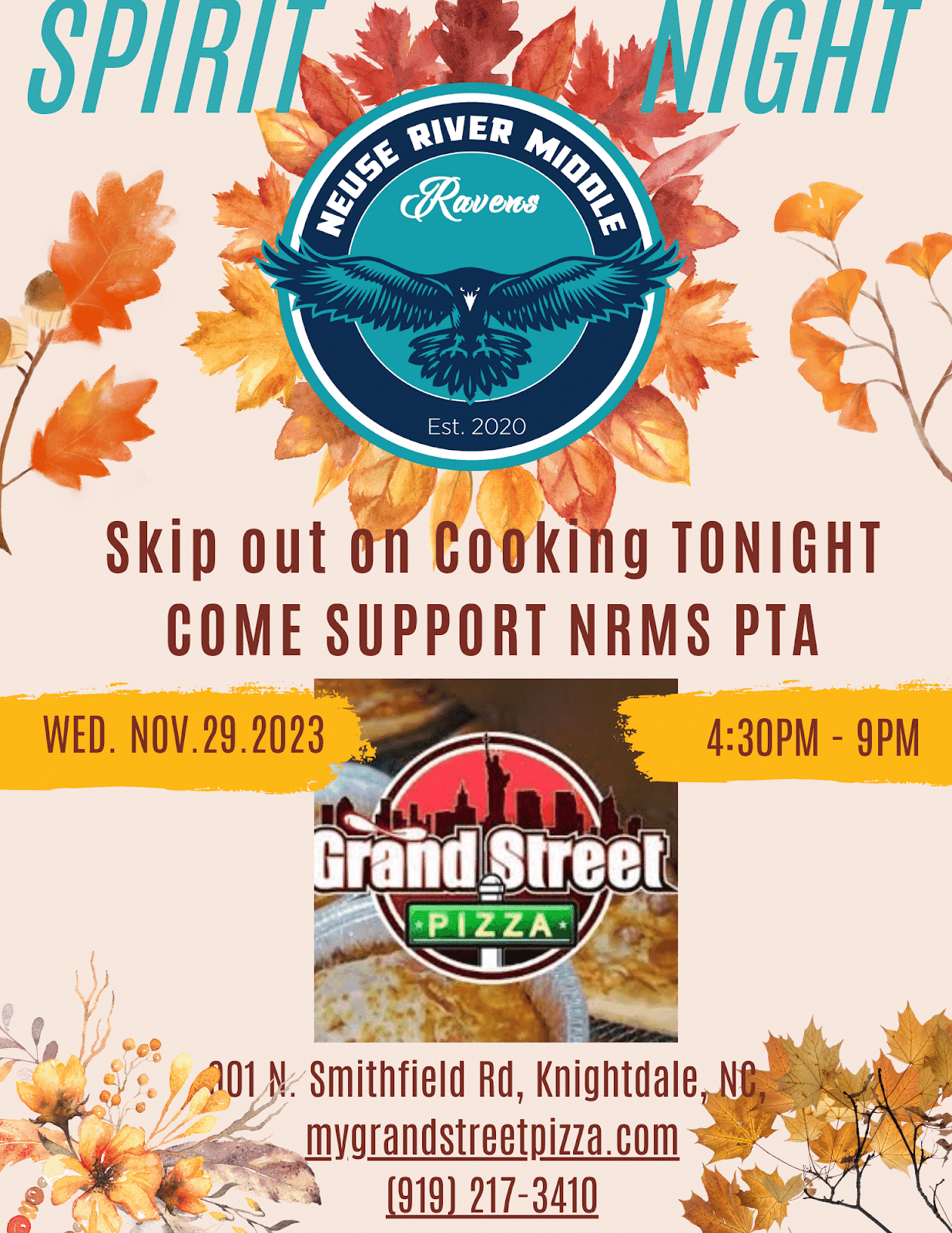 Monday 12/4: December Staff Holiday Celebration 2:30pm
NRMS PTA is hosting a staff holiday celebration for our awesome NRMS staff before winter break. We need any assistance with any food/drinks and or gift items we can raffle off. Gift items/gift cards should be delivered to the front office by Wednesday, November 29th and all food/drinks delivered by 12pm on Monday, December 4th. and Click on the link below and sign up for any slots if you can! We appreciate your generosity!
https://www.signupgenius.com/go/10C094EADA82BA4F85-46239350-holiday#/
Wednesday 12/6: PTA Meeting
Our next pta general meeting will be on Wednesday, December 6th from 6-6:30pm in the media center. We will set up a hybrid virtual option for those who can't make it in person & post the link later. This is open to all to attend! Please come out and hear about the latest pta happenings and areas where we can use your help! This meeting will be happening right before the band concert performance at 7pm. Again-we are having PTA general meetings every other month so please try to come if you can so you don't miss out!
Parent Interest Survey/Feedback
Our PTA would like your feedback! We appreciate any help through the school year. Most importantly, we want to know what you want! On the last section of the survey, you have the opportunity to list any topics that you would like addressed and resources you may need. We care about the needs of our parents, students, and staff so please share!
Please take a few min to fill the survey below.
https://forms.gle/uY2D6rzuuVsyjmjx9
Please email PTA at neuseriverpta@gmail.com if you have any questions.
Sincerely,
Bonnie Mwanda, Principal
Boletín Semanal: 20/11 - 24/11
Hola familias de Raven,
Espero que hayas podido disfrutar del clima cálido este fin de semana. Esta semana tenemos una semana corta. La escuela estará cerrada de miércoles a viernes por el feriado de Acción de Gracias. Las clases se reanudarán el lunes 27/11. Consulte a continuación las actualizaciones de esta semana.
Nuevo esta semana
Reflexión
El Día de Acción de Gracias es un momento de reflexión y gratitud. Estoy agradecido por la oportunidad de servirle a usted y a sus estudiantes todos los días en la escuela secundaria Neuse River. Si hay algo que pueda hacer para servirle, estoy a solo un correo electrónico o una llamada de distancia. Espero que disfrutes este tiempo con tu familia yamigos.
Atletismo
Las pruebas concluyeron el viernes y los entrenadores notificarán a los estudiantes si formaron parte del equipo.
No olvides:
No habrá clases el miércoles 22 de noviembre, el día antes del Día de Acción de Gracias. Esperamos que todos paséis unas estupendas vacaciones con familiares y amigos.
Noticias de la PTA
Lunes 20/11 al miércoles 13/12: Recaudación de fondos de Sam's Xpress Car Wash
Apoye a nuestra PTA de NRMS con la compra de una tarjeta de regalo para cualquier Sam's Xpress Car Wash. Escanee el código QR a continuación para ir directamente al enlace de compra en línea. Son regalos maravillosos para familiares y amigos y se pueden utilizar en cualquier época del año. Las tarjetas de regalo se venden por $20 (vale un valor de $25) y un porcentaje de todos los ingresos se destina a apoyar a nuestra PTA. Esto ayuda a la PTA a satisfacer las necesidades de nuestra escuela.
Enlace:nrmspta.memberhub.com. Las tarjetas de regalo compradas se entregarán en el salón de clases del niño o en el palco del personal docente.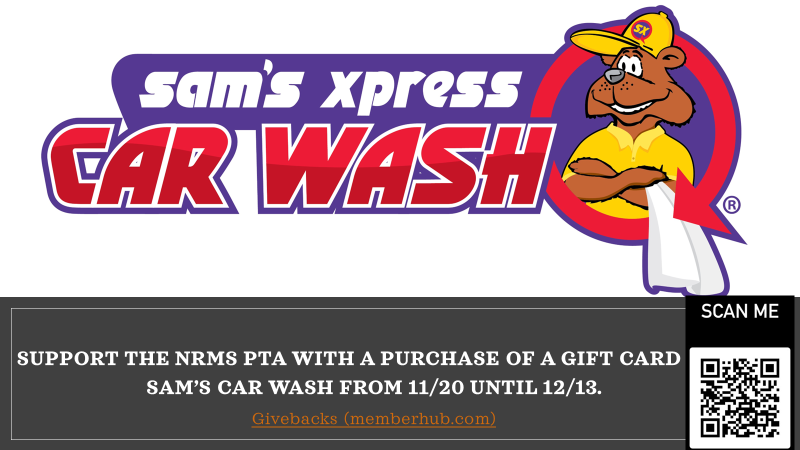 Miércoles 29/11: Noche de espíritu de NRMS en Grand Street Pizza 4:30-9 p.m.
Tómate un descanso de la cocina y cena en Grand Street Pizza el miércoles 29 de noviembre de 4:30 a 9:00 p. m. Definitivamente querrás un cambio de la comida de Acción de Gracias, ¡así que toma tu pizza, calzones, strombolis, pastas o sándwiches! ¡Un porcentaje de las ganancias beneficiará a nuestra PTA de NRMS y apoyará a nuestra escuela!
Noche de espíritu de NRMS en Grand Street Pizza
Miércoles 29 de noviembre
16:30-21:00
901 Norte Smithfield Road
Knightdale, Carolina del Norte, EE.UU.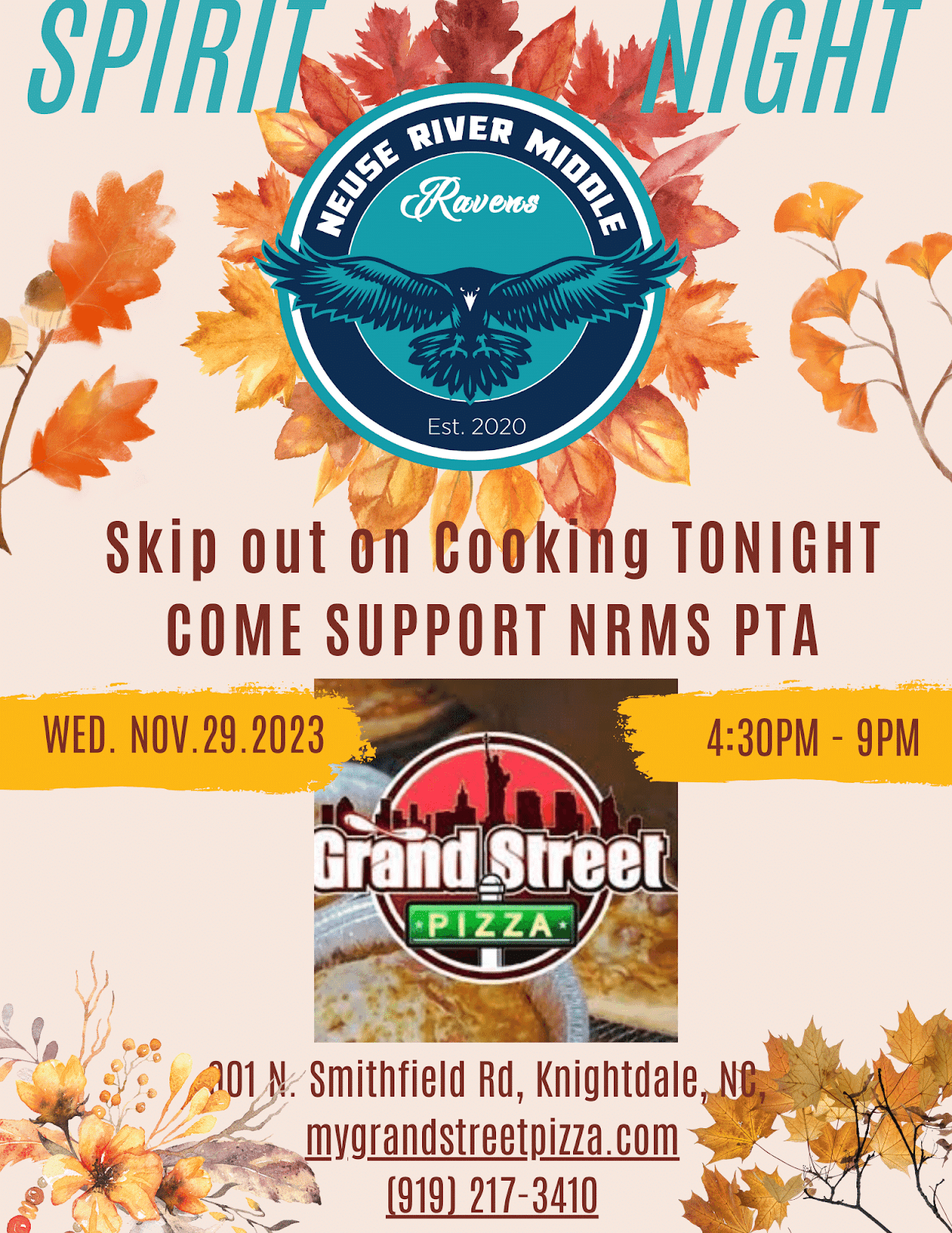 Lunes 4/12: Celebración del feriado del personal en diciembre 2:30 p.m.
La PTA de NRMS está organizando una celebración navideña para nuestro increíble personal de NRMS antes de las vacaciones de invierno. Necesitamos ayuda con cualquier comida/bebida o artículos de regalo que podamos rifar. Los artículos/tarjetas de regalo deben entregarse en la oficina principal antes del miércoles 29 de noviembre y todos los alimentos/bebidas antes de las 12:00 p. m. del lunes 4 de diciembre. ¡Haga clic en el enlace a continuación e inscríbase en cualquier espacio si puede! ¡Apreciamos su generosidad!
https://www.signupgenius.com/go/10C094EADA82BA4F85-46239350-holiday#/
Miércoles 6/12: Reunión de la PTA
Nuestra próxima reunión general de la pta será el miércoles 6 de diciembre de 6 a 6:30 p. m. en el centro de prensa. Configuraremos una opción virtual híbrida para aquellos que no puedan asistir en persona y publicaremos el enlace más tarde. ¡Esto está abierto a que todos asistan! ¡Ven y escucha los últimos acontecimientos de la pta y las áreas en las que podemos utilizar tu ayuda! Esta reunión se llevará a cabo justo antes del concierto de la banda a las 7 p.m. Nuevamente, tendremos reuniones generales de la PTA cada dos meses, ¡así que intente venir si puede para no perderse esta oportunidad!
Encuesta/comentarios sobre el interés de los padres
¡A nuestra PTA le gustaría recibir sus comentarios! Agradecemos cualquier ayuda durante el año escolar. ¡Lo más importante es que queremos saber lo que quieres! En la última sección de la encuesta, tiene la
oportunidad de enumerar los temas que le gustaría abordar y los recursos que pueda necesitar. Nos preocupamos por las necesidades de nuestros padres, estudiantes y personal, ¡así que comparta!
Tómese unos minutos para completar la encuesta a continuación.
https://forms.gle/uY2D6rzuuVsyjmjx9
Envíe un correo electrónico a la PTA a neuseriverpta@gmail.com si tiene alguna pregunta.
Atentamente,
Bonnie Mwanda, directora