Return to Headlines
Weekly Message 11/13 - 11/17
Weekly Bulletin: 11/13 - 11/17
Desplácese hacia abajo para español
Hello Raven Families,
Thanks to Ms. Brefka, Ms. Corey and Ms. Shore for organizing an outstanding house competition event for our students and staff last week! Be sure to ask your student which house they belong to and which house won the competition! The High Expectations subcommittee of our School Improvement Plan is planning more events to recognize our students for positively contributing to our school culture while having the chance to earn more points for their house! Stay tuned for details and how you might help! I hope you all had a great long weekend. We look forward to welcoming the students back to school on Monday! Please read below for updates.
New this week
Athletics
Winter Sports are right around the corner. Signups and tryouts will be held soon, more information to come. Congratulations to our Soccer, Volleyball and Football players for a great season! Go Ravens!
Beta Club:
Beta club will meet this week at 2:30 p.m. in the media center. Please make sure rides are here promptly at 3:30 p.m. to pick up your student.
NRMS Families, please support our Beta Club as they are hosting a clothing drive at the school with nonprofit Note in the Pocket thru Friday, November 17th. We have two collection bins outside the front of the school from M-F 7a-2pm available to drop off your clothing donations. Our students are trying to collect new or gently used hoodies, sweatshirts, & sweatpants. They also will accept any other clothing like tops/pants/coats/jackets & are collecting clothing for all ages, from infants to adults. These clothes will help clothe the homeless & impoverished families in need. So please share the message with others & help support their mission!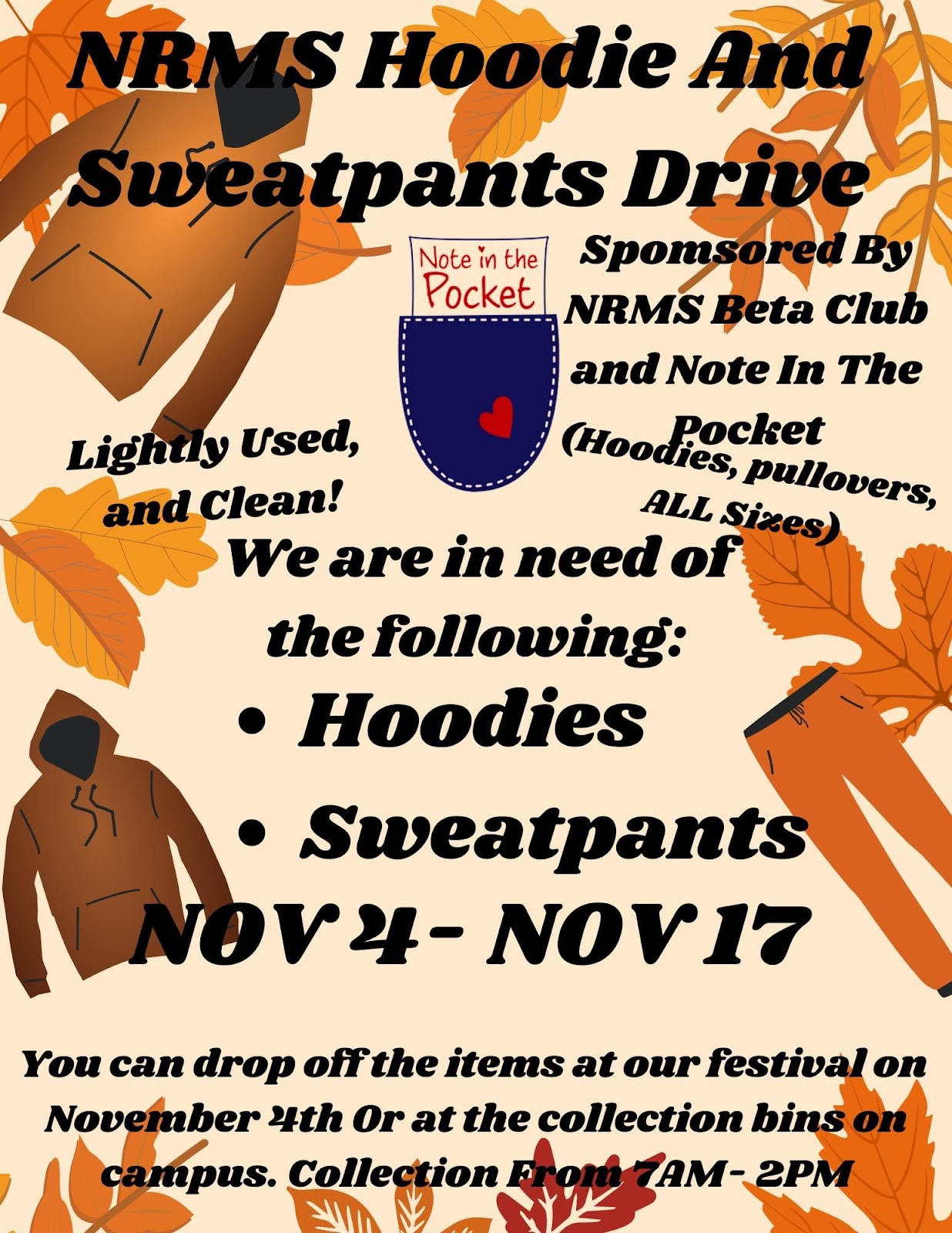 Bookfair:
Thank you to the PTA and all the volunteers that helped with the bookfair this past week. It was a huge success and we were able to raise a good amount of money to add some new books to our library!
Mark Your Calendars:
There will be no school on Wednesday, November 22nd, the day before Thanksgiving. We hope you all have a great holiday with family and friends.
Progress Reports:
Progress reports went home last week. Please make sure you ask your student for them, sign and return to your child's teacher. Please remember this is only a halfway mark for Quarter 2 and there is plenty of time for your child to turn in missing work. Please reach out to your child's teachers to schedule a conference or get more information on how your child is progressing through the standards.
PTA News
NRMS Spirit Night Wednesday 11/29
Take a break from cooking & grab dinner at Grand Street Pizza on Wednesday, November 29th between 4:30-9pm. You definitely will want a change from Thanksgiving food so grab your pizza, calzones, strombolis, pastas, or subs! A percentage of the proceeds will benefit our NRMS PTA & towards supporting our school!
NRMS Spirit Night at Grand Street Pizza
Wednesday, November 29th
4:30-9:00pm
901 North Smithfield Road
Knightdale, NC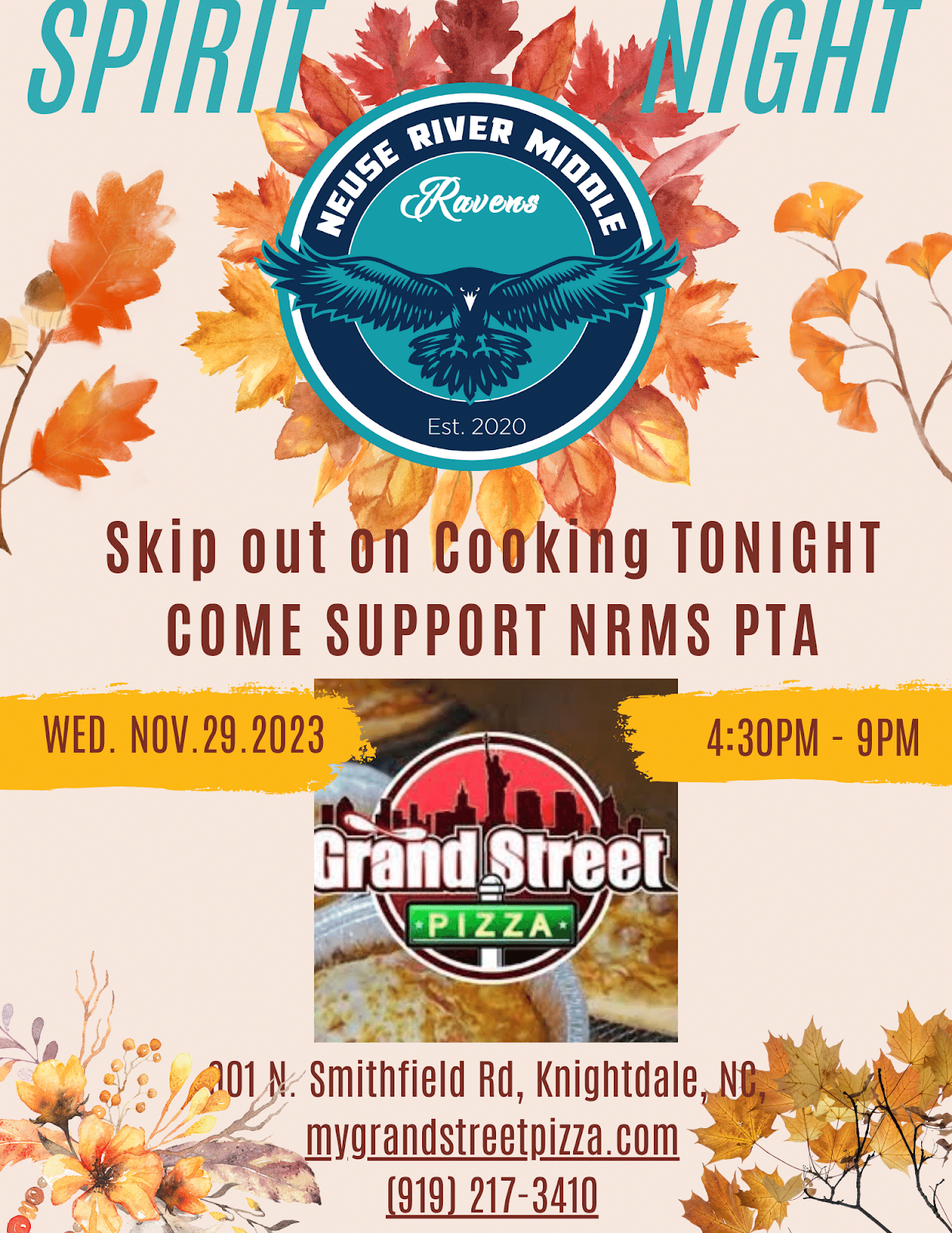 PTA Meeting Wednesday 12/6
Our next pta general meeting will be on Wednesday, December 6th from 6-6:30pm in the media center. We will set up a hybrid virtual option for those who can't make it in person & post the link later. This is open to all to attend! Please come out and hear about the latest pta happenings and areas where we can use your help! This meeting will be happening right before the band concert performance at 7pm. Again-we are having PTA general meetings every other month so please try to come if you can so you don't miss out!
Parent Interest Survey/Feedback
Our PTA would like your feedback! We appreciate any help through the school year. Most importantly, we want to know what you want! On the last section of the survey, you have the opportunity to list any topics that you would like addressed and resources you may need. We care about the needs of our parents, students, and staff so please share!
Please take a few min to fill the survey below.
https://forms.gle/uY2D6rzuuVsyjmjx9
Please email PTA at neuseriverpta@gmail.com if you have any questions.
Sincerely,
Bonnie Mwanda, Principal
Boletín Semanal: 13/11 - 17/11
Hola familias de Raven,
¡Gracias a la Sra. Brefka, la Sra. Corey y la Sra. Shore por organizar un excelente evento de competencia de casas para nuestros estudiantes y personal la semana pasada! ¡Asegúrese de preguntarle a su estudiante a qué casa pertenece y qué casa ganó el concurso! ¡El subcomité de Altas Expectativas de nuestro Plan de Mejoramiento Escolar está planeando más eventos para reconocer a nuestros estudiantes por contribuir positivamente a nuestra cultura escolar y al mismo tiempo tener la oportunidad de ganar más puntos para su casa! ¡Esté atento a los detalles y a cómo podría ayudar! Espero que todos hayan tenido un gran fin de semana largo. ¡Esperamos dar la bienvenida a los estudiantes a la escuela el lunes! Lea a continuación para obtener actualizaciones.
Nuevo esta semana
Atletismo
Los deportes de invierno están a la vuelta de la esquina. Las inscripciones y las pruebas se realizarán pronto; habrá más información próximamente. ¡Felicitaciones a nuestros jugadores de Fútbol, ​​Voleibol y Fútbol por una gran temporada! ¡Vaya cuervos!
Club Beta:
El club Beta se reunirá esta semana a las 2:30 p.m. en el centro de medios. Asegúrese de que los viajes lleguen puntualmente a las 3:30 p. m. para recoger a su estudiante.
Familias de NRMS, apoyen a nuestro Club Beta ya que están organizando una colecta de ropa en la escuela con la organización sin fines de lucro Note in the Pocket a través de Viernes 17 de noviembre. Tenemos dos contenedores de recolección afuera del frente de la escuela de lunes a viernes de 7 a. m. a 2 p. m. disponibles para dejar sus donaciones de ropa. Nuestros estudiantes están tratando de recolectar sudaderas con capucha, sudaderas y pantalones deportivos nuevos o en buen estado. También aceptarán cualquier otra prenda como blusas/pantalones/abrigos/chaquetas y están recolectando ropa para todas las edades, desde bebés hasta adultos. Esta ropa ayudará a vestir a las familias necesitadas y sin hogar. ¡Así que comparta el mensaje con otros y ayúdenos a apoyar su misión!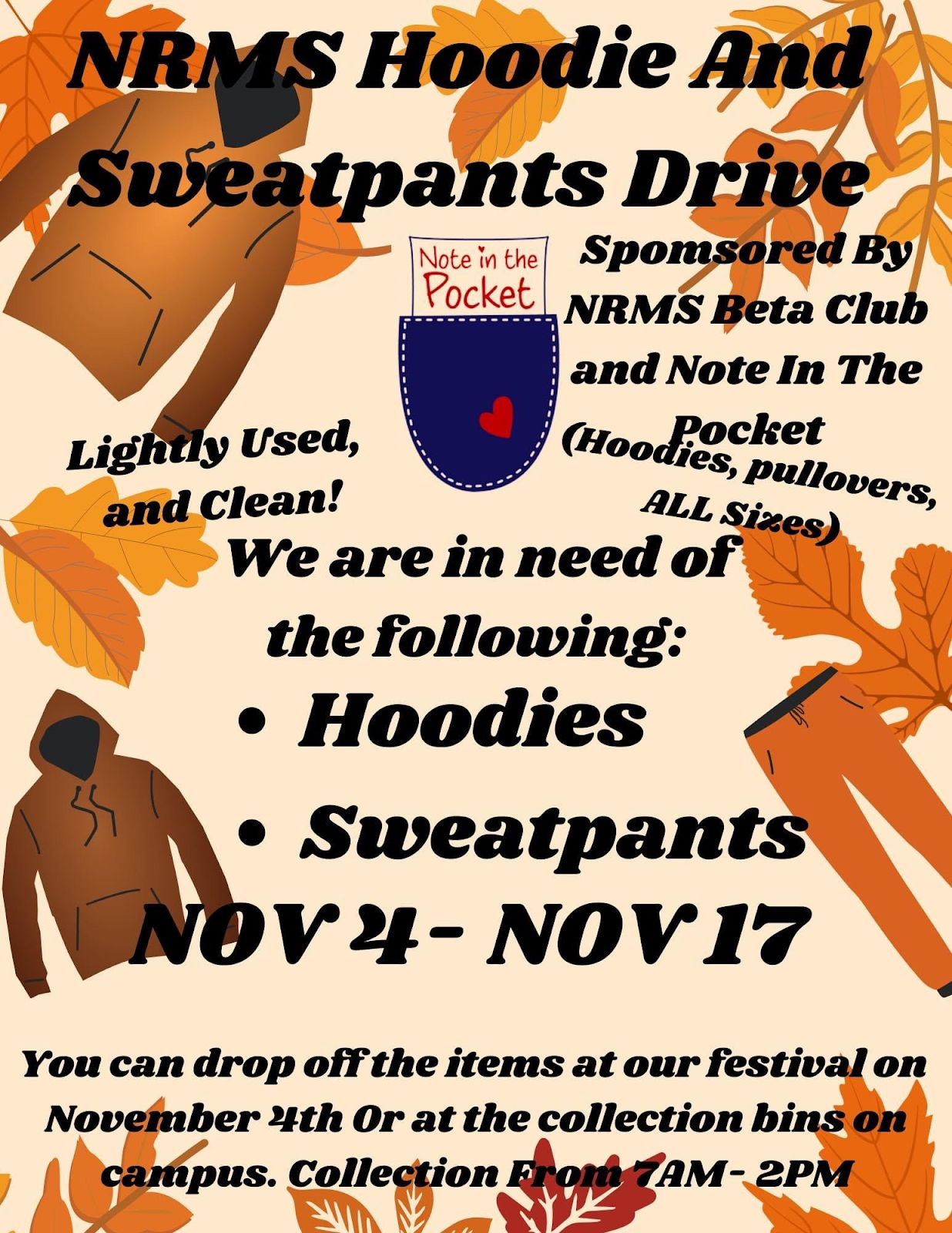 Feria del Libro:
Gracias a la PTA y a todos los voluntarios que ayudaron con la feria del libro la semana pasada. ¡Fue un gran éxito y pudimos recaudar una buena cantidad de dinero para agregar algunos libros nuevos a nuestra biblioteca!
Marque sus calendarios:
No habrá clases el miércoles 22 de noviembre, el día antes del Día de Acción de Gracias. Esperamos que todos paséis unas estupendas vacaciones con familiares y amigos.
Reporte de progreso:
Los informes de progreso llegaron a casa la semana pasada. Asegúrese de pedírselos a su hijo, firmarlos y devolverlos al maestro de su hijo. Recuerde que esto es solo la mitad del camino para el
segundo trimestre y que hay mucho tiempo para que su hijo entregue el trabajo perdido. Comuníquese con los maestros de su hijo para programar una conferencia u obtener más información sobre cómo está progresando su hijo a través de los estándares.
Noticias de la PTA
Noche de espíritu de NRMS miércoles 29/11
Tómate un descanso de la cocina y cena en Grand Street Pizza el miércoles 29 de noviembre de 4:30 a 9:00 p. m. Definitivamente querrás un cambio de la comida de Acción de Gracias, ¡así que toma tu pizza, calzones, strombolis, pastas o sándwiches! ¡Un porcentaje de las ganancias beneficiará a nuestra PTA de NRMS y apoyará a nuestra escuela!
Noche de espíritu de NRMS en Grand Street Pizza
Miércoles 29 de noviembre
16:30-21:00
901 Norte Smithfield Road
Knightdale, Carolina del Norte, EE.UU.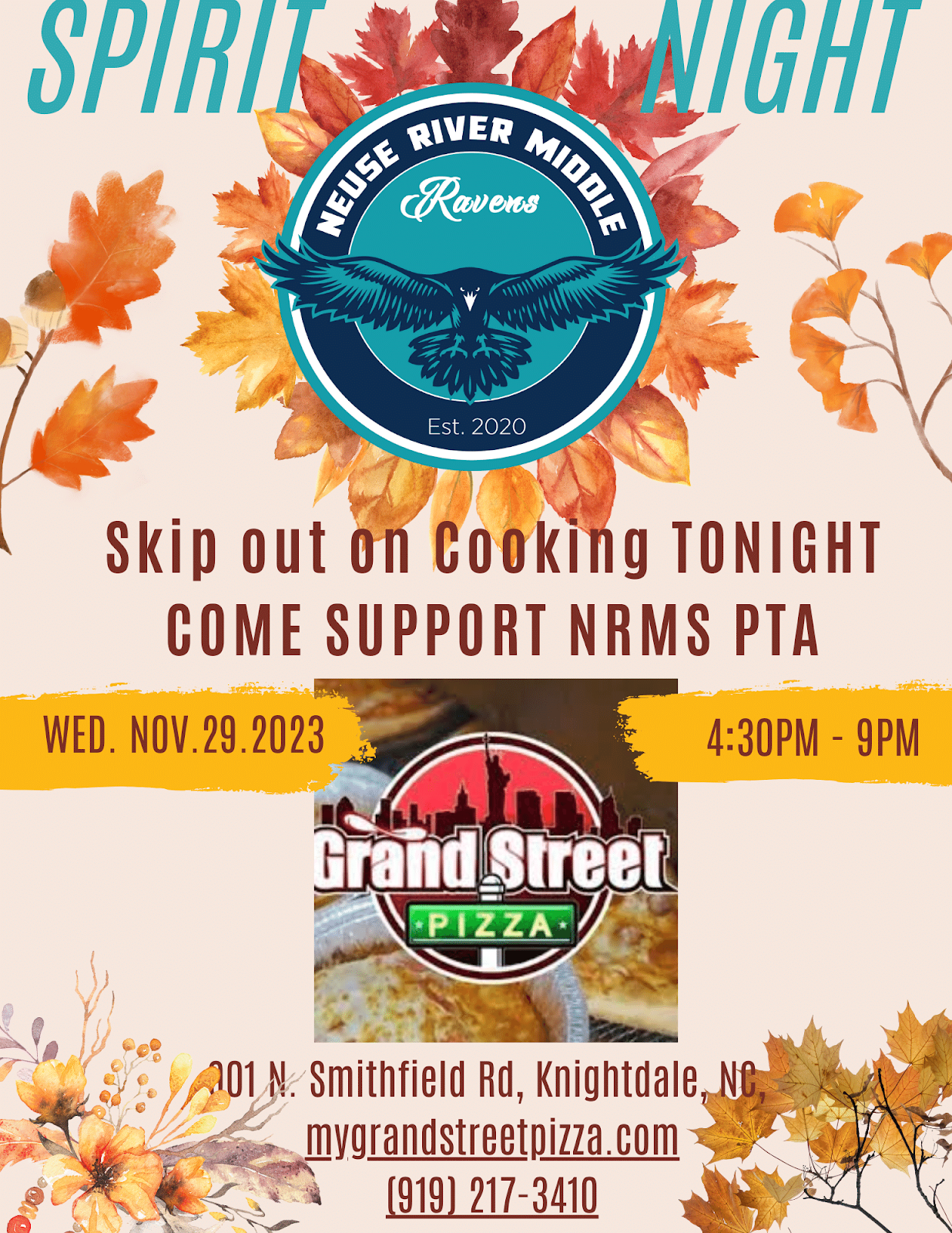 Reunión de la PTA miércoles 6/12
Nuestra próxima reunión general de la pta será el miércoles 6 de diciembre de 6 a 6:30 p. m. en el centro de prensa. Configuraremos una opción virtual híbrida para aquellos que no puedan asistir en
persona y publicaremos el enlace más tarde. ¡Esto está abierto a que todos asistan! ¡Ven y escucha los últimos acontecimientos de la pta y las áreas en las que podemos utilizar tu ayuda! Esta reunión se llevará a cabo justo antes del concierto de la banda a las 7 p.m. Nuevamente, tendremos reuniones generales de la PTA cada dos meses, ¡así que intente venir si puede para no perdérselo!
Encuesta/comentarios sobre el interés de los padres
¡A nuestra PTA le gustaría recibir sus comentarios! Agradecemos cualquier ayuda durante el año escolar. ¡Lo más importante es que queremos saber lo que quieres! En la última sección de la encuesta, tiene la oportunidad de enumerar los temas que le gustaría abordar y los recursos que pueda necesitar. Nos preocupamos por las necesidades de nuestros padres, estudiantes y personal, ¡así que comparta!
Tómese unos minutos para completar la encuesta a continuación.
https://forms.gle/uY2D6rzuuVsyjmjx9
Envíe un correo electrónico a la PTA a neuseriverpta@gmail.com si tiene alguna pregunta.
Atentamente,
Bonnie Mwanda, directora