Return to Headlines
Weekly Message 11/6 - 11/10
Weekly Bulletin: 11/6 - 11/10
Desplácese hacia abajo para español
Hello Raven Families,
Thanks to everyone who came to our Fall Festival on Saturday. If you were not able to make it, we hope to see you at one of our upcoming events! We had a great turn out and lots of fun was had by all. Kudos to Ms. Froelich and the family engagement team for planning such a wonderful event! Plans are already underway for our spring event!! I will hold the second family focus group meeting prior to the Thanksgiving break. If you would like to participate in this virtual meeting, please send me an email at bmwanda@wcpss.net. I'd love to have more families log in to chat about our vision for our school! See below for this week's news!
New this week
No School:
A reminder, there is no school on Tuesday, November 7th and Friday, November 10th.
Beta Club:
Beta Club will be collecting new and lightly used clean hoodies and sweatpants. A collection bin will be available until November 17th.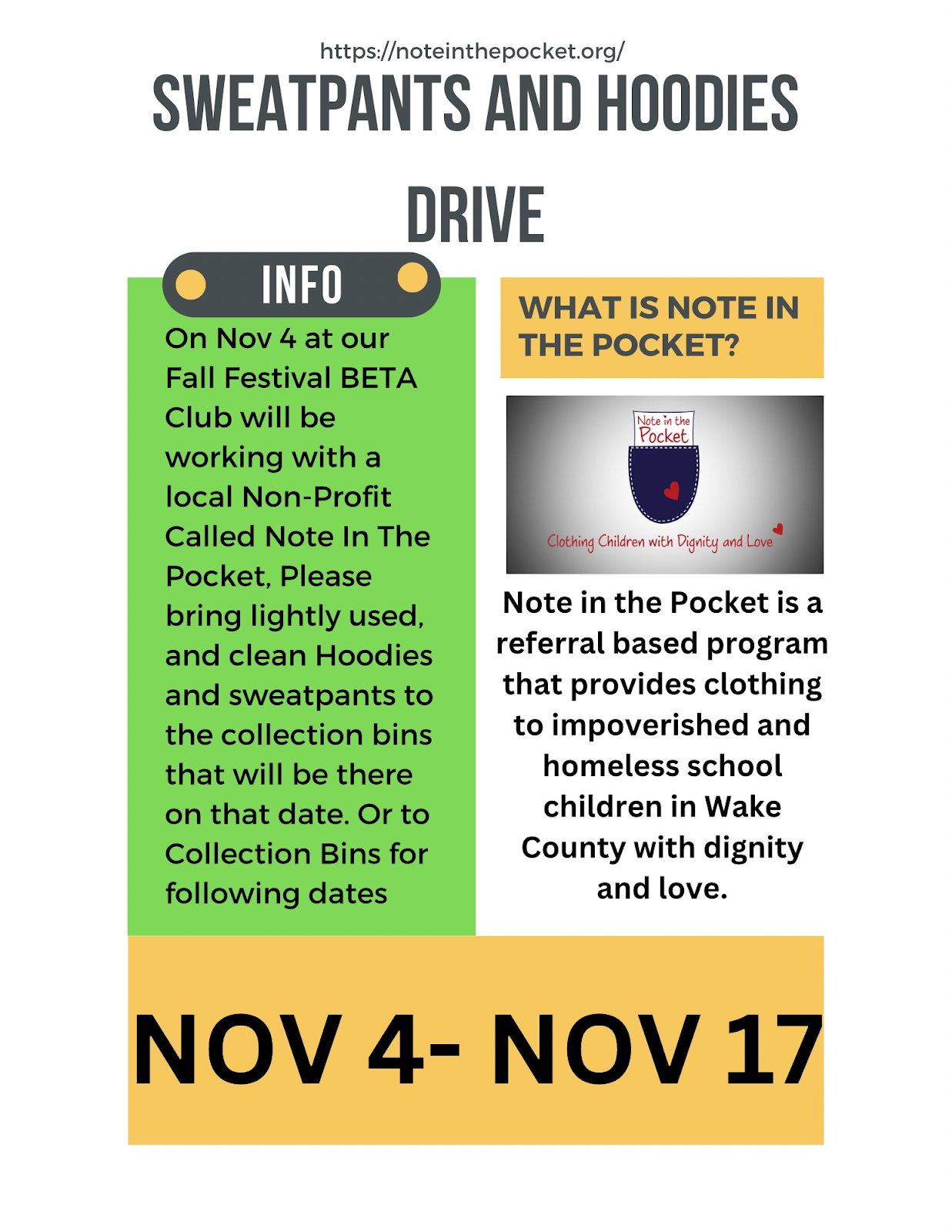 Book Fair:
The book fair is still continuing until 12 p.m. on Thursday. If your child didn't get a chance to purchase items and would like to, they can come down this week. Thank you all for the support and donations making this a success so far.
ATHLETICS:
Soccer: Monday (11/6) vs. Heritage @ NRMS, 4 p.m.
Volleyball: Monday (11/6) vs. Heritage @ NRMS, 4 p.m.
Football: Thursday (11/9) vs. Heritage @ NRMS, 4 p.m.
PTA News
PTA Meeting
Our next pta general meeting will be in December. TBA. All are welcome!
Parent Interest Survey/Feedback
Our PTA would like your feedback! We appreciate any help through the school year. Most importantly, we want to know what you want! On the last section of the survey, you have the opportunity to list any topics that you would like addressed and resources you may need. We care about the needs of our parents, students, and staff so please share!
Please take a few min to fill the survey below.
https://forms.gle/uY2D6rzuuVsyjmjx9
Please email PTA at neuseriverpta@gmail.com if you have any questions.
Sincerely,
Bonnie Mwanda, Principal
Boletín Semanal: 6/11 - 10/11
Desplácese hacia abajo para español
Hola familias de Raven,
Gracias a todos los que vinieron a nuestro Festival de Otoño el sábado. Si no pudiste asistir, ¡esperamos verte en uno de nuestros próximos eventos! Tuvimos una gran participación y todos nos divertimos mucho. ¡Felicitaciones a la Sra. Froelich y al equipo de participación familiar por planificar un evento tan maravilloso! ¡¡Ya están en marcha los planes para nuestro evento de primavera!! Celebraré la segunda reunión del grupo de enfoque familiar antes de las vacaciones de Acción de Gracias. Si desea participar en esta reunión virtual, envíeme un correo electrónico abmwanda@wcpss.net. ¡Me encantaría que más familias iniciaran sesión para conversar sobre nuestra visión para nuestra escuela! ¡Vea a continuación las noticias de esta semana!
Nuevo esta semana
No hay clases:
Un recordatorio: no hay clases el martes 7 y viernes 10 de noviembre.
Club Beta:
Beta Club recolectará sudaderas con capucha y pantalones deportivos limpios nuevos y poco usados. Un contenedor de recogida estará disponible hasta el 17 de noviembre.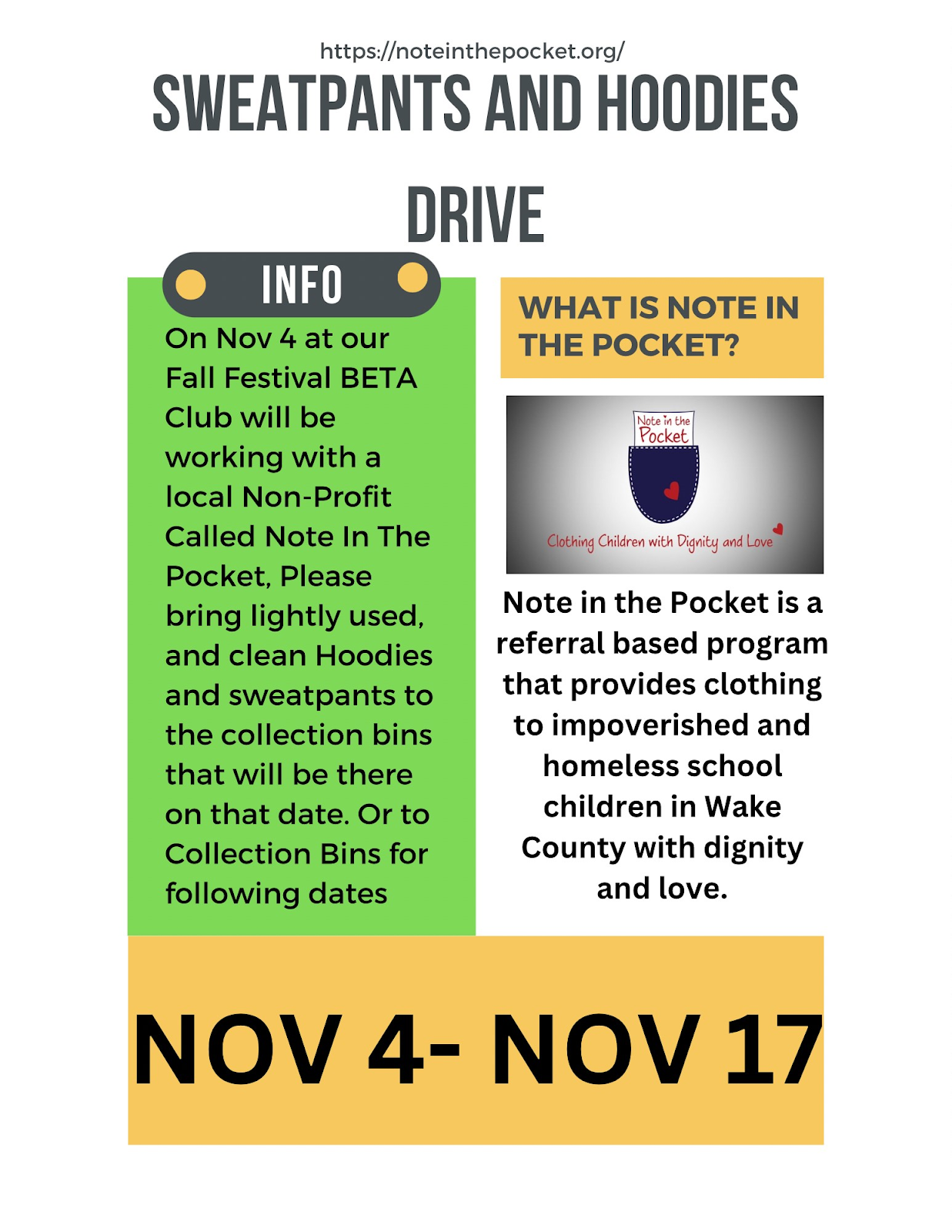 Feria del Libro:
La feria del libro continúa hasta las 12:00 horas. el jueves. Si su hijo no tuvo la oportunidad de comprar artículos y le gustaría hacerlo, puede venir esta semana. Gracias a todos por el apoyo y las donaciones que han hecho que esto sea un éxito hasta ahora.
ATLETISMO:
Fútbol:Lunes (6/11) contra Heritage @ NRMS, 4 p.m.
Vóleibol:Lunes (6/11) contra Heritage @ NRMS, 4 p.m.
Fútbol americano:Jueves (9/11) contra Heritage @ NRMS, 4 p.m.
Noticias de la PTA
Reunión de la PTA
Nuestra próxima reunión general de la pta será en diciembre. Por determinar. ¡Todos son bienvenidos!
Encuesta/comentarios sobre el interés de los padres
¡A nuestra PTA le gustaría recibir sus comentarios! Agradecemos cualquier ayuda durante el año escolar. ¡Lo más importante es que queremos saber lo que quieres! En la última sección de la encuesta, tiene la oportunidad de enumerar los temas que le gustaría abordar y los recursos que pueda necesitar. Nos preocupamos por las necesidades de nuestros padres, estudiantes y personal, ¡así que comparta!
Tómese unos minutos para completar la encuesta a continuación.
https://forms.gle/uY2D6rzuuVsyjmjx9
Envíe un correo electrónico a la PTA a neuseriverpta@gmail.com si tiene alguna pregunta.
Atentamente,
Bonnie Mwanda, directora