Return to Headlines
Weekly Message 10/30 - 11/4
Weekly Bulletin: 10/30 - 11/4
Desplácese hacia abajo para español
Hello Raven Families,
I hope you enjoyed your weekend, it sure seemed like summer was on its way instead of fall! Last week I met with family and student focus groups to learn more about our stakeholders' vision for our school. If you'd like to participate in November's virtual meeting, please email me at bmwanda@wcpss.net. This week I'll begin sharing this feedback with faculty and staff to determine next steps. Last Thursday, family and staff representatives attended a Community Round Table with our new Superintendent, Dr. Taylor, to share their input on district celebrations and next level opportunities. I can assure you that Neuse River Middle School was well represented! In November, three of our students will begin their term on the Superintendent's Student Leadership Council, a group of students that meets with Dr. Taylor four times per year to ensure he is hearing directly from a diverse group of students on a regular basis! Finally, we are excited to see you all at our fall Family Engagement Event on Saturday, November 4th! Please read below for updates from NRMS!
New this week
Halloween:
Tuesday is Halloween and we encourage our students to dress up. NRMS dress code still applies. No wraps, face paint/coverings, etc.
Beta Club:
At our Fall Festival on November 4th, the Beta Club will collect new and lightly used clean hoodies and sweatpants. A collection bin will be available.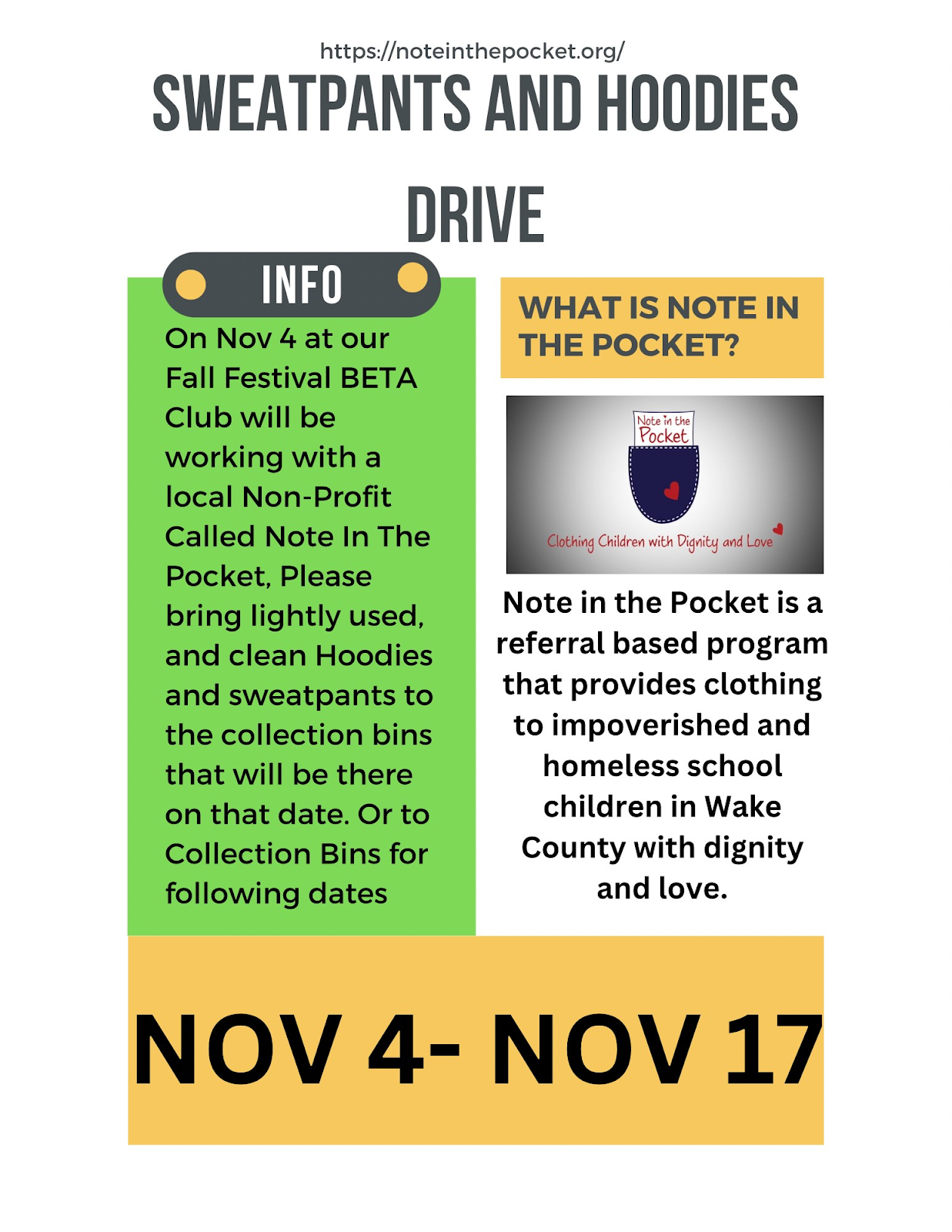 Magnet & Early College Schools Fair:
When: Saturday, November 4, 2023; 9 am-12 pm
Where: Garner Magnet High School; 2101 Spring Drive, Garner, NC 27529
Mark your calendars:
There will be no school on Tuesday, November 7th for Election Day and Friday November 10th in observance of Veteran's Day.
Book Fair:
The book fair will start this week. 6th grade students will have an opportunity to purchase books on Thursday, November 2nd, 7th grade November 3rd and 8th grade on Monday, November 6th. The fair will also be open on Saturday, November 4th during our Fall Festival.
ATHLETICS:
Soccer: Monday (10/30) vs. Zebulon @ Zebulon, 4 p.m.
Volleyball: Monday (10/30) vs. Zebulon @ Zebulon, 4 p.m.
Football: Thursday (11/2) vs. Zebulon @ Zebulon, 4 p.m.
PTA News
NRMS PTA Spirit Fundraiser with Panic Point(THIS IS THE LAST WEEK!-LAST DAY NOVEMBER 4th)
It's not too late!! Come out to Panic Point in Youngsville for some spooky fun with your family and friends!! This is the last week of the Haunted Forest at Panic Point: dates this week are Sunday 10/29, Tuesday 10/31, Friday 11/3(only for adults 18+), and Saturday, 11/4. Please use the code: "nrmiddle" & you will get 10% of your purchase in tickets and our school will receive 15% of all ticket sales. Tickets include all the 5 main attractions! See the link below about Panic Point and ticket information. Again, do not forget to use the code "nrmiddle" to save money on ticket sales!
https://raleighhauntedhouse.com/
PTA Meeting
Our next pta general meeting will be in December. TBA. All are welcome!
Parent Interest Survey/Feedback
Our PTA would like your feedback! We appreciate any help through the school year. Most importantly, we want to know what you want! On the last section of the survey, you have the opportunity to list any topics that you would like addressed and resources you may need. We care about the needs of our parents, students, and staff so please share!
Please take a few min to fill the survey below.
https://forms.gle/uY2D6rzuuVsyjmjx9
Please email PTA at neuseriverpta@gmail.com if you have any questions.
Sincerely,
Bonnie Mwanda, Principal
Boletín Semanal: 30/10 - 4/11
Hola familias de Raven,
Espero que hayas disfrutado tu fin de semana, ¡parecía que el verano estaba en camino en lugar del otoño! La semana pasada me reuní con grupos focales de familias y estudiantes para aprender más sobre la visión de nuestras partes interesadas para nuestra escuela. Si desea participar en la reunión virtual de noviembre, envíeme un correo electrónico abmwanda@wcpss.net. Esta semana comenzaré a compartir estos comentarios con el profesorado y el personal para determinar los próximos pasos. El jueves pasado, representantes de familias y personal asistieron a una mesa redonda comunitaria con nuestro nuevo superintendente, Dr. Taylor, para compartir sus opiniones sobre las celebraciones del distrito y las oportunidades del siguiente nivel. ¡Puedo asegurarles que la escuela secundaria Neuse River estuvo bien representada! En noviembre, tres de nuestros estudiantes comenzarán su período en el Consejo de Liderazgo Estudiantil del Superintendente, un grupo de estudiantes que se reúne con el Dr. Taylor cuatro veces al año para asegurarse de que escuche directamente a un grupo diverso de estudiantes de manera regular. Finalmente, ¡estamos emocionados de verlos a todos en nuestro evento de participación familiar de otoño el sábado 4 de noviembre! ¡Lea a continuación las actualizaciones de NRMS!
Nuevo esta semana
Víspera de Todos los Santos:
El martes es Halloween y animamos a nuestros estudiantes a disfrazarse. El código de vestimenta de NRMS aún se aplica. No se permiten envolturas, pintura/coberturas faciales, etc.
Club Beta:
En nuestro Festival de Otoño el 4 de noviembre, el Beta Club recolectará sudaderas con capucha y pantalones deportivos nuevos y ligeramente usados. Habrá un contenedor de recolección disponible.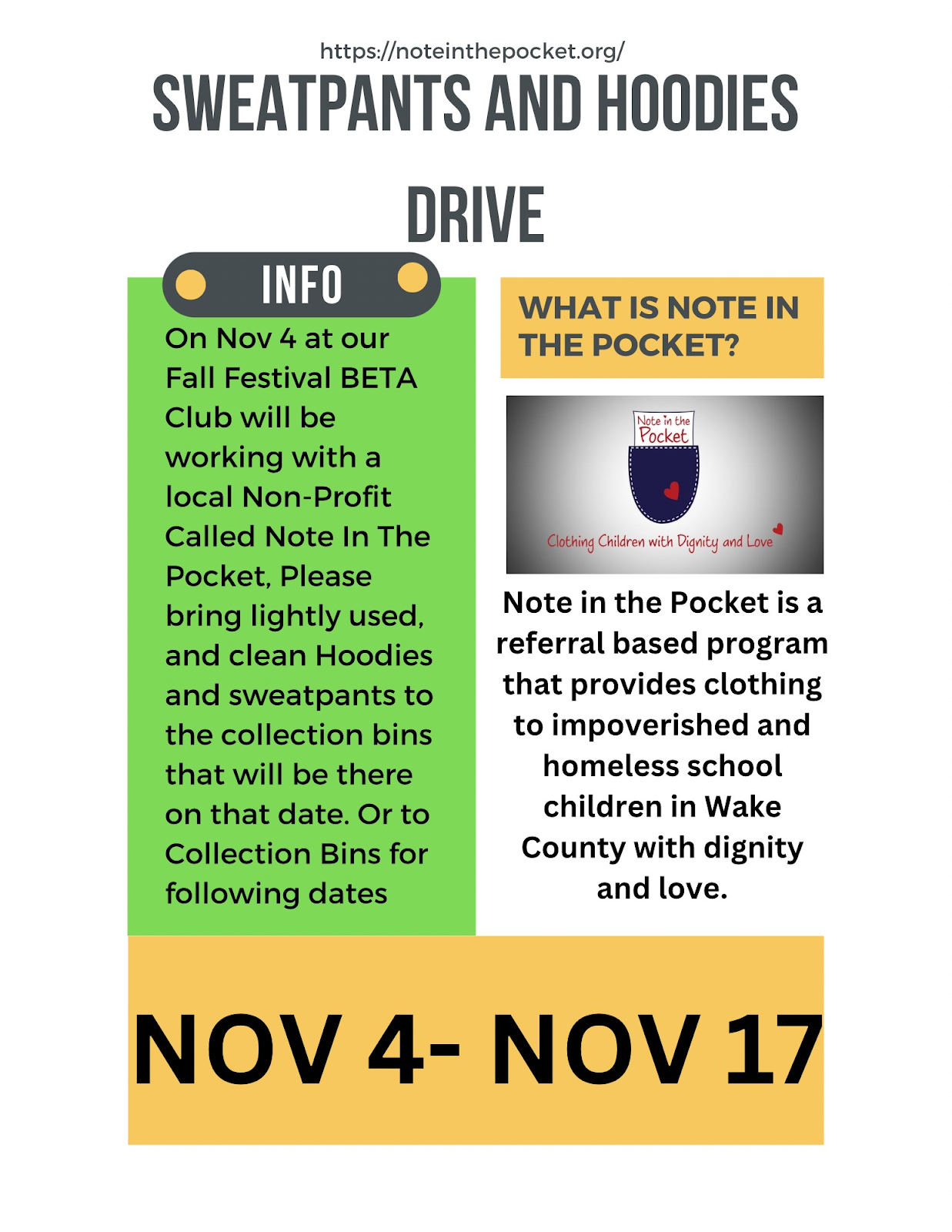 Feria de escuelas Magnet y Early College:
Cuándo: sábado 4 de noviembre de 2023; 9 am-12 pm
Dónde: Escuela secundaria Garner Magnet; 2101 Spring Drive, Garner, Carolina del Norte 27529
Marque sus calendarios:
No habrá clases el martes 7 de noviembre por el día de las elecciones y el viernes 10 de noviembre en conmemoración del Día de los Veteranos.
Feria del Libro:
La feria del libro comenzará esta semana. Los estudiantes de sexto grado tendrán la oportunidad de comprar libros el jueves 2 de noviembre, los de séptimo grado el 3 de noviembre y los de octavo grado el lunes 6 de noviembre. La feria también estará abierta el sábado 4 de noviembre durante nuestro Festival de Otoño.
ATLETISMO:
Fútbol:Lunes (30/10) contra Zebulon @ Zebulon, 4 p.m.
Vóleibol:Lunes (30/10) contra Zebulon @ Zebulon, 4 p.m.
Fútbol americano:Jueves (2/11) contra Zebulon @ Zebulon, 4 p.m.
Noticias de la PTA
Recaudación de fondos de espíritu de la PTA de NRMS con Panic Point (¡ESTA ES LA ÚLTIMA SEMANA! -ÚLTIMO DÍA 4 DE NOVIEMBRE)
¡¡No es demasiado tarde!! ¡Ven a Panic Point en Youngsville para divertirte espeluznantemente con tu familia y amigos! Esta es la última semana del Bosque Encantado en Panic Point: las fechas de esta semana son el domingo 29/10, el martes 31/10, el viernes 3/11 (solo para adultos mayores de 18 años) y el sábado 4/11. Utilice el código: "nriddle" y obtendrá el 10% de su compra en boletos y nuestra escuela recibirá el 15% de todas las ventas de boletos. ¡Los boletos incluyen las 5 atracciones principales! Consulte el enlace a continuación sobre Panic Point e información sobre boletos. Nuevamente, ¡no olvides usar el código "nriddle" para ahorrar dinero en la venta de entradas!
https://raleighhauntedhouse.com/
Reunión de la PTA
Nuestra próxima reunión general de la pta será en diciembre. Por determinar. ¡Todos son bienvenidos!
Encuesta/comentarios sobre el interés de los padres
¡A nuestra PTA le gustaría recibir sus comentarios! Agradecemos cualquier ayuda durante el año escolar. ¡Lo más importante es que queremos saber lo que quieres! En la última sección de la encuesta, tiene la oportunidad de enumerar los temas que le gustaría abordar y los recursos que pueda necesitar. Nos preocupamos por las necesidades de nuestros padres, estudiantes y personal, ¡así que comparta!
Tómese unos minutos para completar la encuesta a continuación.
https://forms.gle/uY2D6rzuuVsyjmjx9
Envíe un correo electrónico a la PTA a neuseriverpta@gmail.com si tiene alguna pregunta.
Atentamente,
Bonnie Mwanda, directora