Return to Headlines
8th Grade Families,


We are excited to celebrate our 8th Grade Hawks! Please take a moment to review all the fun events happening #ontheHil to celebrate our students.
Thank you for the amazing support you have given your student and our school throughout this unique 2021-2022 School Year. Even with the challenges, we have enjoyed our year and the memories created together. As we begin to the think about the last day of school, we want to make sure you are aware of several important dates. Please see the dates below and ensure your student is mindful of these events. Should you have questions, feel free to reach out to the school at (919) 571-6800.
Friday, June 3: Testing (8th Grade Science, NC Math 1 for 7th Grade)
Friday, June 3: 8th Grade Semi-Formal Dance 6 pm – 8 pm.
Monday, June 6: Testing (6th Grade Math, 7th Grade Math, 8th Grade Math, NC Math 1 for 8th Grade)
Tuesday, June 7: Testing (6th Grade Reading, 7th Grade Reading, 8th Grade Reading)
Tuesday, June 7: 8th Grade Pizza Lunch & Spirit Rock Paint 12 pm – 2pm.
Tuesday, June 7: 8th Grade Promotion Practice 2 pm.
Friday, June 10: 8th Grade Promotion Ceremony 9:30-11 am, Hilburn Multipurpose Room
Parents may arrive beginning at 9am. Parents must obtain a visitor sticker and sign the visitor log before entering the school. The only entry point for 8th Grade Promotion will be at the side entrance. Look for balloons! Students will enter at 9:30 am after the K-8 Clap-out. Two students will be chosen to speak at the Promotion Ceremony to tell their story of life #ontheHil. Submissions should include memories, connections, and experiences they will cherish from Hilburn. Speeches are no more than 2 minutes! Nominations are due by June 6 , 2022 at 3:00pm. Nominations will be accepted in paper in the main office or by email to mwalker4@wcpss.net!
If a younger sibling who attends Hilburn is joining the Promotion Ceremony, they should come with the parent to the ceremony.
If a student is being checked out early after the ceremony, the parent must check them out at the early dismissal table outside of the side door entrance.
*Beginning on June 7, 8th Grade students are invited to participate in painting the 8th Grade Legacy Wall! Students will have the opportunity to paint and sign their names from June 7 through June 10.
We are excited to celebrate our students as they transition into their grade, next school, and next phase of school success. We will have a photo slide show to celebrate our students. Families may submit up to 3 pictures per family. You may submit pictures for the 8th Grade Photo Slide Show using the link: 8thGradeSlideShowJune2022. We encourage all 8th Grade families to send pictures to ensure diverse photo visuals for all 8th Grade students. Photos will not be accepted after Wednesday, June 8. Photos must be sent to the Google Link. Email Mrs. Walker for tech support.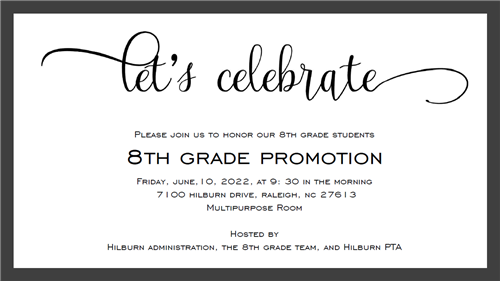 Sincerely,
Mariah Walker