Return to Headlines
Sunday Night Announcements
Hello Wonderful Wendell Families,
Tomorrow is the day that we begin welcoming students back to the building! We are so excited to have kids in-person again. Here are the Sunday Night Announcements for the week of October 26th:
New Stuff
Cohort 1
K-3, EBS, and CCK students assigned to Cohort 1 will attend classes in-person here at WES this week. Please contact your child(ren)'s homeroom teacher(s) if you are unsure of your child(ren)'s cohort.
No School on Wednesday
There will be no school for students on Wednesday, October 28th (Remote Learning Day at WES). Cohort 1 students will not attend in-person on Wednesday.
2020-2021 WES Spiritwear
Please visit the WES Memberhub Store to check out and purchase this year's spiritwear: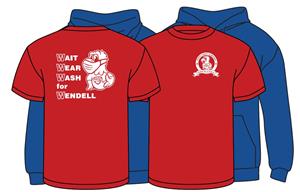 As you can see, we've got t-shirts and hoodies with a special 2020 theme! All orders must be received by midnight on November 13th, with an anticipated distribution in early December. Thanks for supporting the PTA!
Returning to the Building
Please review this two-page document, which details the new protocols that we'll follow here at WES beginning on October 26th.
2nd Quarter Materials Distribution Event
If you still need to pick up your child's supplies, please ring the front doorbell any school day between 8:00am and 3:30pm. Someone from the front office will bring your bag out to you!
Virtual Academy Requests for the 2nd Semester
The window for families to request that their child(ren) transition/remain in Virtual Academy for the 2nd semester will be open from Wednesday, December 2nd through Wednesday, December 9th. Specific details regarding this process will be shared later this fall.
Friendly Reminders
Before/After Care Program
Our before/after care program here at WES will not operate for the remainder of the first semester. A decision regarding the second semester will be made and communicated to families later this winter.
Fall Pictures
In the interest of safety and equal access, we will not be having a Fall Picture Day here at WES. Decisions regarding Spring pictures and yearbooks will be made and communicated to families later this winter.
Spirit Rock
Please visit and sign-in to Memberhub in order to pick your week for the Spirit Rock! Please see Memberhub for all of the details.
Join the PTA!
This is my weekly reminder to please consider joining the PTA! In this time of remote learning and school budget limitations, a strong PTA can help support WES students/staff in ways that might not otherwise be possible this year. Click on this link to join the WES PTA... It's fast and easy!
Passive Fundraisers
There are three passive fundraisers that bring in additional money for WES... For Free! Just click on the link below each to put your Amazon, Harris Teeter and Lowe's Foods accounts to work for WES!
Amazon
Digital Book Access for WES Students
Did you know that all of our students here at WES have access to a huge collection of digital books? Please click the MackinVIA logo below and use the following info to login with your child's WakeID:
Username: First part of the student's email address (before the @wcpss.net). For example, "jdzellmer".
Password: Student's lunch number
Please contact our Media Specialist, Nikohl Scheuerlein at nscheuerlein@wcpss.net with any questions/concerns. Happy reading!
Mr. Zellmer's Google Voice Number
This year, I will continue to use my Google Voice Number specifically for family communication... You are welcome to text me anytime at 919.374.0503.
WES Homepage
Please make a habit of regularly visiting our homepage (https://www.wcpss.net/wendelles), as new information will be consistently posted.
Thanks for your continued patience, grace and flexibility.
WHO'S GOT IT BETTER THAN WES? NOBODY!
Jack Zellmer
Principal, Wendell Creative Arts and Science Magnet Elementary School
jzellmer@wcpss.net
@WESPrincipalJZ
#WhosGotItBetterThanWES