Return to Headlines
Spring Principal's Message
Greetings Smith Magnet Elementary Families!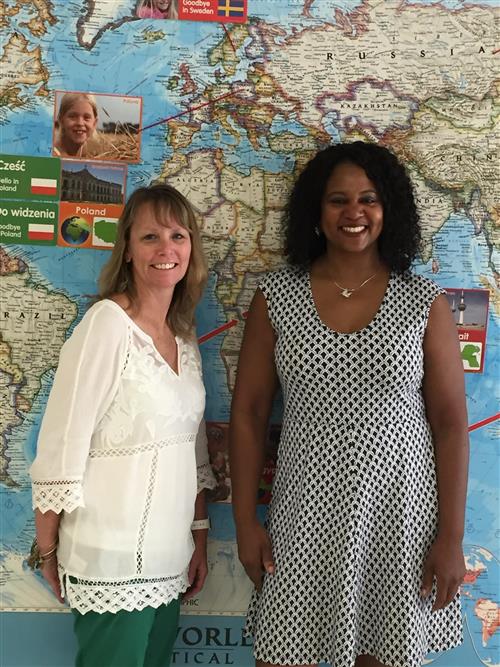 Principal: Ms. Mitchell (Left) Assistant-Principal: Ms. Merritt (Right)
Greetings Smith Magnet Elementary families!
The 2018-2019 school year seems to be moving so quickly and we have more exciting news to share with you for the second half of our year.
Our Active Learning Space is up and running! This room is a place that can be used all classes for active, moving learning and group projects. Features include write-on wall panels, moveable and dry erase tables, a variety of active seating choices, a scanner, chromebooks. Ipads and a 3D printer. Please ask your child if his or her class has had a chance to use the space yet.
Once again Smith students have the opportunity to participate in Hoops for Hearts. This annual event is always an exciting time for the students and an excellent chance to put our IB principals in practice by raising money for the American Heart Association. Ms. Herndon, our physical education teacher, is coordinating this event and has sent home information about how your child can be a part of the foul shot contest on March 1, 2019.
Registration for our spring First Tee golf season is under way. You should have already received information about how your child can participate. Our season runs March 5 through April 9, with meetings on Tuesdays until 5:15 PM. There is a $30 cost for the program, but there are scholarships available. Previous First Tee teams have represented Smith very well and we look forward to a new season.
The theme of our Black History Month Evening is "Pathways to Prosperity". Families are invited to join us on February 21 to learn about and celebrate the lives of the many influential African Americans throughout our history who paved the road to freedom and enriched our culture in so many ways. Families will get to hear traditional songs that were sung along the Underground Railroad and experience a musical storytelling of the signals used during the Underground Railroad. They will be introduced to scat, they will be able to create quilt squares, read biographies of influential African Americans written by our students, walk through an art gallery featuring a style of art made popular by an African American artist along with poetry from African American artists, and they will even get to learn some dance moves unique to the African American culture. Families will also get to sit down and feast on some traditional soul food from Fred Chason's Grandson's Restaurant in Garner!
On February 6 our staff and students were treated to an interactive drumming and dance performance by Living Rhythms. Living Rhythms performances are an educational, transformative and exciting exploration of the drumming and dance of West Africa. Living Rhythms is a cultural arts company that has provided hands-on programs in West African drumming and dancing to over 275,000 students at schools throughout the US for the last 18 years. Under the artistic patronage of Master Drummer Mamady Keita of Guinea, West Africa, it is their mission to enrich the lives of young people by creating flourishing cultural arts programs that emphasize diversity, harmony and responsible world citizenship.
Our fifth grade team is busy preparing for Exhibition. The focus for Exhibition this year ties in with the study of the human body. Our students have been busy researching hereditary diseases, environmental diseases, and the importance of exercise and healthy eating. The culmination of the ongoing fifth grade projects will be Exhibition Night on March 21 from 6:00 to 7:30. Students are encouraged to dress their best for their presentation. More information will be coming soon.
As always, please contact the school office if you have questions or concerns.
Best,
Kim Mitchell, Principal