Return to Headlines
2018-2019 New School Year Principal's Message
Greetings Smith Magnet Elementary Families!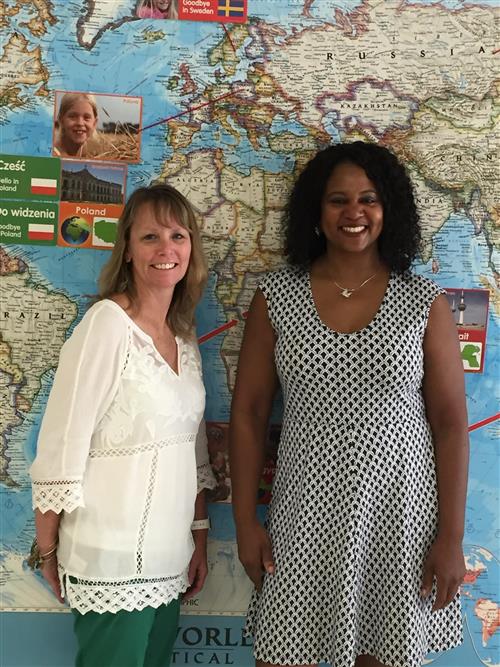 Principal: Ms. Mitchell (Left) Assistant-Principal: Ms. Merritt (Right)
We have been hard at work getting ready for the 2018-2019 school year and are so excited about all of the plans we have for this year!
In addition to an exciting year of learning and growing in the classrooms, we will be continuing many of our extracurricular activities. First Tee, SWAG, Helping Hands and 2nd Thursday Family Nights will be back, just to name a few. Watch our website for news about these and new programs coming to Smith, including more about our Active Learning Space.
We are encouraging all parents to sign up for Home Base/Parent Portal. This is a communication tool that allows you to see your child's bus information, attendance and verify contact information. Home Base will also enable you to see your child's next school assignment in the spring. There is a link on our website to the forms you need to sign up for Home Base.
Are you interested in volunteering at Smith this year? We would love to have you help in classrooms, with Field Day, chaperone field trips, etc.! All volunteers in Wake County Schools must register or re-register every year and be approved before being able to volunteer. The registration must be done on a school computer and we have one up and ready in the front office. Please feel free to stop by at your convenience (Monday through Friday, of course) to sign up. Signing up early will help avoid delays and make sure you are ready to join in the fun with your child's class.
If your child will be starting kindergarten this year, welcome to the Smith family! Remember that your child will only attend one "staggered entry" day the first week of school. If you have any questions about your staggered entry date, health assessment, immunizations, etc. please contact Mrs. Gibson at (919) 662-2458.
Some important dates to remember are:
Meet the Teacher (grades 1-5) August 23 6:00-7:30 PM
Meet the Teacher (kindergarten) August 31 11:00 AM-1:00 PM
Open House September 13 6:00-7:30 PM
We hope all of our students and families have had safe, restful summers and are excited about coming back to school. We are looking forward to seeing all of you!
Best,
Kim Mitchell