Return to Headlines
Winter Principal's Message
Greetings Smith Magnet Elementary Families!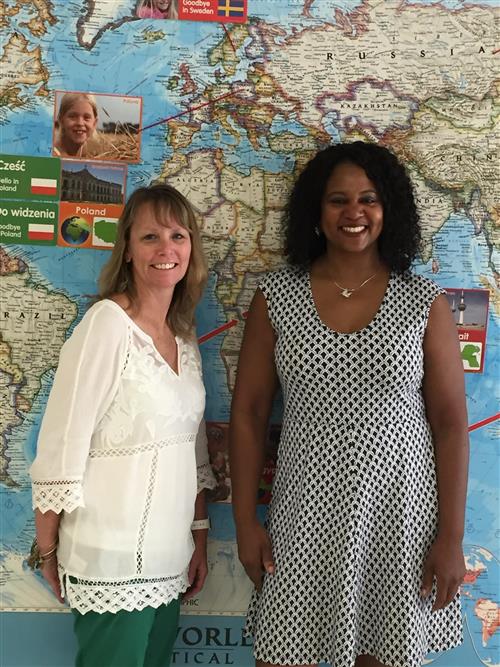 Principal: Ms. Mitchell (Left) Assistant-Principal: Ms. Merritt (Right)
Greetings Smith Magnet Elementary family!
We are now in the second quarter of our school year and we have much exciting news to share with you.
We are in the process of setting up a 21st Century "Active Learning Space." There will be numerous Chrome Books, Ipads, a 3D printer, glass walls for writing on, tables with dry erase tops, scanner, laser printer and moveable seating and tables. We are so excited about this state of the art room and the opportunities it will provide for our students.
Congratulations are in order for two of our staff members. Fourth grade teacher Anna Dodd was selected by her peers as Smith Elementary Teacher of the Year. Lenisha Ledbetter was selected as Instructional Assistant of the year for Smith. Best of luck and thank you for all your hard work to Ms. Dodd and Ms. Ledbetter. We know they will represent Smith well.
We would like to thank all of our young readers and their families who took time to record their books during the Carolina Hurricanes' READvolution. Smith was one of only two schools in our category to exceed our goal of 2020 books read. Well done, Smith families!
Our Helping Hands and SWAG Programs are active and going strong. Helping Hands includes 16 male third through fifth graders and several strong volunteers. The goals of this program are improving academic skills, building positive self-esteem, creating strong interpersonal relationships, developing leadership qualities and establishing a positive support network. With similar goals, SWAG has 19 female students who work with eight wonderful mentors. We are proud of both groups of students and thankful for the volunteers who work with them.
Smith's Show Choir is an auditioned group of fourth and fifth grade singers. This talented, hard working group recently performed at the Garner Ed Foundation's "Stars on Stage." They are also scheduled to perform at Light Up Main Street in downtown Garner on November 30 and at a Holiday Concert at Crabtree Valley Mall on December 17. We encourage all members of the Smith family to attend these performances and support our young musicians.
Did you know that Smith has a fabulous golf team? Our First Tee team has 20 students, from first to fifth graders, who are learning about and competing in the game of golf. Smith's team won the Spring 2018 Golf Championship. One of our fifth graders, Hannah White, received the Drive for Success achievement award for the 2018 golf academy and was invited to attend a core values breakfast awards banquet. If your child would like to be a member of this team, watch for more information to come on the spring session.
Our school family has been working to learn together while also supporting a great cause. Our fifth graders researched influential Hispanic individuals throughout history and then came dressed as wax figures of those people during our Hispanic Heritage Wax Museum. In conjunction with our Change You Can See Fundraiser, our students learned more about these people and their important contributions, while raising nearly $350 to benefit hurricane relief efforts in Puerto Rico, North Carolina and Florida.
Our recent IB Parent Night provided an opportunity for families to learn more about the International Baccalaureate Primary Years Programme (IB-PYP.) Families enjoyed learning stations and many interactive activities to learn more about the educational opportunities at Smith as well as why and how IB-PYP is taught at our school.
With the holiday seasons upon us, we would like to wish all of our families safe and joyful days ahead. Remember to keep reading during breaks and, as always, please contact us at the school with questions or concerns.
Best,
Kim Mitchell