Return to Headlines
Spotlight on Faculty: Kindergarten
This article originally appeared on the website during the 19-20 school year.
Our Kindergarten team (Ms. Ronan, Ms. Takacs, Ms. Reid, Ms. Wiss) has been making amazing things happen daily for our little MECME Bees! Staff Spotlight was able to sit down with this quartet of phenomenal teachers to learn all about what's happening this year in the world of Kindergarten and the dynamic women who teach it!
Q: How is Kindergarten at MECME unique?
Reid: Kindergarten at MECME is unique because science is in integrated, in some way, each day.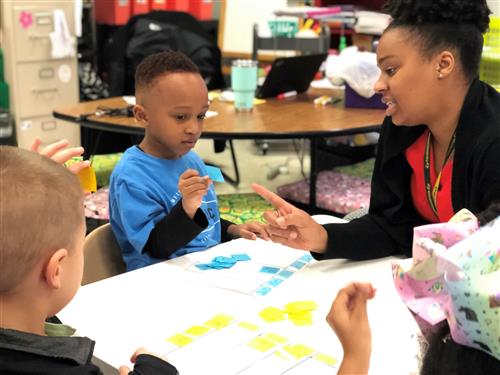 Takacs: We are lucky to have amazing full-time Instructional Assistants, who not only help us with the many day-to-day logistics of teaching, they are also our partners in the classroom. Kindergartners at MECME get two classroom teachers all day long, plus our awesome Learning Specialist Ms. Joyner.
Q: How do students use technology in your classroom??
Ronan: We love getting up to the screen and sharing our work through the use of the document camera. I like to use this tool to allow the students the opportunity to teach each other. We also use our chromebooks to use our fabulous literacy program, Lexia. This program helps to reinforce what is being taught in core and can also be brought into the home (Lexia)! Finally, we love being able to take pictures and videos of ourselves working to share with our families and friends through Seesaw, or just up on our screen.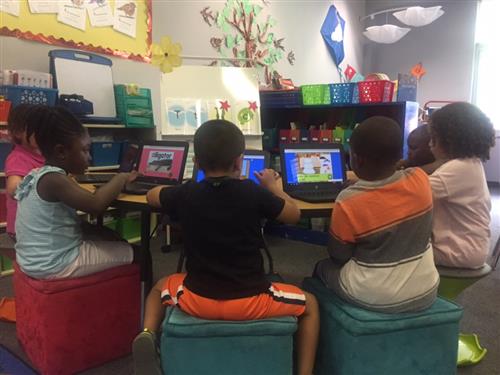 Wiss: Students have daily access to computers and use sites such as BigUniverse and Lexia to aid in their literacy learning. We also use SeeSaw to create online portfolios for the children and give parents the ability to see what we are learning in class through pictures and videos.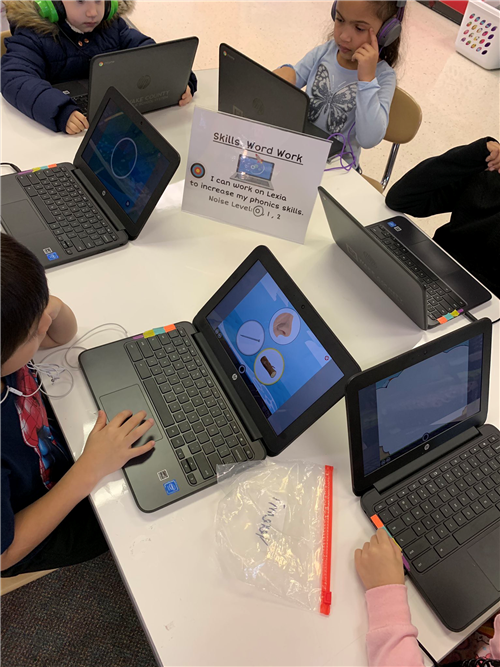 Q: In what ways do your students engage in the Environmental Connections theme daily in your classroom??
Reid: In my classroom we make sure we are recycling as much as possible and conserving energy by turning off lights or the tv.
Wiss: Students go outside daily and observe a discuss topics such as weather, nature, and the environment around them.
Q: Why do you feel learning through and about nature is important for young learners?
Ronan: These young learners are the future. They are the ones who we are leaving our planet to. I want my students to feel a connection to their world and understand why we need to protect and love nature.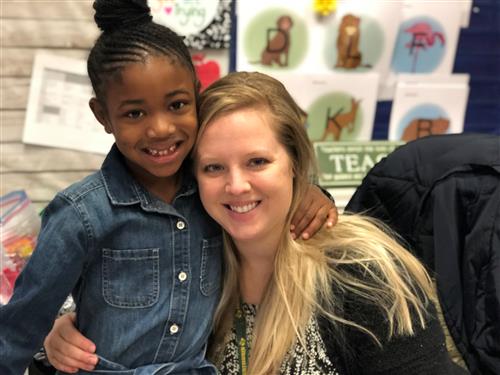 Takacs: Students need a strong connection with the natural world, and an understanding of the world around them, if they are going to be able and willing to impact it in a positive way. I spent so much of my childhood outdoors, and still do so as an adult, and I think it has impacted me in so many beneficial ways. I hope that my students will still be able to enjoy and appreciate nature as they become adults, and become advocates for positive environmental impacts. They can't feel passionate about something they don't experience or relate to, and I think we can change that through nature-based learning.
Q: What is your favorite part of the school day? Why?
Takacs: My favorite part of the school day is our afternoons. We always do a read-aloud, and I love to watch my kids become so "lost in the magic" of a story. Afterwards we do choice Lab activities, where students get to engage in hands-on creative play and engineering. I think giving them the time and freedom to explore and play is crucial to the development of their social and critical thinking skills. They learn to build, create, use their imaginations, navigate conflict, and become more empathetic classmates, particularly when they are not told that there has to be a specific outcome or product from their play. I am a strong advocate for children having time in their day to make their own choices and learn through constructive play, and my hope is that our young students are always given the time and flexibility to do so.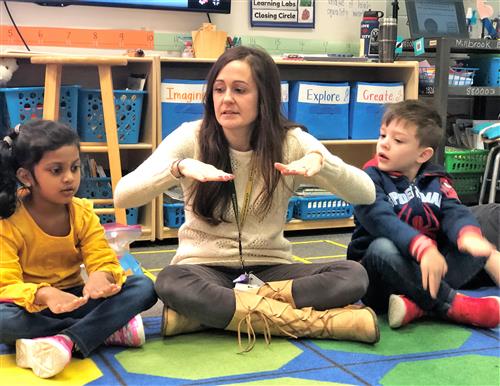 Wiss: My favorite part of the school day is our literacy skills block because we get to do various activities to get the students excited about reading and writing. These skills are the stepping stones to the rest of their academic careers and it is wonderful to watch them get excited about their new knowledge and become readers!
Q: How long have you been teaching and/or working in education?
Reid: 5 years
Ronan: 9 years
Takacs: 10 years
Wiss: 8 years
Q: What made you decide to become a teacher?
Ronan: I have a love of learning and I wanted to be able to bring that love to children. It can be contagious!
Takacs: My mom was a lifelong elementary school teacher, so it is something that has always been "in my blood." My undergraduate degree was in journalism, but when I moved to Costa Rica to teach English in 2009, I knew I had found my new career path. I loved seeing the enthusiasm of my students who were learning a new language for the first time, and how that changed their lives for the better.
Q: Can you give a few examples of nature-based or outdoor learning that has happened in your classroom this year?
Takacs: This year my class has become meteorologists by going outside to observe the weather like a scientist, then recording and charting that information in a weather journal. My students also love to explore nature anytime we're outside...finding and planting seeds, digging for "fossils," observing the geese, making leaf piles, finding bugs, and more.
Wiss: Students have practiced being mini-meteorologists by observing and reporting on the weather, using a variety of real weather instruments to predict the weather, and getting the chance to go out and test their predictions in person!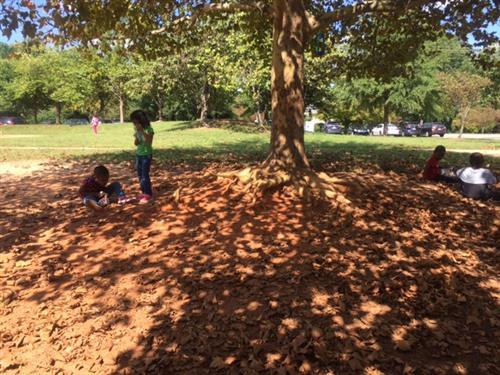 Q: What is YOUR favorite outdoor activity?
Reid: My favorite outdoor activity would have to be running or biking on a trail.
Takacs: My favorite outdoor activity is definitely sitting by the ocean and going snorkling, but around here I love to walk my dog in the woods.
Q: What does the Environmental Connections magnet theme mean to you?
Reid: To me the Environmental Connections magnet theme means realizing how everything that we do and encounter is connected in some way to the environment.
Ronan: In my mind, our magnet theme means that we have an obligation to get our students as interested and passionate in our world as we are. As I have said, they are our future! I truly believe that the answers to current arising issues around our planet will be solved by a student sitting in our classroom today. We just need to drive their passion for answers and solutions forward!
Takacs: My hope is that, as our theme becomes a more integral part of our DAILY learning, our students will become ambassadors for the natural world around them. I would like for them to be the generation that reverses climate change, instead of the generation that suffers its effects.
Wiss: To me the Environmental Connections theme means that students are learning about the impact that they have on the world around them and the importance of taking care of their environment. Working and playing outside has so many benefits for children, and it encourages creativity and discovery-based learning.
We can't thank these four fantastic teachers enough for sharing their classes and personal thoughts with us.