Return to Headlines
Spotlight on Faculty: ECIS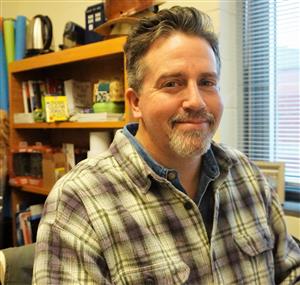 Our magnet theme works into all aspects of learning at MECME. How do teachers get that all done? With the amazing guidance and assistance from our Environmental Connections Integration Specialist (ECIS), Sean Russell. Mr. Russell works with teachers daily to ensure that our theme is integrated in meaningful and authentic ways daily at all grade levels. He is a busy man, but we were lucky enough to sit with him for a quick Q and A to help us better understand the role of the ECIS at MECME.
Q: What is an Integration Specialist?
Russell: An Environmental Connections Integration Specialist, or ECIS, helps teachers connect all the subjects they teach to our natural and social environments.
Q: How do you support teachers on a daily basis?
Russell: I meet with teachers when they are planning as a grade level and in brainstorming sessions. I work with them to gather resources and to facilitate a variety of Mini Treks on and around our campus.
Q: What are some new things that are being added to the school this year that you are involved in?
Russell: I'm setting up a weather monitoring station for an E-Inquiry lab. I helped the E-Inquiry teachers install three air quality sensors that students are using as part of a problem based learning (PBL) assignment. I am working closely with teachers as we begin implementing our schoolwide electives, or as we call them here, Expeditions. We're constantly 'growing' new projects here at MECME.
Q: Any projects coming up that you could share with us?
Russell: As part of a partnership with the Museum of Natural Sciences's Utilizing the Outdoors to Teach Experiencial Science (UTOTES), we are installing a pond. The pond will provide several opportunities for the students to explore aquatic life. It is also the first feature of what will be a mini eco 'park' highlighting alternative energy.
Q: What do you love about MECME?
Russell: I love seeing the theme develop and how the amazing teachers help the students internalize the spirit of natural and social environmental connections.
Q: Do you get a chance to work with students too?
Russell: Yes. Opportunities to take a class on a Mini Trek, present information, and even pop into a class to teach lesson present themselves. It's important to me because it helps me stay focused on the fact the students are the people that we are here for.
Q: Why do you feel it is important for learners to connect their learning to the environment?
Russell: If we consistently give our students genuine reasons that the information they are learning is purposeful and relevant, they will understand and retain it better. The environment is something that connects us all, no matter who or where we are. The fact that the environment is a constant in all of our lives, makes it a resounding topic to connect all learning to.
Q: You have a very unique job, what is your favorite part about it?
Russell: Because my position is unique, there is a lot of flexibility in how I can help teachers and students. I enjoy learning from the teachers when planning with grade levels and I really love the fact that I essentially get to build the ECIS role into something beneficial for MECME.
Q: How do you define success?
Russell: To me, success is being optimistic, always seeking new learning adventures, and never giving up.
Q: What is your favorite park in the Raleigh area and why?
Russell: Raleigh has an abundance of awesome parks! I spent a lot of time playing at Millbrook Exchange Park and Eastgate Park when I was in elementary school. I have great memories of riding the BMX track at Lions Park with my little brother and riding skateboards at Pullen Park. I really like the investment that Raleigh has put into the greenways and trails. It's a great joy to me to know I can hop on my bike, ride a short distance to the House Creek Trail or the Reedy Creek Trail and then connect to just about all of Raleigh.
Q: What are two activities that you recommend for families who want to get outside? Why?
Russell: Walking and bike riding. Walking is great exercise and requires no special gear. Walking gives you an opportunity to slow down, to think, to really notice the world around you. Riding a bike is also good exercise. You can ride fast or slow, alone or with friends and family.