Return to Headlines
Spotlight on Faculty: E-Inquiry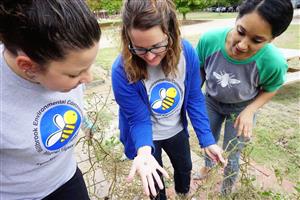 It's year two of our magnet theme and with it have come a variety of new developments. This year we have expended our Environmental Inquiry class to two days a week, and we now have three phenomenal teachers teaching it and tailoring it for different grades: Natalie Avilez (2-3), Jill McGowan (K-1), and Tracy Brumble (4-5). That's right, we have THREE E-Inquiry labs this year! This course is unique to MECME, and we are so excited for all the amazing learning that has been happening thus far. Staff Spotlight was able to sit down with this trio to learn all about what's in store for E-Inquiry this year and the dynamic women who teach it!
Q: What is E-Inquiry?
Avilez: E-Inquiry is a space where we join forces and collaborate to solve a problem. Students in E-inquiry take control of their learning as they explore real life issues and come up with creative solutions.
Brumble: E-Inquiry stands for Environmental Inquiry. During E-Inquiry students connect to content areas delivered through the lens of Environmental and Life Sciences.
Q: How is E-Inquiry different than a Science Lab that other schools may have?
Brumble: E-Inquiry provides students with authentic connections to the natural world allowing for more learning opportunities outdoors. It promotes student's understanding of how natural systems and human social systems work and inter-relate. It helps students understand their environment around them and analyze the many current environmental issues today.
McGowan: Our lessons are generated using a Problem-Based Learning format, where students ask questions about an environmental topic and discover new and interesting ways to find answers to that problem.
Q: What kind of Science technology will students use in the labs this year?
Brumble: Students will use Ipads for research and exploration with Apps, document cameras, digital microscopes, loops, digital weather station, air particulate sensors, grow lights, garden towers and so much more!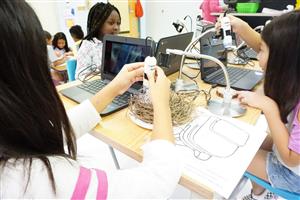 Q: Can you tell us about some of the learning that happens in your lab?
Avilez: For the first quarter our second graders will become experts on how to create and use meteorologist tools. At the end of their PBL (problem-based learning) project students will create an "I am an expert" green screen video on how to use and create all the meteorologist tools that are used to predict the weather. In addition student will collect weather data on Raleigh and another school around the globe (the students will choose where) and collect weather data from that area. This will allow our students to compare weather patterns around the world.
Brumble: During this time of year, 4th graders are learning about erosion (water, wind and ice) and the changes it causes to the earth. Students will participate in a virtual tour of the Grand Canyon and take a mini-trek on our school campus looking for evidence of water erosion. We will research different lanforms and how they were created and create a fun TV game called "Name That Landform!" where we will use green screen and travel to landforms across the world. During this time of year, 5th graders are exploring the air outside using Particulate sensors. They are learning the properties of air.
McGowan: hands-on and inquiry based, with real world application...and the "lab" is not just the classroom, it is outside all over our school campus, and community, as well.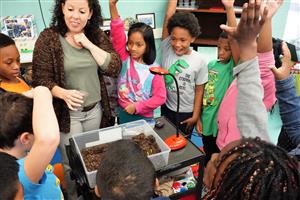 Q: What are of Science do YOU find most interesting? Why?
Avilez: I love all science, but Ecology sparks a special interest in my heart. Ecologists examine how living things depend on one another for survival. Understanding the balance required for all living things to interact motivates me to continuously ask questions and seek answers.
Brumble: I find Ecology most interesting because I enjoy watching and researching how living things interact with one another and their environment. My students often find it most interesting when working with living things too, and I enjoy seeing them excited about science and wanting to make a positive difference for all living things on Earth.
McGowan: Life Science. I find it to be the most engaging and real-world connected for my students. Also, I LOVE bugs and all kinds of critters, and I love to watch, study, and learn all I can about them...and then share that love with my students.
Q: How long have you been teaching/working in education?
Avilez: 6 years
Brumble: 17 years
McGowan: 12 years
Q: What is your favorite outdoor activity?
Avilez: I love hiking in the woods or lounging on the sand.
Brumble: I enjoy EVERYTHING outside! But if I had to choose, I enjoy outdoor water activities. I went tubing in the Oconaluftee river in Cherokee, NC this past summer with friends and it was an amazing experience!
McGowan: Hiking and looking for bugs
Q: When did you first become interested in Environmental Science?
Avilez: As long as I can remember!
Brumble: I've always had a passion for protecting natural areas and the insects and animals we find there. Environmental Science often leads to action for positive change to keep our environments safe. When I found out that Millbrook's new magnet theme was Environmental Science I was super excited to dive into new projects and learning with my students.
McGowan: I've always loved being outside and exploring nature, but when my own children were little, I took them to a lot of parks and recreation nature programs. It was through these programs, and seeing the wonders of nature through their little eyes, that I really felt a calling to bring that wonder and discovery into the classroom.
Q: What does our Environmental Connections magnet theme mean to you?
Avilez: Environmental connections means the interactions between the human social system and the rest of the ecosystem. It means asking questions, looking for issues and finding solutions as a community. I teach to inspire curiosity! I love to share knowledge, share ideas, communicate concepts and inspire conversations. I teach to reach children and see their progress develop over time.
Brumble: The Environmental Connections Magnet theme to me means hope, hope for our future world. It's important to me that students understand and appreciate their surrounding environment and the many different environments around the world. It's a program that is built on the understanding that students who connect with their natural world, often times, show enhanced attention, improved behavior, and more enthusiasm for school which leads to increased academic performance.
McGowan: Everything! I love that we are working hard to develop environmentally-minded citizens that will change this world! Our students will be stewards of nature and the environment. They will learn to love the natural world and explore and discover its vast array of possibilities.
Q: What would you want to do for a career if you weren't doing this?
Avilez: I would probably be working in the Marketing and Design field.
Brumble: I have always wanted to be a photographer for National Geographic and travel the world capturing the natural world and ALL its beauty.
McGowan: I'd be an entomologist (a scientist that studies bugs!).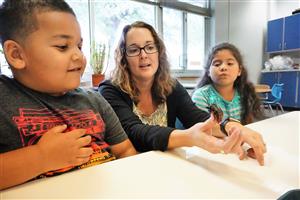 We can't thank these three amazing teachers enough for sharing their classes and personal thoughts with us. When you see them around school, be sure to let them know you read this article!