Return to Headlines
Spotlight on Staff: Parent Liaison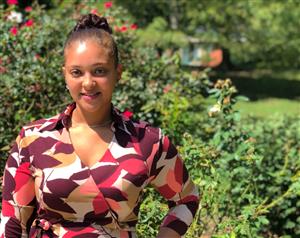 In addition to our traditional student support staff (ie. School Counselors), MECME is lucky enough to also have a Parent Liaison, a school support for our parents and families. Recently, we had the opportunity to sit down with our Parent Liason, Jazmin Parker, for a brief Q and A to learn more about our Parent Liaison and the services she offers.
What is a Parent Liaison?
A Parent Liaison is a school staff member (not a volunteer) who works to bridge the gap between home and school by helping parents get the information and support they need to ensure their child's academic and social success. As a parent, you have a private link, connection, and bridge to your child's school.
¿Qué es un enlace de padres?
Enlace de padres es un miembro del personal (no voluntario) que trabaja para cerrar la brecha entre escuela y hogar por ayudar a los padres reciben la información y el apoyo que necesitan para asegurar el éxito académico y social de sus hijos. Como padre, usted tiene un enlace privado, conexión y puente a la escuela de su hijo.
What do you enjoy the most about being a Parent Liaison here at MECME?
I enjoy being able to build relationships with parents and students and a GO TO PERSON for parents making sure everything they need is taking care of. Also just being there for them when they need it the most.
¿Por qué le gusta más ser un enlace de padres en MECME?
Yo disfrutando de poder construir una relación con los padres y estudiantes e ir a otra para los padres asegurarse de todo lo que necesitan es cuidar. También sólo estar allí para ellos cuando lo necesitan más.
Where can a MECME parent find you on campus?
In the front office
¿Un padre MECME dónde le en la escuela?
En la oficina
Can you share some ways that you provide support for our families?
Working with Parents and Families; Building Rapport; gathering any information a parent is requesting.
¿Puede compartir algunas formas que proporcionan apoyo para las familias aquí?
Trabajo con padres y familias; Rapport de la construcción; cualquier información está solicitando a los padres.
You are a mother of two, correct? Can you tell us a little about what you love about being a mom?
Yes, two beautiful boys. I love everything but mainly being able to love them unconditionally and making sure that they know I will go above and beyond to make sure they have everything they need. They are my little best-friends!
¿Usted es una madre de dos, correcto? ¿Puede usted decirnos un poco sobre lo que te gusta de ser madre?
Sí, dos hermosos niños. Me encanta todo, pero principalmente poder amarlos incondicionalmente y asegurándose de que saben que voy a ir más allá para asegurarse de tienen todo que lo necesario. Son mis mejores amiguitas!
What do you like to do in your spare time?
I like to binge watch tv, also I love graphic design, so I am always making something to put on (clothing, glass, hat,etc).
¿Qué te gusta hacer en tu tiempo libre?
Me gusta el desenfreno ver la tv, gráficos de amor diseño así que siempre estoy haciendo algo para poner en (ropa, vidrio, sombrero, etcetera).
What is your favorite thing to do with your own children?
My oldest child loves sports, so we do that a lot. He also loves to read, so we all read to his little brother.
¿Cuál es tu cosa favorita para hacer con vuestros niños?
Mi más antigua ama el deporte así que lo que mucho también le encanta leer por lo que se lee a su hermano pequeño.
Where is your favorite place to spend your free time?
At home
¿Dónde está tu lugar favorito para pasar su tiempo libre?
En casa
What is one thing that most people don't know about you?
I am a very shy person.
¿Qué es lo que la mayoría de las personas no te conoce?
Soy una persona muy tímida.
What do you think you would do for a career if you weren't doing this?
Probably starting my own graphic design business.
¿Qué crees que harías para una carrera si no haces esto?
Probablemente a partir de mi propio negocio de diseño gráfico.
What is one thing you could not live without?
Other than my kids, I would say snacks. I love to snack on things!
¿Qué es una cosa que no podría vivir sin?
Que no sean mis hijos diría aperitivos jajaja que me encanta snack a cosas.