Return to Headlines
Spotlight on Faculty: ECS I
In addition to our K-5 classrooms, MECME is lucky enough to also host two Extended Content Standards classes, ECS I and ECS II. Recently, we had the opportunity to sit down with our AU I teacher, Leanne Klarer, for a brief Q and A to learn more about the AU program and one of the amazing teachers who helps make learning happen everyday for her students.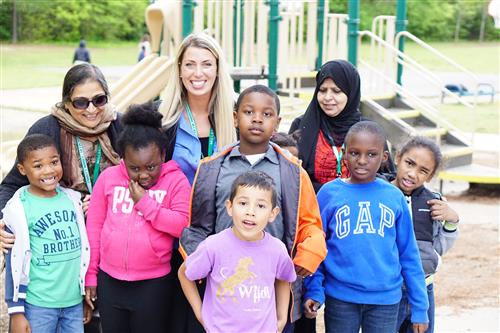 What is ECS?
ECS classrooms consist of learners who benefit from a structured environment. ECSI classrooms often include students from kindergarten to second grade. ECS2 classrooms typically consist of learners from third through fifth grade. ECS regional programs respond to the needs of students who require visual and physical support as well as consistent, predictable daily routines. Regional programs focus on communication and social skills and lessons are catered to meet individual student learning needs. Teachers use a variety of teaching methods to allow students to demonstrate knowledge to make progress towards the NC Extended Content Standards and their Individualized Education Programs.
How long have you been teaching/working in education?
Overall, I have been working with students with autism for about 8 years. However, this is my first year as an autism level one teacher. Prior to moving to North Carolina, I worked in several schools for students with autism spectrum disorders and related disabilities, including The Valley Program, The Center for Spectrum Services, and Anderson Center for Autism (in both NY and NJ), while completing my undergraduate and graduate degrees. I also worked as a TA for a few years, while completing graduate school. Last year, I worked with an AMAZING teacher, Allison McClelland at Highcroft Drive Elementary School in her AUI classroom. I learned SO much from her and was so fortunate to work with her.
What made you decide to work with autistic students?
While working as a lifeguard during my junior year of high school, a parent asked me to give her son swim lessons. I later found out that her son had autism, was nonverbal, and was very scared of water. However, by the end of the summer, he LOVED swimming. He would come to the pool every day and immediately jump into the deep end. He made me realize how rewarding it is to work with individuals with autism, which further enhanced my desire to continue working with learners with special needs for the rest of my life.
What do you like best about teaching?
I love my students most of all. Every day, they make me smile, laugh, and very proud!
Where is your favorite place to spend your free time?
My favorite place to spend my free time is at the beach.
You are from the New York/New Jersey area. What made you move to Raleigh, NC?
I decided to move to Raleigh because I had heard so many wonderful things about the area. New Jersey is great, and my family still lives there, but I love North Carolina because it is warm and there is so much to do. I like Raleigh because WCPSS is the best district to work in and has many great schools.
What is your favorite outdoor activity?
I enjoy going on hikes.
What is one thing that most people don't know about you?
I love corgis! My husband and I are hoping to get a corgi puppy very soon!
What would you do for a career, if you weren't teaching?
Since the third grade I've always wanted to be a teacher, so I haven't really considered any other professions. But, if I had to choose something, I'd be a journalist. I love writing.
What is one thing, you could not live without?
CHEESE!
It was great to get to know Ms. Klarer a little better. We are so glad she had the time to share a bit about herself and her class with us. We also want to congratulate her on being recognized as Wake County Public School System's First Year Teacher of the Year for Special Education. This is quite an accomplishment, and we are so proud of her for achieving this high honor. Be sure to congratulate Ms. Klarer when you see her around school!