Return to Headlines
Weekly Message from Dr. Graf October 25, 2023
School Messenger
East Garner Elementary
October 25, 2023
Good afternoon Explorers,
It's week 2 of quarter 2 and we are moving and grooving here at EGES. Here's an update on the happenings of the school:
Mark Your Calendars
This Week

Next Week

10/26: 24 & 26: Parent Conferences




10/26: Pancakes with the Principal: Meet the APs and Engage Around PBIS and Student Achievement 8:15 a.m. Media Center

10/31: Halloween: No Costumes Permitted. Regular School Day.

11/1: PTA Food Drive Begins

11/1: SIP and Student Achievement Roundtable with Dr. Graf 11:30 Media Center
Looking Ahead: November
11/1: SIP Committee Meeting 8:00 a.m. Parents can join and give input to our school improvement meetings. Come on out!
11/7: Teacher Work Day: No School for Students. Staff in professional development sessions.
11/8: Explore Encore Performance Garner High School 6:00 p.m.
11/9: Fall Picture Makeup Day: Any student who missed fall pictures, any new student to EGES, and any student returning a picture package can participate in retake day!
11/10: Holiday: School Closed
11/13: 3rd Grade Assembly: Bikes for Kids Essay Contest 2:00 p.m.
11/22-24: No School: Thanksgiving Holiday Break
11/29: SIP Committee Meeting: Parents are welcome to attend and give input on our school improvement and student achievement efforts!
A Few Reminders for Everyone in Our School Community
Carpool Traffic Flow Concerns
Please follow the loop of the carpool counterclockwise. This means please go around the loop and then seek a parking space near the building if that is your intent. Please do not pull into the first driveway of the carpool lane--that is an exit only. We have had one fender bender and two near misses where accidents could have been avoided if folks followed the carpool loop in the right order. Consistently in the afternoon, Mr. Stucker is outside directing traffic. Please do not circumvent the carpool direction lane because of traffic. We all do our best to move the carpool lane as quickly as possible. Please see the image below for the specific flow of the carpool lane.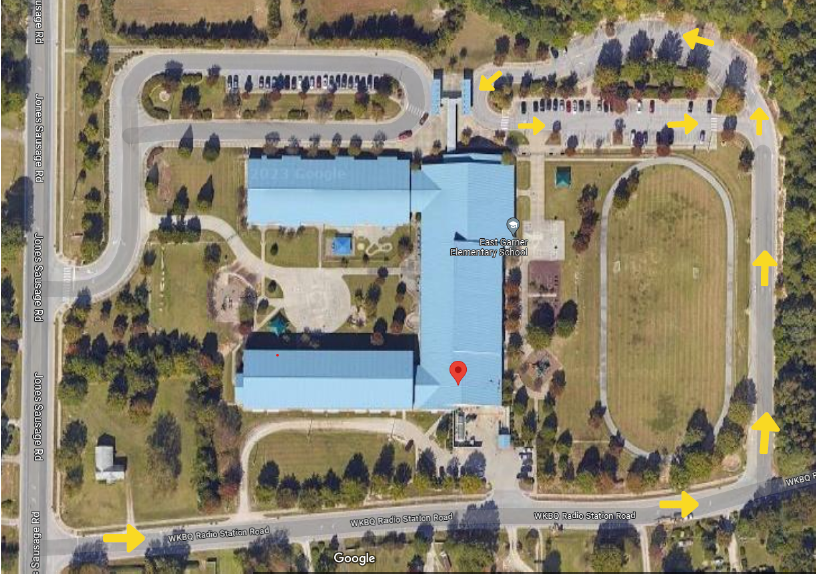 Field Trips
Field trips are being scheduled for each grade level. All grade levels will have two field trips this school year. Field trip permission forms must be completed and submitted on time to the classroom for your child to participate. This is a district policy as the school nurse must have forms to review 30 days prior to the field trip. We will send home reminders multiple times, but we will have to also be firm with our deadlines. Additionally, reimbursements will only be offered within one week of the field trip and will require all parents to have a receipt of payment. If you are paying online, you will have a receipt in your online account. If you are paying in cash at the school, you must obtain a receipt from your classroom teacher. This is a district requirement.
Early Dismissal
Students may not be checked out after 3:15 p.m. due to preparing for dismissal. Parents, moving forward if you are coming for early dismissal you (Must have a cell phone and your photo ID) to scan the QR Code with your phone outside the front office door. For the safety of our students and staff, parents you will wait outside the front door. Once the visitor management (QR Code) has been completed information will be reviewed by the front office staff and we will call students for dismissal. If you are coming into the school building for a conference or dropping off documents you will still need to complete the QR Code before coming into the office.
That's it, Explorers!
Thank you for all that you do to support your child and our school. If anytime you need to speak with Administration, please call the school office at 919-773-7411 and ask for me, Dr. Graf, or one of the assistant principals, Ms. LaPlace (Grades Pre K-2) and Ms. Anderson (Grades 3-5).
Your Proud Principal,