Return to Headlines
07/12/2021 Principal Message: Welcome to 2021-2022! It's Going to be an #EPIC school year!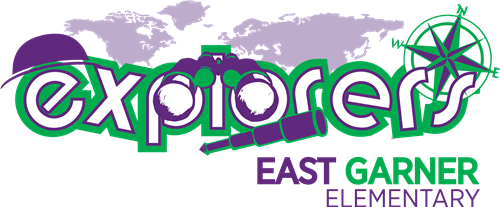 Welcome Back Explorer Families,
It is hard to believe that the new school year is here, but it is! We welcome the 2021-2022 school year with optimism and excitement. We are thrilled to have almost 500 students return back for face to face instruction and another 65 students enrolled in the district virtual academy with our partner schools. It is my hope that my welcome message and information will be just what you need to feel confident and ready to return back to school. I want to acknowledge that there will be some students and families with anxiety about returning back to school. If you have any specific questions, need information about practices and protocols, or have the need to speak with a counselor, please do not hesitate to contact me and I will be happy to assist you!
To minimize the spread of COVID-19, our school follows all COVID-19 health measures required by the NC Department of Health and Human Services. Review our Safe Return To School Plan before the first day of school. Remember, all students must stay home when sick, wear a face covering in school and should maintain as much physical distance as possible on campus. Please notify your student's teacher or me as soon as possible if your student is diagnosed with COVID-19, so we can work with health officials for confidential contact tracing. Together, we can keep our students, staff, and community healthy in a safe and welcoming environment at school.
Our school theme is #EPIC and it is our desire to have an #EPIC school year--the best yet! As we move forward you will hear me refer to our theme in future communications, in school messenger phone calls, and in our community. After living through a global pandemic, we certainly all need to have an #EPIC school year.
Please read through the information below and feel free to reach out with any questions or needs.
Before and After School Care Program
EGES would like to offer a Before and After Care Program. The program must meet enrollment requirements of at least 25 paid student registrations in order to open. If you are interested in Before Care (7:00 a.m-8:45) and/or After Care (4:00-6:00 p.m.), please complete this form. For specific questions about the program, please email Mr. Elmore at celmore@wcpss.net.
Rising Kindergarten Information
A special welcome to our newest Explorers! Don't worry Mom & Dad, we are experts at welcoming our Kindergarteners in and ensuring their transition to school is as successful as possible. Click here to access the Kindergarten Orientation presentation from May. Click here to access the Kindergarten Staggered Entry Schedule. Do you need help enrolling your child in Kindergarten? Contact Ms. Roger, our Student Information Manager at trodger@wcpss.net for more information.
Carpool
Carpool occurs in the lot accessed from WQRB Radio Station Road. Cars should not pull into the Bus Loop, as this presents a safety hazard for cars and students. Each student is required to have a carpool number. Please complete this form to sign up for carpool. You will receive a tag during the first few days of school.
Bus Transportation
The yellow bus transportation request period has ended. If you applied for a yellow bus transportation by the due date, please check your email for bus stop and pick up/drop off time information. If you have not applied for yellow bus transportation, but need to, please visit the WCPSS Transportation page to do so.
Schedules
All homeroom teachers will share their daily classroom schedule with parents at Meet the Teacher.
Lunch
ALL students will receive FREE lunch in the 2021-2022 school year thanks to new legislation. Additionally, families should still complete the meal application form linked here. Students will eat in the cafeteria. Does your child have allergies or special dietary needs? Please notify school administration, AP Anderson right away so we can be prepared at oanderson@wcpss.net.
Technology
Every student who has not already been assigned a WCPSS Chromebook will receive a device within the first week of school. Students should use their WCPSS device for school assignments and tasks. You will be contacted by AP Allain if your assigned device needs to be returned to the school or exchanged for another device per district guidelines. Questions about devices? Please contact AP Allain at aallain@wcpss.net.
The following information is about student devices and applies to all students.
All students will be assigned a student Chromebook at the beginning of the 2021-22 school year. If your student has no district Chromebook checked out, they will receive one at the beginning of the school year. For students with a Chromebook checked out, they may be required to return the Chromebook to receive a new one, or they may be required to continue using it, depending on the model. Your school will let your student know if they are eligible to receive a replacement or will continue using the Chromebook they have.
Any problems with Chromebooks that are currently checked out must be reported to your school or the WCPSS Technology Help Desk as soon as possible.
Student devices that are not functioning because of a defect in the device will be repaired or replaced as needed. Devices that are damaged or lost will be replaced once during the device loan period. Students who experience a second incident of damage or loss will be limited to in-school use of a device only. All families will be expected to sign an agreement at the beginning of the school year acknowledging this and other student expectations. Find the agreement and additional information. Schools will provide a copy to students at the beginning of the school year.

Finally, all hotspots that are checked out from last year must be returned to your student's school as soon as possible. Families will have an opportunity to request a hotspot if one is needed at the beginning of the 2021-22 school year through the school's social worker.
Please see the following links and note that all forms must be submitted and signed prior to a device being checked out to a student. The student agreement form, caring for the device, and device terms and conditions can be accessed at this site: https://www.wcpss.net/techguides
Power Schools Registration
Please complete the registration process for Powerschools access. This access allows parents to check grades, enter address changes, etc. Need support with this process? Please contact Ms. Rodger at trodger@wcpss.net. Ms. Rodger is a Student Data Manager and she can assist you.
Sick Students
Any student who attends school and presents with a Covid-19 symptom will be sent home and required to quarantine or a negative Covid test. Pick up should be timely and all students with symptoms should be picked up within the 30 minute allotted time window. These processes will be shared with the adult who picks up the child from school.
Water Bottles
Due to our protective measures with Covid-19, water fountains remain closed. Students will be provided a school spirit water bottle! Please ensure your child brings their water bottle daily.
Meet the Teacher Options
Due to Covid-19 restrictions, we are offering staggered Meet the Teacher sessions. Our Virtual Session is open to all student families on Thursday, July 22, 2021 12:30-1:00 pm. An access code will be sent out via Talking Points on Wednesday, July 21st. The face to face option is staggered. Students with last names A-L 5:30-6:00 and students with last names from M-Z attend from 6:00-6:30 p.m. Please attend based on your child's last name.
Join our PTA: More information will be shared in the coming weeks regarding our 21-22 PTA. Stay tuned!
School Administration Contact Information
School administration is here to help! You may contact us at any time.
Principal: Dr. Carmen M. Graf cgraf1@wcpss.net
Assistant Principal K-2: Odessa Anderson oanderson@wcpss.net
Assistant Principal 3-5: Austin Allain aallain@wcpss.net
Again, we can't wait to see you and your child as we begin an #EPIC school year.
Your Proud Principal,
Dr. Graf