Return to Headlines
FVHS Weekly Principal's Message 2-5-23
Weekly Principal's School Website Message – 2-5-23
Hello Bengal Nation! – Here's this week's news and updates from YOUR Fuquay-Varina High School.
Congratulations and Shout-Outs!
Congratulations to the following FVHS students who participated in the 2023 East-Central Bandmasters Association All-District Honor Bands. Brayden Glock, Logan Hinnant, Maddie Clark, and Kenzie Leighton. Both Maddie Clark and Kenzie Leighton are eligible to audition for All-State Band in March! Thank you to our Band Director, Matt Edwards for preparing our band students for this honor and competition.
The Fuquay-Varina Woman's Club and Fuquay-Varina Junior Woman's Club recently hosted the ARTS Festival 2023. Both clubs took part in judging separately. FVHS represented! Here is a list of students that won! This competition featured local schools including WSHS, Middle Creek, Harnett County, etc.. We did very well as a school!
Taylor Beard won "Best of Show" with her 1st Place in Graphite
Kevin Gutierrez-Bautista also won 1st Place in Graphite
Sophie Behrendt won 2nd Place in Graphite
Arabella Gonzalez won 3rd Place in Graphite
Averi Richmond won 3rd Place in Graphite


Taylor Beard won 1st place in Acrylic
Chris Papagianneris won 2nd place in Acrylic
Lily Ryman won 2nd place in Acrylic
Brooklyn Jones won 3rd place in Acrylic


Natalia Molanphy-Figueroa won 1st Place in Colored Pencil


Taylor Beard won 1st Place in Mixed Media
Natalia Molanphy-Figueroa won 1st Place in Mixed Media
Lily Ryman won 3rd Place in Mixed Media


Anastasiia (Stacey) Minina won 1st Place in Watercolors
Ekaterina (Kate) Soloninko won 2nd Place in Watercolors
Meningococcal Information – REQUIREMENT – Current Juniors/Rising Seniors
For our rising seniors:
NC law states that all children entering the 12th grade must have a booster dose of meningococcal vaccine. If you have not already had the booster, please consider making your appointment to get it soon. Once you have received the MCV A booster, please e-mail a copy of the immunization record to our Data Manager, Jennifer Klink, at jklink@wcpss.net.
Senior Cap and Gown Portraits
Lifetouch will be on campus THURSDAY, FEBRUARY 9 for cap and gown portraits. Portraits will cost $10, due at the time of the sitting. If you are interested in having these portraits taken, please sign up for a slot at prestigeportraits.com. There will be no make-ups sessions for these portraits and these portraits will NOT be in the yearbook. The last day to sign up for a time is Thursday, February 2.
Senior Yearbook Ads
The deadline for senior recognition ads are extended to February 7th. Celebrate your student's growth, journey, and accomplishments through high school. Go to Jostens.com to create your senior ad for yearbook today!
Sophomore Student Parking Passes
FVHS will be opening up the limited remaining parking spaces to any 10th graders who have their license at the semester change. They will need to personally reach out to Assistant Principal, Eric Thomas via email erthomas@wcpss.net and he will send them the link for the application and payment. It will be on a first come first served basis starting Monday, January 30th.
Sneaker Ball
The Student Council would like to present Fuquay's very first sneaker ball. A dance with formal attire but only casual shoes are allowed. No dress shoes will be allowed. The dance will be February 25 in the cafeteria and a limited number of tickets will be sold in January. This dance is for FVHS students only. More details to come!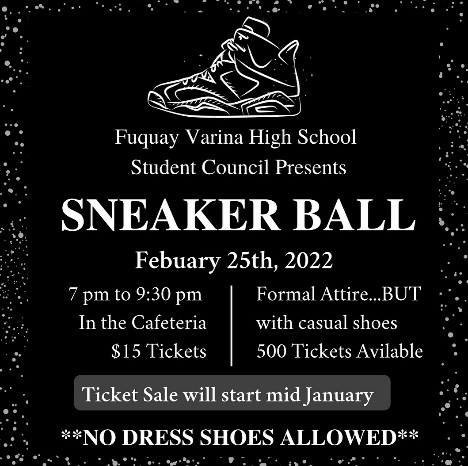 Special Olympics Fundraising Information
The Special Olympics fundraising competition begins March 1st and that is when people will be able to make donations on the site and will end on May 31th. Each school will receive a small torch trophy just for participating but the winner will have a large torch trophy presented to them by some of our local Special Olympic Athletes. The winning school will have the winning trophy for one year of bragging right until next year's competition where we will see if we crown a new victor. Right now, the 2022 Trophy is with us here at Fuquay-Varina High School and we will continue to hold onto it for 2023!
Here's the link to make donations for our FVHS Special Olympians
https://give.specialolympicsnc.com/campaign/back-to-school-for-inclusion-for-special-olympics-north-carolina/c416128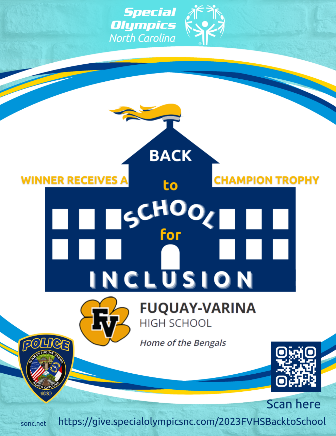 News and Upcoming Events
Open House / Meet the Teacher – Spring Semester classes – Thursday, February 9th, 6 pm.
Curriculum Fair – Rising 9th grade through Rising 12th grade – Thursday, February 23
Athletics
Spring Sports Tryouts are scheduled for Feb. 13. All student-athletes must complete athletic registration in Dragonfly before they can participate. Additional tryout information will be posted on our athletic website next week.
Link to Complete Registration
Physical Form Link
For our full athletic schedules, events, and calendars, please visit the FVHS Athletic Website.
FVHS PTSA Information
Looking for a fun and unique way to celebrate someone special or congratulate a big win?
Through a very generous donation by Two Brothers Landscaping, the FVHS PTSA has been gifted a boulder that can be rented for celebrations by students, parents and staff of FVHS! Please note this is NOT the rock on Broad Street - this rock is located in the STUDENT PARKING LOT on the corner between spaces 40 and 41.
Rentals begin Saturday, January 7th. All funds raised will go directly to support PTSA programs, events, scholarships and grants.
Reservations can be made by using the link below, scanning a poster around the school with a QR code or visiting the rock directly and scanning the QR code provided on the sign.
<2fa7f42130f9c8ae62d494a635724e7b.jpg>
Follow FVHS
You can follow Fuquay-Varina High School through our school website or through the following Twitter addresses
@FuquayVarinaHS
@rmjamesfvhs