Return to Headlines
FVHS Weekly Principal's Message 1-29-23
Weekly Principal's School Website Message – 1-29-23
Hello Bengal Nation! – Here's this week's news and updates from YOUR Fuquay-Varina High School.
Spring Semester Schedules
All students should view their spring schedule in Powerschool prior to arriving to school on Monday. Students will report to their Spring 1st period class. Staff members will be located around campus to assist students with finding their class if needed. Students will receive an official schedule from their 1st period teacher.
Please make sure you view your most recent schedule in Powerschool as some schedules have been adjusted and some classes have been moved as we begin second semester.
Senior Cap and Gown Portraits
Lifetouch will be on campus THURSDAY, FEBRUARY 9 for cap and gown portraits. Portraits will cost $10, due at the time of the sitting. If you are interested in having these portraits taken, please sign up for a slot at prestigeportraits.com. There will be no make-ups sessions for these portraits and these portraits will NOT be in the yearbook. The last day to sign up for a time is Thursday, February 2.
Senior Yearbook Ads
The deadline for senior recognition ads are extended to February 7th. Celebrate your student's growth, journey, and accomplishments through high school. Go to Jostens.com to create your senior ad for yearbook today!
Senior Scholarship Information
SENIOR PARENTS: Scholarships are available for your students! Recent additions are the State Employees Credit Union Scholarship, the FV Technical Scholarship, the FV Lions Club Scholarship, and more! Please check out the FVHS Scholarship Listing here: bit.ly/3waURKT
AWESOME Opportunities for Students!
Item #1
Meredith College is pleased to offer an on-campus leadership conference for high school juniors who are interested in developing and sharpening their leadership skills. The Meredith College Office of Student Leadership and Service, in conjunction with the Office of Admissions, will host this free conference on Saturday, February 11, 2023. Registration is now open. Please register by Sunday, February 5, 2023. Call the Office of Admissions at 1-800-MEREDITH or e-mail admissions@meredith.edu with any questions.

Item #2
Students, are you interested in television broadcast or broadcast communications? The Durham Bulls Explorer Post 50 is a co-ed unpaid internship program that offers students, ages 14-20, a unique and invaluable opportunity to gain exceptional experience in the field of television broadcasting.
The Durham Bulls and Explorer Post 50 will be holding an Open House on Wednesday, Feb. 8th from 6:30-8:00pm at the Durham Bulls Athletic Ball Park located at 409 Blackwell Street, Durham, NC 27701.
Applications are now being accepted for the 2023 Durham Bulls season. If you are interested in being a part of the TV Crew, please complete the 2023 Online Application. Applications are due by Sunday, Feb. 19th, 2023 and must be completed to be considered for membership. We will be limiting the crew to 70 members. To learn more about Durham Bulls Explorer Post 50 Program, https://www.milb.com/durham/ballpark/explorer-post
Item #3
Introducing the first-ever...America's Next Great Intern contest!
The Rubin team is thrilled to launch a national contest to spotlight CTE students with the potential to be stellar interns across all career pathways.
Wait, national contest? How does it work? When does it start? Are there prizes? Who is eligible? How do I sign up? And what about the prizes???


-Rubin, the leader in online curriculum for employability training, challenges students to demonstrate important work readiness skills like a firm handshake, speaking on the phone, writing an email and more.
-The submission period runs from February 1, 2023, to March 3, 2023, to coincide with National CTE month in February. In March, we will post ten national finalists and let the public choose America's Next Great Intern.
-The contest is open to any middle school, high school or post-secondary student who participates in a CTE or project-based (hands-on) class or program.
-Prizes include Amazon gift cards, a stipend for professional clothes, the chance at a paid virtual internship and more.
-Link to flyer and see Dr. Jessee with any questions. ejessee@wcpss.net
Career Development Updates
Career Development Updates | Contact Dr. Jessee , Room 2402 or ejessee@wcpss.net for further information.
Seniors, are you interested in being a future WCPSS teacher? Attend a virtually session on 1/31 at 5:15 pm to learn more about the opportunities available. Register by 1/30 at 5 pm

https://tinyurl.com/WCPSSfutureteach23





Juniors, do you have an interest in leadership and strive to put those skills to practice? Apply to be a part of Rotary Youth Leadership Awards. See Dr. Jessee for the application. Due 1/24 by 6 pm to virginia.johnson@empoweredideas.com

Part-time jobs:

Opportunity with a local attorney's office. They are looking for a student with strong communication and time management skills to work Monday-Thursday from 1:30/2 to 5 pm.
Opportunity with Jersey Boys Subs (https://jerseyboysubs.com is looking for eager students who can engage with customers and have a strong eye for detail.
Opportunity with Pool Professionals: They are seeking lifeguards, assistant managers and managers. Pay begins at $13/hour. Link to apply:

https://staff.poolprofessionals.com/job-application/
Are you interested in landscaping? There is a High School Landscaping Competition hosted at NCSU on 2/23 and have a business willing to sponsor any students who may be interested.
North Carolina Triangle Apprenticeship Program (NCTAP) Facility Tours are occurring now. Learn more by visiting nctap.org and sign up for a tour as well. Th

ey have the following tour dates remaining:
Feb 4, 2023 - 8:00 and 10:30 AM (The inclement weather back up tour date is

February 11, 2023 – an email will be sent to all students if local weather dictates the use of the inclement weather back-up date)

Feb 18, 2023 - 8:00 and 10:30 AM (The inclement weather back up tour date is

February 25, 2023 – an email will be sent to all students if local weather dictates the use of the inclement weather back-up date)

Contact: Catherine Barone,

NCTAP Program Manager
nctapprogrammgr@gmail.com and 336-392-8049
Sophomore Student Parking Passes
FVHS will be opening up the limited remaining parking spaces to any 10th graders who have their license at the semester change. They will need to personally reach out to Assistant Principal, Eric Thomas via email erthomas@wcpss.net and he will send them the link for the application and payment. It will be on a first come first served basis starting Monday, January 30th.
Sneaker Ball
The Student Council would like to present Fuquay's very first sneaker ball. A dance with formal attire but only casual shoes are allowed. No dress shoes will be allowed. The dance will be February 25 in the cafeteria and a limited number of tickets will be sold in January. This dance is for FVHS students only. More details to come!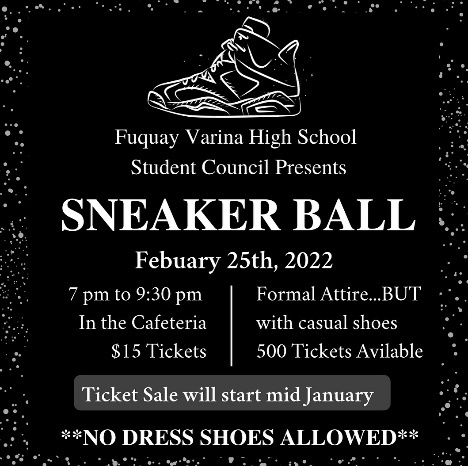 Special Olympics Fundraising Information
The Special Olympics fundraising competition begins March 1st and that is when people will be able to make donations on the site and will end on May 31th. Each school will receive a small torch trophy just for participating but the winner will have a large torch trophy presented to them by some of our local Special Olympic Athletes. The winning school will have the winning trophy for one year of bragging right until next year's competition where we will see if we crown a new victor. Right now, the 2022 Trophy is with us here at Fuquay-Varina High School and we will continue to hold onto it for 2023!
Here's the link to make donations for our FVHS Special Olympians
https://give.specialolympicsnc.com/campaign/back-to-school-for-inclusion-for-special-olympics-north-carolina/c416128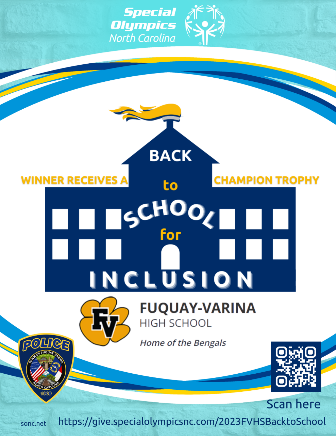 News and Upcoming Events
PTSA Meeting – Tuesday, January 24th, 2023 – 6:30 – school cafeteria
Open House / Meet the Teacher – Spring Semester classes – Thursday, February 9th, 6 pm.
Curriculum Fair – Rising 9th grade through Rising 12th grade – Thursday, February 23
Athletics
Congratulations to the following track athletes for placing at the GNRC winter track meet at Garner High School.
Reagan Ziglar – 5th place 55 meter dash, 2nd place in long jump
Ciara Ford – 3rd place in both 300meter and 500 meter
Marley Johnston- 1st place on both 1600meter and 3200 meter
Adeline Garcia-Molina – 2nd place in 1600meter
Mackenzie Knapp – 5th place in shot put
Jackson Luke – 2nd place in 1000meter
Brandon Williams – 1st place in 3200meter
Congrats to the following swimmers for placing at the conference championship meet!
4th place Caroline Dinuzzo 200 yard freestyle
2nd place Maddie St. Pierre 200 yard IM
3rd place Maddie St. Pierre 100 yard butterfly
3rd place Sarah Munzenmarier 100 backstroke.


Congratulations to Emilio Aparicio for his 1st place finish in the 50 freestyle &
2nd place finish in the 100 breaststroke at the conference championship swim meet!


Congratulations to diver Osvaldo Linares Gutierrez for finishing 2nd in the conference.
Congratulations
to Wrestler Austin Roberts for picking up his 100th career victory on senior night.

Signing Day Information
FVHS will be having its second signing day celebration for the class of 2023 athletes that have committed to play in college on Wednesday, February 1 at 2:45pm in the FVHS media center. All are welcome to attend. Please contact James Mountford at jmountford@wcpss.net if your student-athlete would like to be recognized. If your athlete can't attend Feb. 1 our next celebration will be held on May 10th.
Spring Sports Tryouts are scheduled for Feb. 13. All student-athletes must complete athletic registration in Dragonfly before they can participate. Additional tryout information will be posted on our athletic website next week.
Link to Complete Registration
Physical Form Link
For our full athletic schedules, events, and calendars, please visit the FVHS Athletic Website.
FVHS PTSA Information
Looking for a fun and unique way to celebrate someone special or congratulate a big win?
Through a very generous donation by Two Brothers Landscaping, the FVHS PTSA has been gifted a boulder that can be rented for celebrations by students, parents and staff of FVHS! Please note this is NOT the rock on Broad Street - this rock is located in the STUDENT PARKING LOT on the corner between spaces 40 and 41.
Rentals begin Saturday, January 7th. All funds raised will go directly to support PTSA programs, events, scholarships and grants.
Reservations can be made by using the link below, scanning a poster around the school with a QR code or visiting the rock directly and scanning the QR code provided on the sign.
<2fa7f42130f9c8ae62d494a635724e7b.jpg>
Follow FVHS
You can follow Fuquay-Varina High School through our school website or through the following Twitter addresses
@FuquayVarinaHS
@rmjamesfvhs