Return to Headlines
FVHS Weekly Principals Message 1-17-23
Weekly Principal's School Website Message – 1-17-23
Hello Bengal Nation! – Here's this week's news and updates from YOUR Fuquay-Varina High School.
Congratulations and Shout Outs!
FVHS has two students whose literary works will be on display in the Fuquay-Varina Arts Festival on January 20-21 at the Windsor Pointe Auditorium, 1-4 pm. Our students placed first in their respective categories and they are: Amelia Bond won for her short story "Myself" and Abigail Makarov won for her poem "An Arm and a Leg."
Final Exam Schedule
Fall 2022 Final Exam Schedule
Friday, Jan 20
7:25 - 11:25 1st Period Exam
11:45 Buses Depart
Monday, Jan 23
7:25 - 11:25 2nd Period Exam
11:45 Buses Depart
Tuesday, Jan 24
7:25 - 11:25 3rd Period Exam
11:45 Buses Depart
Wednesday, Jan 25
7:25 - 11:25 4th Period Exam
11:45 Buses Depart
Thursday, Jan 26
7:25 - 11:25 Make-up Exams*
11:45 Buses Depart
*Only students who missed one of their exams, and need to complete a make-up exam, should attend school on this day.
Exam Scoring - All exams will count as 20% of the student's final grade. Exam scores will be averaged into the final grade and will impact the final course average either positively or negatively depending on the student's grade.
Senior Exam Exemption Requirements:
Seniors can only be exempt from their exam for any course that does not require state testing (EOC/CTE state exam) and for which the student has a final average of C or better.
AWESOME Opportunities for Students!
Item #1
Meredith College is pleased to offer an on-campus leadership conference for high school juniors who are interested in developing and sharpening their leadership skills. The Meredith College Office of Student Leadership and Service, in conjunction with the Office of Admissions, will host this free conference on Saturday, February 11, 2023. Registration is now open. Please register by Sunday, February 5, 2023. Call the Office of Admissions at 1-800-MEREDITH or e-mail admissions@meredith.edu with any questions.

Item #2
Students, are you interested in television broadcast or broadcast communications? The Durham Bulls Explorer Post 50 is a co-ed unpaid internship program that offers students, ages 14-20, a unique and invaluable opportunity to gain exceptional experience in the field of television broadcasting.
The Durham Bulls and Explorer Post 50 will be holding an Open House on Wednesday, Feb. 8th from 6:30-8:00pm at the Durham Bulls Athletic Ball Park located at 409 Blackwell Street, Durham, NC 27701.
Applications are now being accepted for the 2023 Durham Bulls season. If you are interested in being a part of the TV Crew, please complete the 2023 Online Application. Applications are due by Sunday, Feb. 19th, 2023 and must be completed to be considered for membership. We will be limiting the crew to 70 members. To learn more about Durham Bulls Explorer Post 50 Program, https://www.milb.com/durham/ballpark/explorer-post
Item #3
Introducing the first-ever...America's Next Great Intern contest!
The Rubin team is thrilled to launch a national contest to spotlight CTE students with the potential to be stellar interns across all career pathways.
Wait, national contest? How does it work? When does it start? Are there prizes? Who is eligible? How do I sign up? And what about the prizes???


-Rubin, the leader in online curriculum for employability training, challenges students to demonstrate important work readiness skills like a firm handshake, speaking on the phone, writing an email and more.
-The submission period runs from February 1, 2023, to March 3, 2023, to coincide with National CTE month in February. In March, we will post ten national finalists and let the public choose America's Next Great Intern.
-The contest is open to any middle school, high school or post-secondary student who participates in a CTE or project-based (hands-on) class or program.
-Prizes include Amazon gift cards, a stipend for professional clothes, the chance at a paid virtual internship and more.
-Link to flyer and see Dr. Jessee with any questions. ejessee@wcpss.net
Sophomore Student Parking Passes
FVHS will be opening up the limited remaining parking spaces to any 10th graders who have their license at the semester change. They will need to personally reach out to Assistant Principal, Eric Thomas via email erthomas@wcpss.net and he will send them the link for the application and payment. It will be on a first come first served basis starting Monday, January 30th.
Sneaker Ball
The Student Council would like to present Fuquay's very first sneaker ball. A dance with formal attire but only casual shoes are allowed. No dress shoes will be allowed. The dance will be February 25 in the cafeteria and a limited number of tickets will be sold in January. This dance is for FVHS students only. More details to come!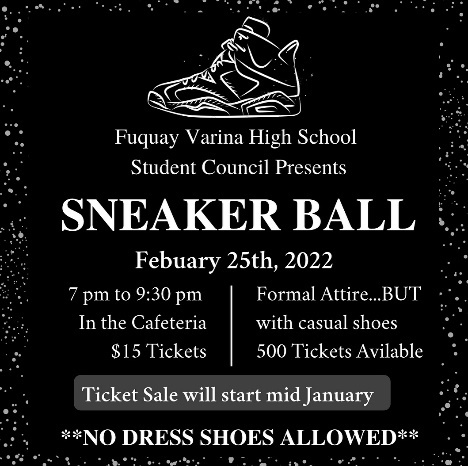 Yearbook and LAST CALL for Senior Portraits Information
Dear parents of the class of 2023,
LAST CHANCE senior formal pictures will take place at Fuquay-Varina High School on Thursday, 1/19. Please save this date in your calendars! If your student is missing a senior formal picture, they will receive an email with more information. This email will have the location, time, and instructions for what to wear.
Graduating students MUST have a senior formal portrait. Otherwise, we cannot guarantee that your student will be included in this year's yearbook.
Thursday, January 19th – Senior formal make-ups (have an undershirt ready, hair, and make-up done); no cost for photo
Thursday, February 9th – Senior cap and gown photos (have an undershirt ready, hair, and make-up done); $10 due at sitting

The sooner the better – Graduation apparel (

https://www.jostens.com/apps/catalog/gradProducts.mvc?customerName=Fuquay+Varina+High+School&categoryOsr=PACKAGES&catalogName=Graduation&customerId=1051936&pubCatId=1901807957&catalogOsr=GRAD_PROD_HS_SENIOR_SPRING_CATALOG

); prices vary on package or scroll down to buy individual items.

By January 27

th

- FVHS Yearbook Recognition ads (

https://www.jostens.com/apps/store/ybAdDesigner/1051936/-/20220819091822827139/CATALOG_SHOP/

); price varies on size of ad

Friday, April 28th – Portraits for senior slide show (please submit three pictures of your student (one from childhood, one in late elementary/early middle school, and one recent to

fvhsyearbook@gmail.com

. Please include your student's name and the word "slideshow" in the subject line. High resolution photos preferred.)
News and Upcoming Events
PTSA Meeting – Tuesday, January 24th, 2023 – 6:30 – school cafeteria
Open House / Meet the Teacher – Spring Semester classes – Thursday, February 9th, 6 pm.
Athletics
For our full athletic schedules, events, and calendars, please visit the FVHS Athletic Website.
FVHS PTSA Information
Looking for a fun and unique way to celebrate someone special or congratulate a big win?
Through a very generous donation by Two Brothers Landscaping, the FVHS PTSA has been gifted a boulder that can be rented for celebrations by students, parents and staff of FVHS! Please note this is NOT the rock on Broad Street - this rock is located in the STUDENT PARKING LOT on the corner between spaces 40 and 41.
Rentals begin Saturday, January 7th. All funds raised will go directly to support PTSA programs, events, scholarships and grants.
Reservations can be made by using the link below, scanning a poster around the school with a QR code or visiting the rock directly and scanning the QR code provided on the sign.
<2fa7f42130f9c8ae62d494a635724e7b.jpg>
Follow FVHS
You can follow Fuquay-Varina High School through our school website or through the following Twitter addresses
@FuquayVarinaHS
@rmjamesfvhs