Return to Headlines
FVHS Principals Weekly Message 12-9-22
Hello Bengal Nation! – Here's this week's news and updates from YOUR Fuquay-Varina High School.
Congratulations and Shout-Outs!
Congratulations go out to Ms. Gray, our Dance Teacher and her students. Our dance students put on a wonderful winter dance show and she inducted new members into the National Dance Honor Society. It was a great showcase for our student's and their dance talents.
Thank you, Lions Club of Fuquay-Varina for funding an audiometer for our Special Education Department. Thank you also to Ms. Burgess for applying for the grant through the Lions Club to receive this generous donation.
News and Upcoming Events
FVHS Student Council Winter Spirit Week:
Monday, December 12 – Movie Monday – dress up as your favorite movie character
Tuesday, December 13 – Crazy Hat/Sock Day – wear your craziest hat/holiday hat and socks
Wednesday, December 14 – Ugly Sweater Day – wear your ugliest sweater for the holidays
Thursday, December 15 – Jersey Thursday – support your team by wearing their jersey
Friday, December 16 – Flannel Friday – Break out your favorite flannel to end the week
Senior Pictures Confirmation for Yearbook: If your senior took a formal picture, go to Prestigeportraits.com to confirm the portrait for yearbook. The portrait MUST HAVE A BLUE BACKGROUND. Please select the portrait by 10:30 am on Friday, December 16. Otherwise, a portrait will be selected for you. Contact Mr. Hsu for any questions. shsu@wcpss.net
Juniorettes Operation Christmas Drive: Juniorettes Operation Christmas Drive for UNC Children's Hospital is going on now. Please see the flyer below for more information.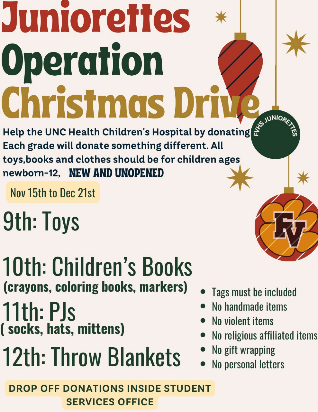 FCCLA Wrapping Party: FCCLA is hosting our annual wrapping party on December 14 in the FVHS cafeteria! Students will wrap your gifts for $1 each, foods students will prepare sugar cookies for a cookie decorating station, there will be hot chocolate, and even an activity station for younger children! Part of our proceeds are always donated to FACES, a Fuquay organization helping local families in need. Donations are welcome! Donations help our FCCLA students attend leadership meetings and state and national conferences. Please let us help you this holiday season! We would love to see you there. Click here for more information.
Winter Themed Card by Interact Club: The Interact Club plans on distributing Winter Themed Cards to Senior Citizen Centers in Fuquay Varina on 12/17. Anyone can drop off any unused cards to the Room 1519. There will be a box labeled Winter Cards. Thank you from the Members of the Interact Club.
FVHS Performing Arts Department Winter Concerts: There will be a Choral concert on Tuesday, December 13th, at 7 pm in the auditorium. On Thursday, December 15th, there will be a Band concert in the school auditorium beginning at 7 pm.
FVHS Juniors and Seniors - Join us for an informational meeting on December 16, 9 am, in Room 1512 to learn more about North Carolina Triangle Apprenticeship Program (NC TAP). This apprenticeship program is designed to develop experts needed in the modern workforce and focuses on integrated basic training which develops technical, methodological, and social skills.
NC TAP is looking for:
-High school Junior or Senior looking for a Future-ready career 2.8+ un-weighted GPA
-Interest in a career in engineering, manufacturing, or automotive
-Good communication skills
-Great attendance and willingness to learn
Register here to attend:
See Dr. Jessee, Room 2402, ejessee@wcpss.net with questions.
Senior Recognition Ads for Yearbook Available: Senior recognition ads for this year's yearbook are now available to purchase. Recognition ads celebrate your student's growth, journey, and accomplishments through high school. Please click below for the link to purchase a senior recognition ad for your student. You will need to create an account with Jostens:
https://www.jostens.com/apps/store/ybAdDesigner/1051936/-/20220819091821750139/CATALOG_SHOP/
Here is a link to a short video on how to create a recognition ad. https://www.youtube.com/watch?v=fMBKUGJbUhE
Place your senior recognition ad by 12/20, so we have plenty of time to make them! Roll Bengals!
Athletics
Our girls and boys basketball teams are in action this week. For our full athletic schedules, events, and calendars, please visit the FVHS Athletic Website.
Follow FVHS
You can follow Fuquay-Varina High School through our school website or through the following Twitter addresses
@FuquayVarinaHS
@rmjamesfvhs