Return to Headlines
ACT Preparation for Juniors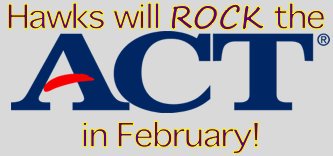 During the junior year, all students will take the ACT in the spring semester. What are you doing to get ready?
We are working to provide all of our Hawks with supports and resources throughout the school year so that they can do their best when we take the ACT Test on February 20. Below are a few of the opportunities that we we provide during the school year related to the ACT.
Albert IO Online Preparation Software
HSHS has purchased access to Albert IO, an online test preparation site that can support study for the ACT, SAT, and AP Tests. We have the ability to provide FREE access to all of our juinoirs who want to participate. We will be working with juniors at the beginning of the school year to get you online. This site will not only allow you to practice but will give you informaiton to fine tune and make the most of your preparation! Want to know more about Albert IO? Check out this link.
All juniors will be introduced to Albert IO in their October 16 advisory session (see presentation slides at this link). To sign up or get help with Albert IO, they can see Mr. Smith in room 1724 on Fridays during A & B Lunch.
One-on-One Tutorials with HSHS Students for the ACT
The honor societies are partnering up to provide ACT tutoring for students leading up to the February administration of the test. CLICK HERE for an informational handout on the tutorial sessions. If you have questions, contact Ms. Munchick (jmunchick@wcpss.net).
Summer 2018 Tutorial Sessions for ACT
During July 2018, we will provide several opportunities for students to get a jump start on getting ready for the ACT. Sessions will be Monday - Thursday from 9-11am at HSHS. We will offer two different sessions but seats are limited! Also, this is specifically focused on juniors at this time. We may open the session to others if space permits. Sessions will be:
Session #1: July 23 - 26, 9-11am each day
Session #2: July 30 - August 2, 9-11am each day
During this time, students will:
Get early access to their Albert IO account
Learn about free resources to support and guide their studying
Learn and practice strategies for success with the ACT
Leave with a clear plan of study / preparation for the ACT in February
Students will focus on the math section for two days and the reading session for two days.
To sign up, please use this form. If you have questions, please contact Ms. Newby at jnewby@wcpss.net.
ACT Preparation @ HOT Lunch
During the school year, we will periodically plan sessions to support students in getting ready for the ACT. Support with Albert IO will happen on Friday's in Mr. Smith's classroom (1724). This will include helping students to use their Albert IO account, practicing strategies for success, etc.
More information is coming soon for more targeted work around the ACT preparation.
ACT Week @ HSHS!
During the week of February 4-8, 2019, we will host ACT Week at Holly Springs High School. We will provide specific, targeted activities throughout the week to support student sucess on the ACT!
ACT Preparation Class
Once during the fall and once during the spring, we will offer an evening / after school ACT preparation class for our juniors. This will be two hours (likely in the evening) on Monday - Thursday where we work to support students in their studying for the ACT. More logistics are forthcoming on this activity after the school year starts.
To sign up for the Spring 2019 after school tutorial sessions, visit this link!
We know that our Hawks are incredibly talented and we want to help you show it! If you have questions or suggestions, please do not hesitate to reach out to Assistant Principal Jennifer Newby at jnewby@wcpss.net.