Return to Headlines
Cameras installed in yellow school buses
New cameras will be installed on Wake County yellow school buses in the coming weeks to improve student conduct and make buses safer for students.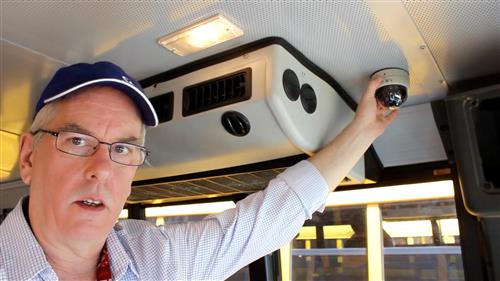 WCPSS bus drivers and assistant principals who manage bus transportation work together to make sure students are safe and students behave on the bus. The new cameras provide video that provides additional information in managing students on the bus.
In 2015, WCPSS piloted use of cameras in buses, testing different systems. Then WCPSS installed cameras on five buses in each of the 16 WCPSS Transportation districts for a total of 80 cameras. With the start of this school year, WCPSS had cameras installed on a total of 102 buses.
During the week of April 3, WCPSS installed cameras on nine buses to confirm equipment placement on different models and years of buses in the WCPSS bus fleet.
During the week of April 10 while many students enjoy spring break, the plan is to install cameras on more than 75 buses and continue installation into all yellow buses. The process should continue into June.
Each bus will have 4 interior Seon cameras, a digital video recorder and a secure wireless connection to download video and pro-actively monitor system health to ensure cameras are always operating as expected. There is one camera at the front with view of the driver and stairwell. A second camera points back to the entire length of the cabin. A third camera is at the very back facing towards the front of the bus with a detailed view of the last 4 rows of seats. The fourth camera is at the front of the bus and points forward out the windshield. School bus drivers can press a button to mark the video stream making it easier for authorized transportation staff to find and download an incident for later review. Downloaded video and audio from all four cameras can be played back simultaneously with vehicle data such as GPS location, speed and signals using video playback software.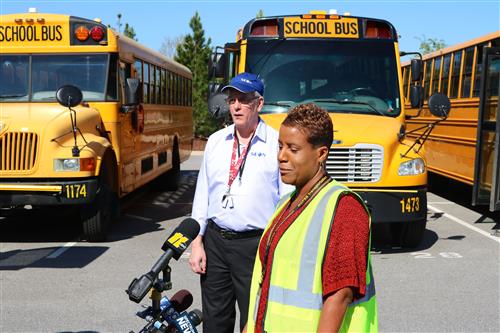 While this technology provides additional information in the effort to improve student conduct, the effort will continue to require the partnership of students, parents, school administrators and bus drivers working together for bus conduct and safety.