Return to Headlines
Ms. Chidester's Weekly Message: 05/07/21
Dear Conn Magnet Elementary School Families,
Face Coverings Guidelines: Based on new guidance issued Wednesday, May 5 by the NC Department of Health and Human Services (NCDHHS), face coverings are now optional while outdoors. Face coverings are still required for everyone ages 5 and older while indoors and on school transportation. This means students and staff will not be required to wear face coverings outdoors for recess, classes held outdoors, outdoor PE classes, outdoor eating, and similar small gatherings. Students and staff may choose to wear a face covering outdoors in these situations if they want, but a school or staff member may not require it. NCDHHS still recommends that anyone who is not vaccinated continue to wear a face covering when they are closer than six feet to another person, even when outdoors. However, this is a NCDHHS recommendation and not a requirement.
Virtual Academy Confirmation: If you have registered your child(ren) for Virtual Academy for the 2021-2022 school year, you will receive a confirmation letter on Wednesday, May 12 through School Messenger.
Kindergarten Registration: If you or someone you know has a rising kindergartener joining our CONNmUNITY, please make sure the child is registered as soon as possible. Click here to learn about the steps of enrolling your child. If you have any questions, please feel free to reach out to our Data Manager, Ms. Pearl, at rpearl@wcpss.net.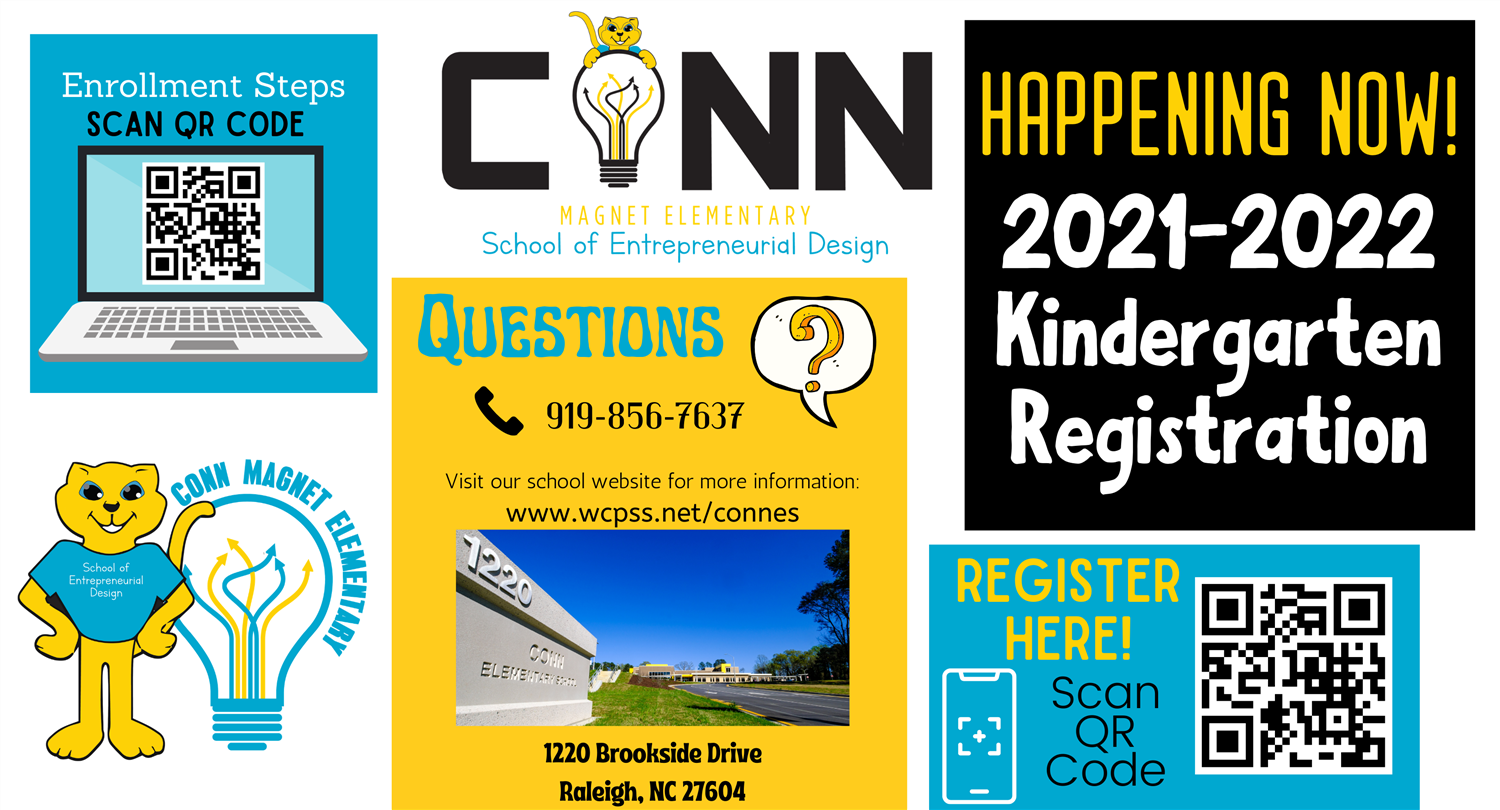 Magnet Monthly Magazine: Be sure to check out our latest Magnet Monthly Magazine! In this volume you will learn about the latest entrepreneurial events within our school, receive information on fun community events for kids, and get to know our local entrepreneur spotlight, Jared Plummer, the owner of Two Roosters Ice Cream!
End of Grade Testing: The Department of Public Instruction (NCDPI) is expecting all students to take the following tests as is required by federal and state laws. Let's work together to make your child's experience a positive and successful one! We are preparing them at school. Here are some suggestions you can do to help. Thank you for your help in this important matter. If you have any questions regarding testing, please contact our Testing Coordinator, Ms. Dameron, at adameron@wcpss.net.
Ensure your child arrives at school on time, by 9:15 a.m.

Have your child eat a healthy breakfast at home or at school.

Ensure your child gets a good night's sleep.

Gently encourage them to do their best.
This month, your child will be taking our state's standardized test. Here is the schedule:

Yearbook Orders: We are entering the homestretch of the school year! If you are interested in ordering the 2020-2021 school yearbook, please visit Jostens.com to place your order today. More information regarding yearbook distribution for both In-person and Virtual Academy students will be shared soon. In the meantime, please email the Yearbook Committee at Yearbook@CONNPTA.org with any questions.
Sincerely,
Gabriel Chidester, Principal
Important Dates to Remember
Thursday, May 13-

Remote Learning/Asynchronous Day

(Change in Date)

Tuesday, May 18- 3

rd

Grade ELA EOG

Wednesday, May 19- 4

th

Grade ELA EOG

Thursday, May 20- 5

th

Grade ELA EOG

Tuesday, May 25- 3

rd

and 4

th

Grade Math EOG

Wednesday, May 26-

Remote Learning/Asynchronous Day

Thursday, May 27- 5

th

Grade Math EOG

Monday, May 31- Holiday

Wednesday, June 2- 5

th

Grade Science EOG

Thursday, June 10- Last Day of School

Friday, June 11- Teacher Workday