Return to Headlines
Ms. Chidester's Weekly Message: 04/23/21
Dear Conn Magnet Elementary School Families,
On Tuesday, April 20 the Board of Education approved a plan to open the WCPSS Virtual Academy to serve grades K-12 for the 2021-22 school year. There also will be a separate virtual learning option for Pre-K students.
Families who attended the WCPSS Virtual Academy this year should note some important points and some differences for the 2021-22 school year: Students must commit to attend the Virtual Academy for the entire school year.
A one-year commitment is necessary to avoid students having to change teachers, whether in the Virtual Academy or in person, during the year.

This will also reduce or eliminate sharing teachers with those attending in-person classes.

The district will reassess this requirement if vaccination programs are expanded to include children of all ages. The district will also re-evaluate registration in Virtual Academy if the COVID-19 pandemic surges again.
Virtual Academy Registration Window: The registration window for the WCPSS Virtual Academy opened Thursday, April 22 and will close Sunday, May 2 at 5:00 p.m. Anyone wishing to register outside this window will not be guaranteed a seat in the Virtual Academy, due to staffing and scheduling issues.
Virtual Academy Website: Please reference the new Virtual Academy website for information regarding registration, the level of commitment we seek, student and family responsibilities, course offerings, and FAQs.
WCPSS Virtual Academy Magnet Course Offerings: All students attending magnet schools for in-person instruction in the 2021-22 school year will participate in the full magnet program offerings for the theme at their assigned school. This applies to all magnet schools for all grade levels.
Due to the uniqueness of each individual magnet program/theme, students who elect to participate in the Virtual Academy (VA) in the 2021-22 school year may not be guaranteed the full magnet program offered for the theme of their assigned magnet school.
From an Idea to Google: Our students have been busy connecting the book, From an Idea to Google by Lowey Bundy Sichol, to Entrepreneurial Design during their class visits to the media center. Ms. Shore and Ms. Bolding have collaborated to create experiences for students to learn about how Google went from an idea to a big success by using our IDEAS Design Cycle. On Thursday, May 6 all students will have the special opportunity to participate in a virtual author visit with Lowey Bundy Sichol. If you are interested in ordering other books from her series, you can do so by placing an order through Quail Ridge Books by May 8.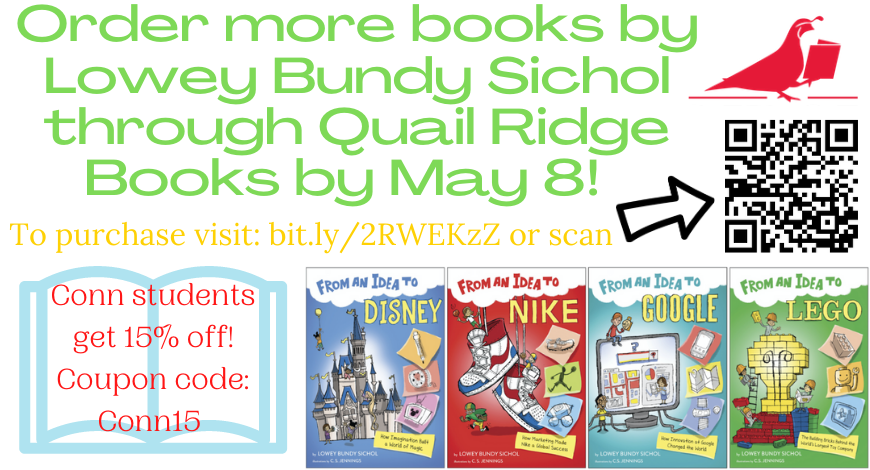 Calendar Updates: On Tuesday, April 20 the Board of Education announced that May 5 is now an instructional school day and May 13 is now an asynchronous learning day. The changes are noted on the 2020-2021 Semester 2 Traditional Calendar.
Sincerely,
Gabriel Chidester, Principal
Important Dates to Remember
Wednesday, April 28-

Remote Learning/Asynchronous Day

Monday, May 3-

CONNmUNITY Read Aloud Event at 7:00 p.m.

Wednesday, May 5-

Instructional School Day (Change in Date)

Thursday, May 13-

Remote Learning/Asynchronous Day

(Change in Date)

Wednesday, May 26-

Remote Learning/Asynchronous Day

Monday, May 31- Holiday

Thursday, June 10- Last Day of School

Friday, June 11- Teacher Workday