Return to Headlines
Ms. Chidester's Weekly Message: 03/12/21
Dear Conn Magnet Elementary School Families,
The Wake County Board of Education approved a plan for students in grades 4 and 5 to return to daily in-person instruction on Monday, March 15. This means students in grades 4 and 5 currently attending classes in person in three-week rotations will attend school every day.
This decision does not apply to students who are registered in the WCPSS Virtual Academy.
The Board based its decision on a number of factors cited by staff, including decreasing COVID-19 infection rates, an increase in vaccine availability, and the overall success of daily in-person instruction in grades PreK-3. Grade PreK-3 students have been attending daily in person since February 15.
Stay CONNected: As we continue to evolve through this ever-changing school year, we encourage you all to stay CONNected and aware of exciting events occurring within our school and beyond! Please review the following resources to catch up on the latest and greatest happenings!
4th Quarter Supply Pick-up: Please mark your calendar for Tuesday, April 6 for our final supply pick-up event of the year. Swing by our bus loop during the designated timeslots listed below. Once you arrive on campus, our staff will be outside to provide you with 4th quarter instructional supplies, virtual field trip kits, a special book, and more! All in-person students will receive their supplies at school.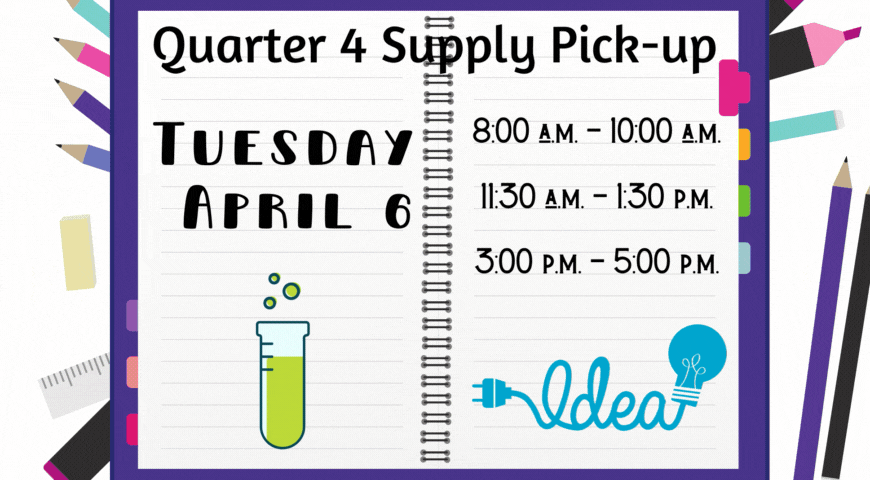 Apply Before April 30 for Pre-Kindergarten for the 2021-22 School Year: WCPSS offers a free, high quality pre-kindergarten program for children who will be 4 years old by August 31, 2021. Students spend the full day at school with their classmates learning skills appropriate for their age through exploration and discovery. The goal is to prepare children to enter kindergarten ready to learn and succeed. Applications must be submitted by April 30. Learn more and apply today.
Free Family Workshops for Stress Management, Wellness Skills, and Keeping Kids Safe: WCPSS offers free wellness workshops that focus on helping students and families during this challenging time. Topics available include Circle Connections, keeping kids emotionally and physically safe, stress management and wellness skills, and a Virtual Parent Summit. These workshops can help families learn about emotional support strategies being used in our schools, which can also benefit families at home. Learn more.
Yearbook Orders: Given the unusual nature of this school year, we have ordered a drastically reduced number of extra yearbooks. This means that if you don't place an order now, there might not be any extra yearbooks to purchase later. Please visit Jostens.com to place your yearbook order today! For questions, please email the Yearbook Committee at Yearbook@CONNPTA.org.
Sincerely,
Gabriel Chidester, Principal
Important Dates to Remember
Wednesday, March 24-

Remote Learning/Asynchronous Day

Thursday, March 25- End of 3

rd

Quarter

Monday, March 29- Friday, April 2- Spring Break

Monday, April 5- Calendar Out Day

Tuesday, April 6- Teacher Workday and 4

th

Quarter Supply Pick-up Event

Monday, April 12- CONNmUNITY Read Aloud Event at 7:00 p.m.

Wednesday, April 14-

Remote Learning/Asynchronous Day

Wednesday, April 28-

Remote Learning/Asynchronous Day