Return to Headlines
Ms. Chidester's Weekly Message: 10/23/20
Dear Conn Magnet Elementary School Families,
We are very excited to welcome Cohort 1 Plan B Pre K - 3rd grade and Regional Program students back to campus on Monday, October 26! As you prepare for your student's return, we encourage you to familiarize yourself with the important information contained in our Conn Magnet Elementary Return to Campus Guide.
Plan B Cohort Rotation Schedule: Please refer to the WCPSS 2020-2021 Semester 1 Elementary Traditional Calendar for all the important dates to remember when transitioning back to in-person learning.

Pre K - 3rd Grade & Regional Program
Cohort 1

October 26-30

*Conn's Asynchronous Learning Day- Wednesday, October 28

Cohort 2

November 2-6

*Teacher Workday- Tuesday, November 3

Cohort 3

November 9-13

* Holiday- Wednesday, November 11

All Pre K - 3rd Grade

& Regional Program

Beginning Monday, November 16

*Remote Learning Asynchronous Day- Wednesday, November 18
4th & 5th Grade
Cohort 1

November 16-20

*Remote Learning Asynchronous Day- Wednesday, November 18

Cohort 2

November 30-December 4

*Remote Learning Asynchronous Day- Wednesday, December 2

Cohort 3

December 7-11

*Remote Learning Day- Friday, December 11

Cohort 1

December 14-18

*Remote Learning Asynchronous Day- Wednesday, December 16

Cohort 2

January 4-8

*Remote Learning Asynchronous Day- Wednesday, January 6

Cohort 3

January 11-15

*Remote Learning Asynchronous Day- Wednesday, January 13
*4th & 5th grade cohort rotations continue until otherwise specified by WCPSS.
Transportation: As Plan B families begin to prepare to transition back to campus, please review all of our arrival and dismissal procedures in our Return to Campus Guide. Be sure to access carpool procedures, bus procedures and bus route information on our school website.
Parents/Guardians are required to submit the Bus Attestation Form stating that you and your child will abide by all health and safety protocols for bus ridership. Students are not permitted to ride the bus until this form has been submitted. You will need to submit a form for all of your children who plan to ride the bus during the 2020-21 school year. Submit form online | Español
If you plan to arrive on campus before 8:30 a.m. to line up for carpool, please pull into the Millbrook Middle School parking lot and wait until we are ready and stationed at the health screening checkpoint. This health screening checkpoint will start beside the main office. We will begin screening procedures at 8:40 a.m.
Chat with Chidester: Please click here to view Volume 4 of our monthly event which was held on October 15. During this virtual event, I collaborated with our PTA to answer questions and address concerns from parents/guardians about our preparation plans to return to campus. If you have any additional questions or concerns, please feel free to contact our main office at 919-856-7637.
Asynchronous Learning Day (non-live teaching day): All Conn students will participate in an asynchronous learning day on Wednesday, October 28. All students will log into their Wake ID portal and check in with their homeroom teacher to receive directions for the day. Students will check in with their teacher to take attendance, receive instructions and assignments for the day, and ask questions. By 9:30 a.m., students will be released to work independently. The goal is to allow students time to complete assignments, extend understanding, or work on skill mastery.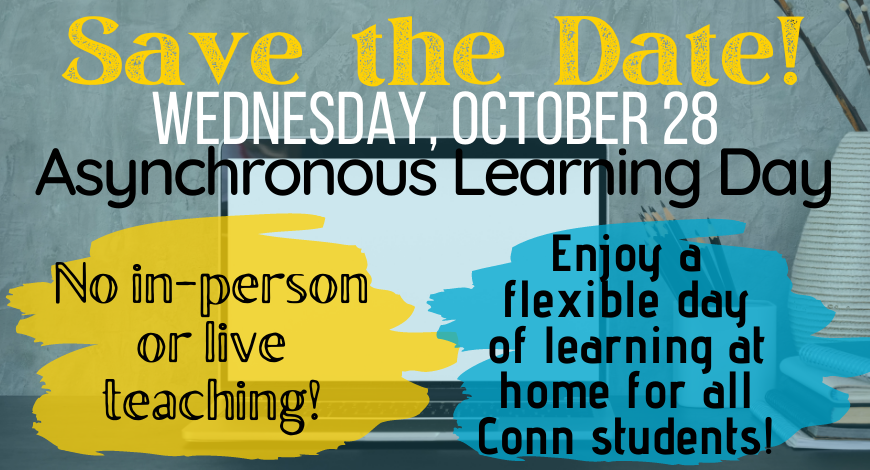 Technology Guidance for Return to Campus: Upon returning to in-person learning, our school will have limited technology available to students on campus as most devices have been checked out to students for remote learning. While in school, students with a WCPSS device should plan to bring their device (and charger) to and from school. While at home, students will continue to work remotely using their personal devices or the devices provided by WCPSS. Please click here for more information.
School Supply Pick-up: On Wednesday, October 28 we will host our second school supply pick-up event from 8:00 a.m. - 5:00 p.m. Please come to our temporary campus (3851 Spring Forest Road) and make your way around our carpool loop and we will greet you outside our cafeteria. All Conn students will receive materials for quarter 2. As you drive through, you will also have an opportunity to read and sign-off on three important WCPSS documents if you have not done so already. These documents include the Student Accountability and Required Health Protocols Acknowledgement Page, Bring Your Own Device Explanation and Terms of Agreement, and Bus Attestation Form.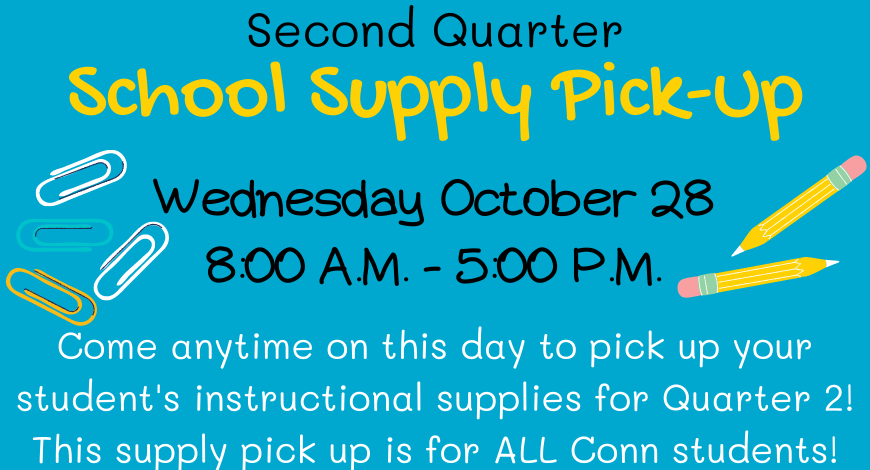 School Supply Pick-up Safety Precautions:
If you or any family members are exhibiting symptoms and/or have a temperature, please abstain from taking part in this process at this time. We will assist you with making other arrangements.

For the safety of everyone involved, face masks are required as you take part in this process.

Please limit the number of people in your family coming to campus to retrieve or return items.
Virtual Academy Spring Semester 2020: Parents of students not currently enrolled in WCPSS should visit wcpss.net/enroll and complete the enrollment process prior to submitting a registration application. To register for WCPSS Virtual Academy for spring semester, students must have already been issued a WCPSS device or have their own personal device. The application to change your elementary student's registration will be open December 2-9. Please refer to our Virtual Academy FAQs document and/or contact Ms. Carrie Bolding at cebolding@wcpss.net.
Library to Go: Do you need books to read or have books to return? Don't forget Library to GO! lets you put books on hold to be pulled and checked out for you. Books can be picked up and returned on Tuesdays from 12:00 p.m. - 3:00 p.m. and on Thursdays from 9:00 a.m. - 3:00 p.m. in front of the main office building. An additional opportunity for books to be picked up and returned will be held on Wednesday, October 28 as part of our supply pick-up event.
PTA Update:
Save the Date for the Upcoming Scholastics Book Fair- "Time Machine- Reading Can Take You Anywhere." The upcoming book fair will be held virtually from November 13 - 26. Please click here for more information.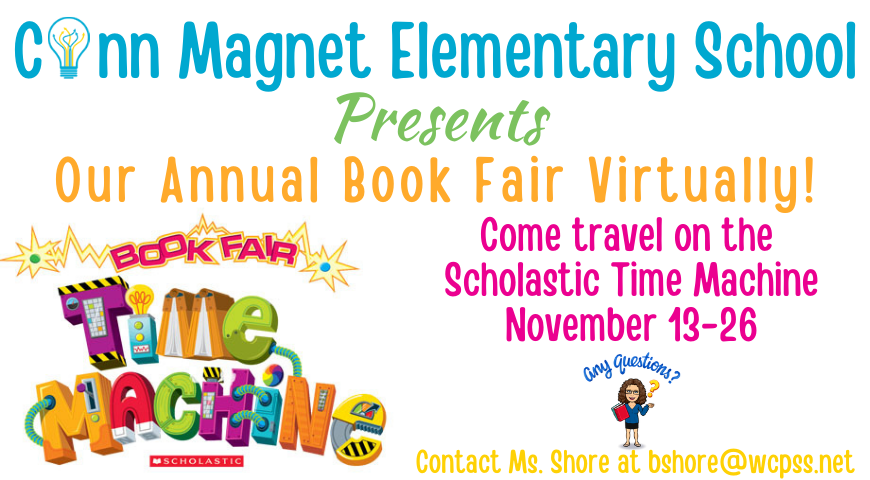 Thank you for your continued support. This year will be like no other we have experienced. It is important to remember we are all in this TOGETHER, and we are doing our very best to support our students and school community. Continue to follow us on Twitter @ConnMagnet and on Facebook. Check out our website for our latest posts!
Sincerely,
Gabriel Chidester, Principal