Return to Headlines
Ms. Chidester's Weekly Message: 8/21/20
Dear Conn Magnet Elementary School Families,
Thank you for such a wonderful first week of orientation! We were so happy to 'see' all our students. Even though this is not how we all wanted to begin our new school year, we are committed to providing a high-quality and positive experience for our students and their families. As we continue to navigate this new way of learning, please reach out to our staff and administration with any questions.
School Supply Pick-up: On Thursday, August 27 we will be hosting our school supply pick-up from 8:00 a.m. - 5:00 p.m. Please come to our temporary campus (3851 Spring Forest Road) and make your way around our carpool loop and we will greet you outside our cafeteria. Every student will receive a Conn school starter kit including most of the instructional supplies they will need for quarter 1. This will include K-2 Letterland materials, 3-5 EL materials, and math alignment lessons.
School Supply Pick-up Safety Precautions:
If you or any family members are exhibiting symptoms and/or have a temperature, please abstain from taking part in this process at this time. We will assist you with making other arrangements.

For the safety of everyone involved, face masks are highly recommended as you take part in this process.

Please limit the number of people in your family coming to campus to retrieve or return items.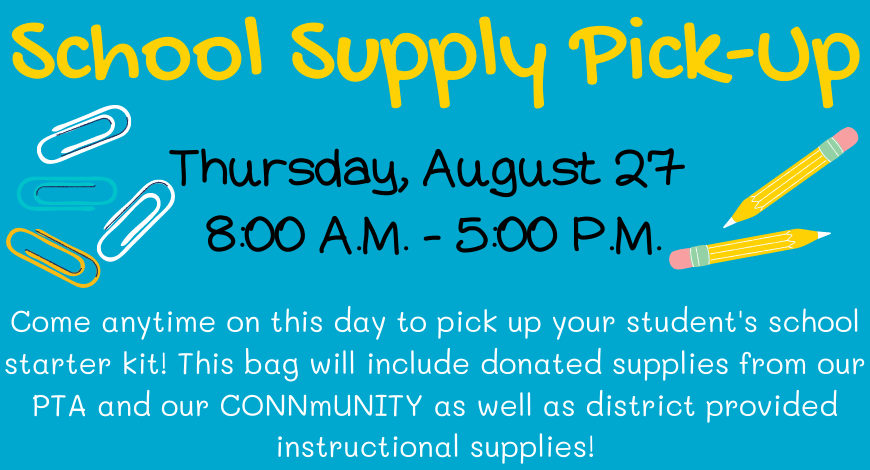 Library Book Return: The library books that were checked out last spring are probably ready to return to the school! When you come to campus for the materials pick up, just bring the library books with you! Drop them in the labeled bins set up by the pick-up point in the carpool loop. Be sure to look for any lost books under the bed! Watch for an announcement coming soon from Ms. Shore regarding checking out new books!
A Note from our School Library Media Coordinator Mrs. Shore: Open up a bigger world of ebooks by using your Wake County Public Library card! Don't have a card? Application is easy and online. With a WCPL card you can access thousands of free ebooks through our wonderful public libraries and also through NC Digital Library for Kids. Happy reading!
Immunization Requirements for New Students: As a reminder if you have not done so, please send your immunization records and NC Health Assessments to the school by October 1, 2020. NC law G.S. 130-A-155(a) requires proof of immunizations for all students, whether they are enrolled in virtual learning or in-person. Please email completed immunization records and health assessments to Ms. Pearl at rpearl@wcpss.net or call her at 919 856 7637 ext. 25532. Copies of these records can also be mailed to school at our temporary address below.
Conn Magnet Elementary School
Attention: Ms. Renee Pearl
3851 Spring Forest Rd.
Raleigh, NC 27616
Remote Learning Expectations, Attendance and Scheduling: What will be different this year than from when we switched to remote learning in March, is that we have a completely new set of expectations. This will be school as we know it for the time being.
Attendance will be taken - again with flexibility as key. Students who have a two-way interaction with a teacher such as a virtual classroom meeting, email or phone call, and/or are turning in daily assignments will be counted present. A student's attendance can be changed based on evidence of engagement that is collected after the current day due to completion of work that is turned in at a later date.
Conn Caravan: We are excited to be driving by a stop near you on Friday, August 28! Click here to view a detailed route plan including a map, stop addresses, and estimated times the staff with be driving by!
Please see the following safety reminders:
Staff will remain in their vehicles

Maintain social distance when gathering at stop locations

Follow North Carolina mask mandate

Students and families should not approach cars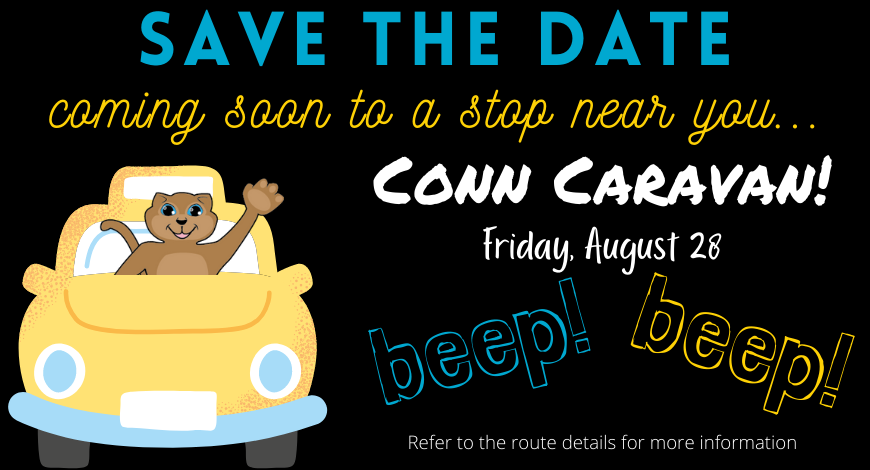 Thank you for all you are doing to support our students at home. This year will be like no other we have experienced. It is important to remember we are all in this TOGETHER, and we are doing our very best to support our students! Continue to follow us on Twitter @ConnMagnet and on Facebook. Check out our website for our latest posts!
Sincerely,
Gabriel Chidester, Principal