Return to Headlines
Weekly Family Update 2/24/23
High School/Rising 9th Grader Registration

Virtual Parent Info Session
High School Curriculum/Open House Events
​​​​​​​
Tryouts at Ligon will start on February 27th. You will need to have a current physical on file to attend. If you have any questions, contact Coach Scheck at nscheck@wcpss.net. This season includes Boys' and Girls' Track, Boys' Soccer, and Girls' Softball.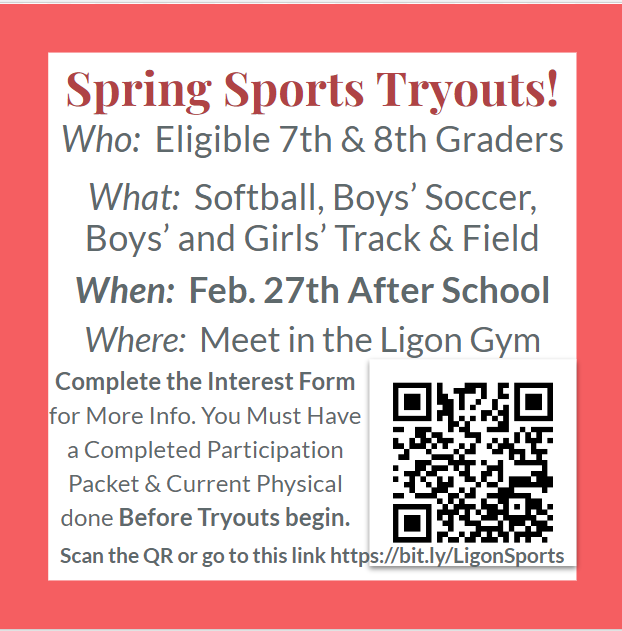 High School is just around the corner and college is not too far behind. Now is the time to start learning about ways to prepare your child for career and college success! CFNC will host an eighth-grade kick-off, virtually, on February 27th at 6:30.



The City of Raleigh needs your help! If you, or someone you know, may be interested in becoming a Crossing Guard please view the flyer here.
Applications are now being accepted for the 2023 class of Marbles Teen Play Corps. Marbles TPC is a leadership volunteer corps for rising 7th + graders who are interested in building leadership skills and working alongside Team Marbles to spark imagination, discovery, and learning. Marbles Teen Play Corps participants playfully engage with younger kids through hands-on learning and play in Marbles exhibits, programs, camps, events, and the community.
Marbles Teen Play Corps is a great opportunity for students who love working with kids and who want to work on leadership skills. It gives them a chance to be role models for younger kids and learn alongside their peers. Opportunities for group get-togethers, additional training, and skills workshops will be available throughout the year.
You can find all the information at https://www.marbleskidsmuseum.org/teen-play-corps
School-Wide Indoor Rock Climbing Event!
Please mark your calendars to join us on Sunday evening March 5th at the Raleigh location of Triangle Rock Club. Sign up here: https://bit.ly/3VTJKke Cost is $15 to climb (includes all harnesses and supervision), and spectator passes are $5 at the door. We will also have food trucks, spirit wear, and opportunities to meet teachers, staff, and other current and incoming MS families. This is a whole-family event.
PTSA Needs Volunteers for Next Year!
If you are interested in volunteering or accepting a board/chair position for next school year, we'd love to chat! Please contact VP Laura Cox, MSmmsPTSA@gmail.com.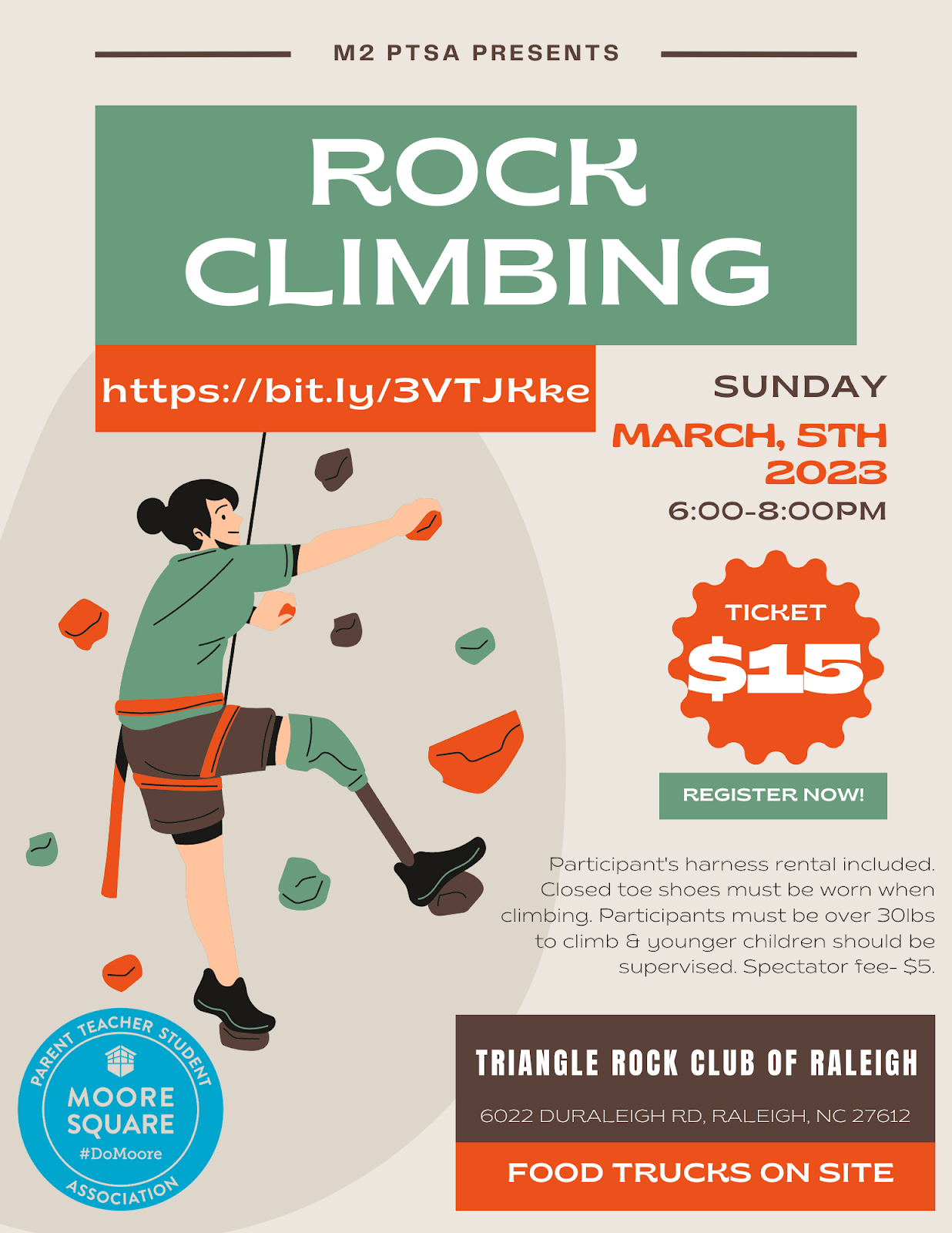 On-line sales are available now for tickets and flower bouquets for the upcoming theatrical performance, Little Women and comedic performance, The One-Act Play Disaster.
Showtimes include March 31st at 6:30, April 1st at 2:00 and 6:30.

Location: Moore Square Middle School gymnasium

Ticket prices: $6 for adults and $4 for students.

Beautiful flower bouquet: $10

Buy your tickets and flowers now for a shorter wait time in lines and it's the preferred method.

Click HERE to navigate to the pre-show sale site.

Select performance date and time, click BUY TICKETS

Click More price options to select number of tickets, flower bouquets and donation amount, if available.
Concessions will also be available. All proceeds to go to support the Arts program at Moore Square Middle School. Thank you for your support and we look forward to seeing you at the upcoming performances!
Additional upcoming ARTS events: Come out and support the students of the Arts (and their teachers)!!
May 3rd – Chorus

May 9th – Orchestra

May 10th – Dance/Drama

May 11th – Band
2/27/23 Soccer Intramural 2:30-3:30

2/28/23 Basketball Intramural 2:30-3:30, Fishing Club 2:30-3:30, Dungeons & Dragons Club 2:30-3:40

3/2/23 Volleyball Intramural 2:30-3:30, Be the Man Club 2:30-4:00, GSA Club 2:30-3:30

3/5/23 Rock Climbing Event at Triangle Rock Club 6:00-8:00pm