Return to Headlines
Reminder- please bring identification with you when entering the school building.
On Career Day, students will be able to speak to community professionals about their careers and educational path and have the opportunity to participate in a mock interview. Talk with your student about their interests and dreams for their career and future. We also invite all students to "Dress for Success" on Career Day! Please help your student identify what they can wear on this day to feel confident and comfortable.
Magnet and Early College Info
8th-grade students will have the opportunity to speak to representatives from the following high schools during their first period on Tuesday, November 15th. Please take a moment to look over the programs these schools have to offer and discuss with your child. These Magnet and Early College High Schools have applications due either in December or January.
Wake STEM Early College High School

Enloe High School

North Wake College & Career Academy

Vernon Malone College & Career Academy

Southeast Raleigh Magnet High School

Athens Drive High School

Wake Young Men's Leadership Academy

Wake Young Women's Leadership Academy
Calling all, students and parents! Help us build the best yearbook by sharing your great photos. We need pictures of the following topics:
Hobbies and Talents

Sports

Fall Track Out- show us where you went, and what you did!

Spirit Week
Share using this link:
https://images.jostens.com/0MzqfSWmsBU4NIepawwpYRA
(user ID- 0MzqfSWmsBU4NIepawwpYRA)
There will be tryouts for the Ligon/Moore Square Baseball Club on Tuesday, Nov 8 from 6-8 pm at Middle Creek on Field 4. Students are asked to fill out the Google form below before tryouts. Thank you! https://docs.google.com/forms/d/e/1FAIpQLSfLP9BfrbaY69WogoXKE5ZoKCWwDcmVtd-RWpMAUxMbzTQHTw/viewform
Basketball Tryouts at Ligon
There will be an informational meeting on Wednesday, November 16th in the Ligon Gym from 2:30-3:30. Students may take the bus from Moore Square to Ligon at 2:15, but must be picked up at Ligon at 3:30. Coaches will discuss expectations, eligibility requirements and receive/check-off any newly submitted Physical Packets for completion. Anyone who cannot make the meeting should contact Coach Scheck to make sure they are eligible to try out. Students currently playing a Fall Sport have the option to skip this meeting as they have already been cleared to participate previously.
Tryouts will be by grade level as follows:
7th Grade Boys & Girls on Thursday, November 17th from 2:30-4:30

8th Grade Boys & Girls on Friday, November 18th from 2:30-4:30
Students should register prior to the informational meeting and/or tryouts using the QR Code on the flyer or this link: https://rb.gy/8hbkqm
Student Council will be selling tickets for their fall dance in the lobby during morning arrival (7:05-7:30 am) from November 14th-18th. They will also have tickets available at the event. Tickets are $2, cash only! Parents, please consider signing up to be a chaperone or to donate concession using this link- https://www.signupgenius.com/go/10c094aaea62da7fd0-fall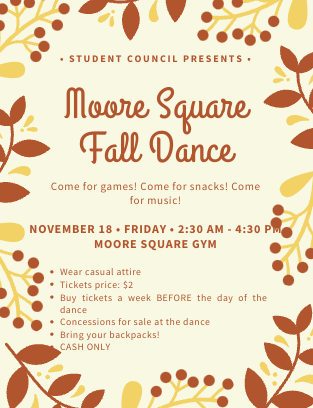 Consider helping our school by donating 3 (or more) books to some of our elective classes! View the signup here! Reach out to Magnet Coordinator, Lauren Michel (lmichel@wcpss.net), with any questions.
As we enter cold and flu season, students, families, and staff are encouraged to help prevent the spread of illness.
No intramurals this week!

11/8/22 Track out day- No school, Club baseball tryouts

11/10/22 Career Day, early release at 12:15 pm

11/11/22 Holiday- No school