Return to Headlines
College Sweatshirt Day! On Friday, October 27th the staff and students will wear their favorite college T-shirts and sweatshirts because Moore Square is College Bound!
The Month of October is Countdown to College sponsored by the College Foundation of North Carolina. https://www.cfnc.org/
There are so many options for postsecondary learning! Your student's college experience will be as unique as they are! Start exploring options and start planning today! Start to consider, where do you want to go? Parents and students can go to CFNC for additional information to start planning for post secondary learning! Check out Mrs. Gressett's resources on Moore Square College Bound and Moore Square Parent Resources for guidance and planning.
Students in CTE classes will be completing activities to explore the North Carolina community college and university systems.
Calling all, students and parents! Help us build the best yearbook by sharing your great photos. We need pictures of the following topics:
Hobbies and Talents

Sports

Fall Track Out- show us where you went, and what you did!

Spirit Week
Share using this link: https://images.jostens.com/0MzqfSWmsBU4NIepawwpYRA
(user ID- 0MzqfSWmsBU4NIepawwpYRA)
There will be tryouts for the Ligon/Moore Square Baseball Club on Tuesday, Nov 8 from 6-8 pm at Middle Creek on Field 4. Students are asked to fill out the Google form below before tryouts. Thank you! https://docs.google.com/forms/d/e/1FAIpQLSfLP9BfrbaY69WogoXKE5ZoKCWwDcmVtd-RWpMAUxMbzTQHTw/viewform
Magnet and Early College Info
Hola! We would like to invite our students to join Sra. Martinez for a once-in-a-lifetime travel experience to Spain in Summer 2023! We already have an incredible group of students joining us on this adventure, WANT TO GO TOO? Email pmartinez@wcpss.net for more information. (This is not a school/county-sponsored trip. This is a Moore Square Community Trip).
Interested in traveling to Ireland and Scotland with other Moore Square families in June of 2024? There will be a virtual informational meeting held on October 26th at 7PM. Sign up at this link: https://bit.ly/3EwS58j (This is not a school/county-sponsored trip. This is a Moore Square Community Trip).
On Career Day, students will be able to speak to community professionals about their careers and educational path and have the opportunity to participate in a mock interview. During fall break, make time to talk with your student about their interests and dreams for their career and future. We also invite all students to "Dress for Success" on Career Day! Please help your student identify what they can wear on this day to feel confident and comfortable as if they were going on an interview.
We are presenting "Into the Woods, Jr." as our fall musical! View our student-designed poster here for more details.
Friday, October 28 at 6:30 pm (Cast B)
Saturday, October 29 at 2:00 pm (Cast B) and 6:30 pm (Cast A)
Sunday, October 30 at 2:00 (Cast A)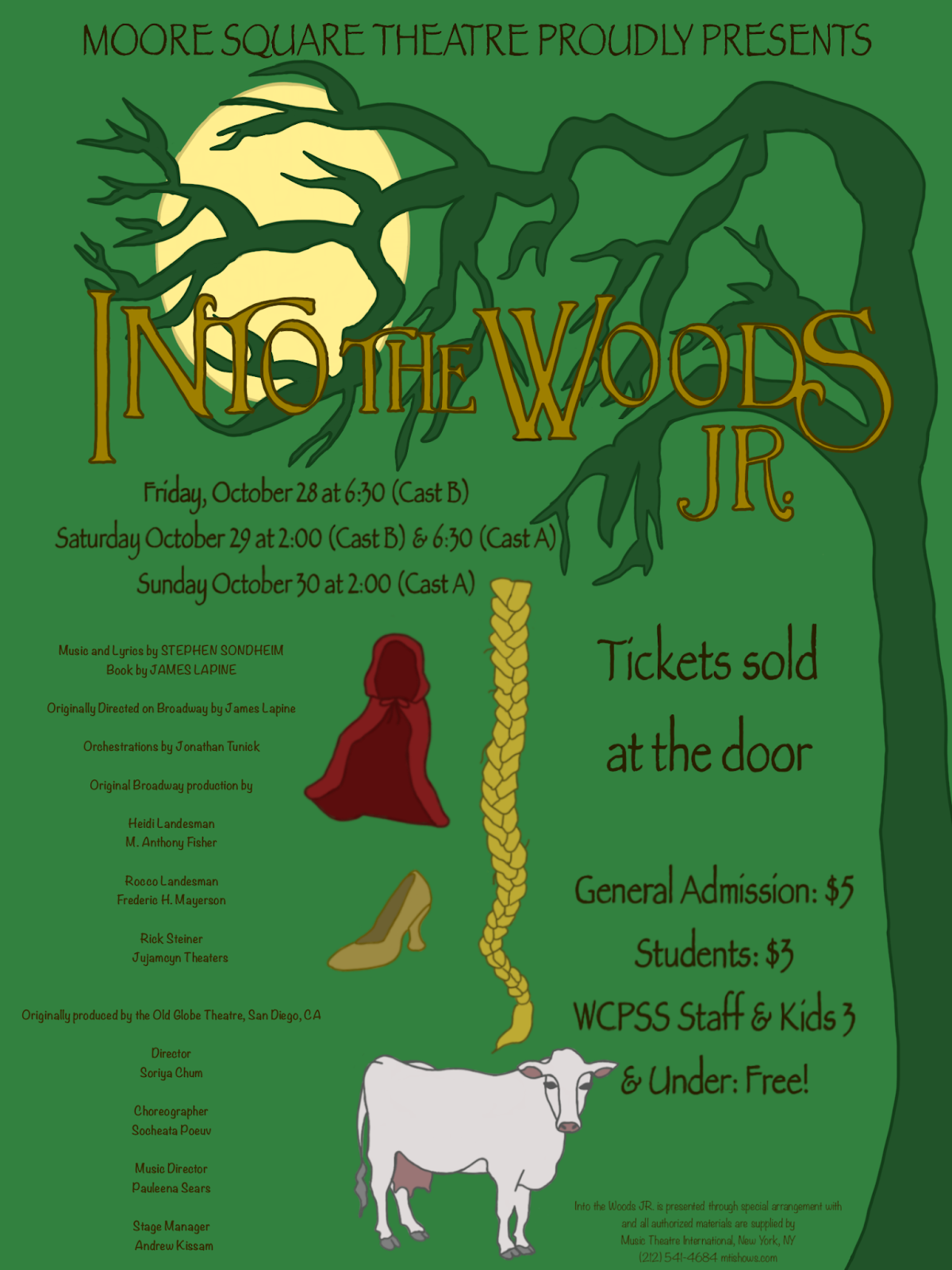 Are you interested in learning more about Myers-Briggs Type Indicator or the Murphy-Meisgeier Type Indicator for Children? Traci Totherow, the Magnet Program Coordinator at AB Combs Magnet Elementary, will be offering monthly learning sessions about type for parents this school year. All the sessions will be virtual - one Tuesday per month - from 6pm-7pm. The dates for our sessions are listed on this flyer. We hope you can join us on this journey!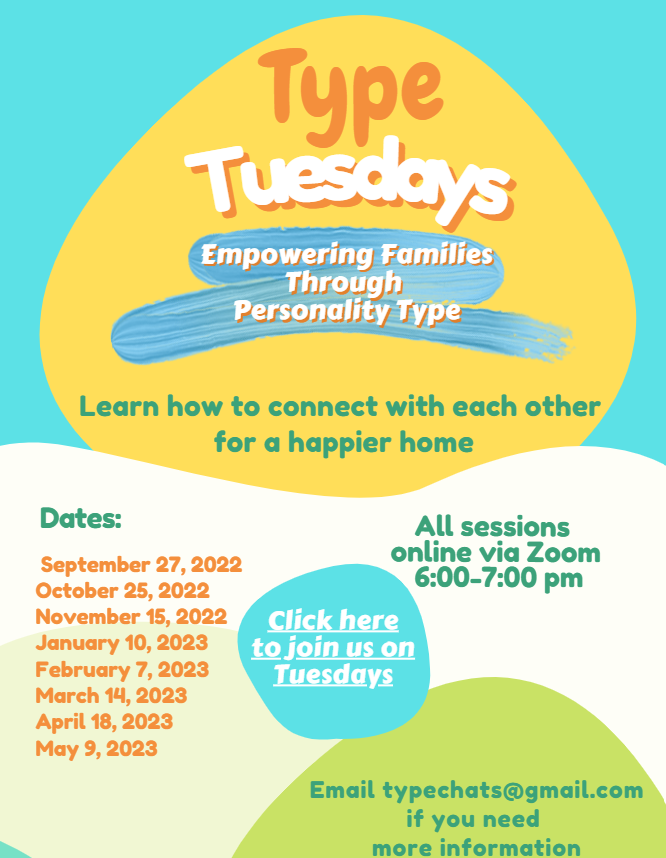 It's PTA Reflections contest time! Think, plan and create your original artwork around this year's theme, "Show Your Voice!". Go to https://www.pta.org/docs/default-source/files/programs/reflections/reflections-2020-2021/fillable-form_local-leader.pdf to download the entry form. (Don't worry about filling out the top portion of the form.) Email your artwork and entry form to m2reflections@gmail.com by Friday, October 28th. The categories this year are Dance Choreography, Music Composition, Visual Art, Photography, Literature, and Film Production.
Below are the required file formats for entries:
Dance: AVI or MP4, file size must not exceed 200 MB.

Film: AVI or MP4, file size must not exceed 200 MB

Music: MP3 and cannot exceed 200 MB in file size. Scores and lyrics must be PDFs. Scores are required for the middle and high school divisions. PDFs cannot exceed 3MB in file size.

Literature: PDF- Do not take pictures of literature entries. Entries need to be scanned PDF files. File size cannot exceed 3 MB.

Photography: JPEG, JPG, PNG. File size cannot exceed 3 MB.

Visual Arts: JPEG, JPG, PNG. File size cannot exceed 3 MB. 3D entries must submit 3 JPEG or JPG from varying angles. (Please note 2D and 3D are judged as one category on the State and National level.)
All entries must be done by individual students and cannot be replications.
Only new pieces of artwork inspired by the current year's theme may be submitted. Each entry must be the original work of one student only. An adult may not alter the creative integrity of a student's work and help from an adult or collaboration with other students is not allowed. To learn more and watch informational videos go to www.PTA.org/reflections. Thanks for your interest in the Reflections program and good luck to all artists!
Please read the most recent update from our Arts Boosters, found here. It includes information on volunteer opportunities and purchasing advance tickets for Into the Woods!
No intramurals this week!

10/25/22 Dungeons & Dragon Club 2:30-3:30

10/27/22 Be The Man Club 2:30-3:45

10/28/22 "Into the Woods" 6:30 pm (Cast B)

10/29/22 "Into the Woods" at 2:00 pm (Cast B) and 6:30 pm (Cast A)

10/30/22 "Into the Woods" 2:00 (Cast A)