Return to Headlines
Fall Picture Retakes/Makeups
Picture retakes and makeups will take place on Wednesday, September 21, 2022. See the flyer for ordering here. We will call students by grade level and start with 7th grade at 7:30am. Then 8th grade and 6th grade will follow. Pictures will be taken in the Media Center.
If you wish to nominate your child for AIG testing, please click the link to this AIG Testing Flyer to learn more. Testing will be conducted the week of September 23. Nominations must be made by September 16th.
Attendance- UPDATED EMAIL ADDRESS
All notes to excuse absences must be signed and dated by the parent/guardian and submitted in person to our Data Manager, Storm Stuart (office 1128), or emailed to msms-attendance-data@wcpss.net. Our apologies for sending a typo in the email address sent with last week's memo. Notes must be submitted within two (2) days of the student's return to school.
We have been made aware that the "Here Comes the Bus" app is not showing routes for some students utilizing the express bus from Southeast Raleigh High School. There is an update underway for all bus software, that the app uses, from 3g to 5g and this is impacting many of our families. We will continue to keep you updated on this transition.
Mrs. Gressett is still looking for volunteers to help with Career Day! We would love to have all 16 Career Clusters represented! While we will be happy to have any volunteers for the Business Exploration portion and the Mock Interview section of the day, we are still in high need of representation from "Agriculture, Food & Natural Resources"; "Education & Training"; "Marketing, Sales & Service"; "TV/Radio Communications"; "Entrepreneurship"; as well as Hospitality and Tourism".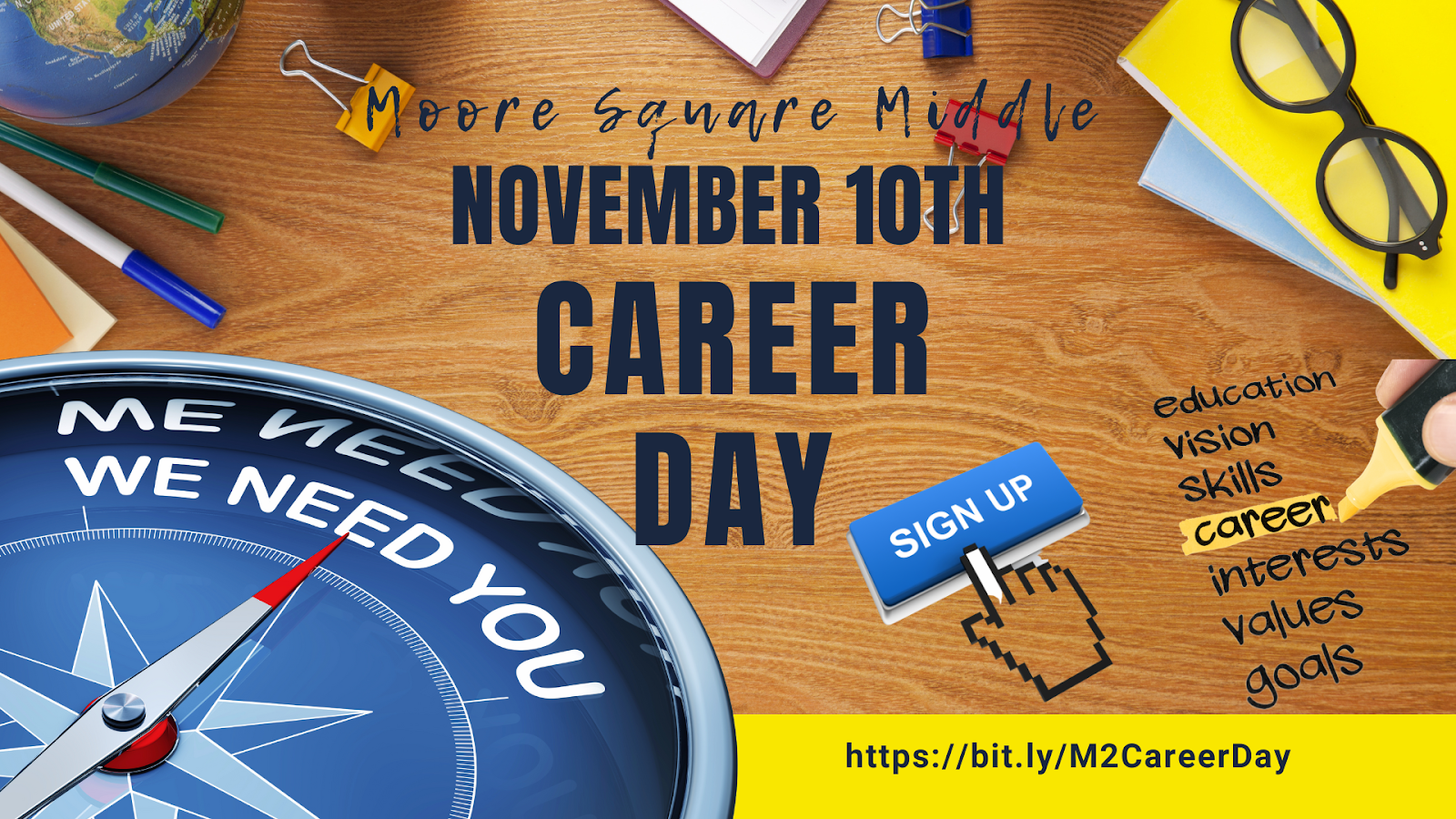 Will take place the following Tuesdays from 2:30-3:30: Sept 13th, Oct. 11th, Nov. 1st, and Dec. 13th. Please sign-up with Mr. Kreacic using this form. For more information, visit https://m2m2visualart.weebly.com/comic-book-club.html
Will meet every other Tuesday, beginning September 6th from 2:30-3:45 with Mrs. Oke. This is a great way for NJHS students to earn service and volunteer hours!
Presenting "Into the Woods, Jr." from 10/28 to 10/30 View our student-designed poster here for more details.
Spirit wear sale is now live! Grab trucker hats, hoodies, t-shirts, and "Moore!" The sale ends Sept. 16; items will be delivered after fall break. https://bit.ly/3es4cZ7
The Arts Boosters 2022-2023 fundraising activities have begun. Money raised funds for visual art supplies, registration fees for art competitions, and artists in residence. Additionally, funds support the purchasing of scripts and associated copyright fees, costumes, lighting, set building materials, props, and instruments. Thank you for your continued support of Moore Square Arts Boosters Foundation.
Below are a few of ways to show your support and contribute to the Arts program:
Come out and support the students of the Arts (and their teachers)!! We are excited to welcome guests to the 2022 Fall/Winter shows. We are offering multiple ways to pay for theater tickets, concessions, flowers, and donations. Including cash, card, and App (apple pay, banking apps, etc). The October 28-30 theater tickets are $5 for general admission, $3 for students and kids 3 and younger are free. Admission fees are utilized to fund bi-annual theater performances. All other performances at the school are free (so come out and enjoy!!!).
September 17th – Chorus to perform at Soccer game (WakeMed)

**October 28th, 29th & 30th – "Into the Woods" theater performance at Moore Square Middle School

November 18th – Chorus to perform during Tree Lighting event downtown Raleigh

December 2nd – Jazz band to perform during Raleigh First Friday Event (downtown)

December 14th – Dance and chorus to perform at Moore Square Middle School

December 15th – Orchestra to host event at Moore Square Middle School

December 16th – Band concert (location TBD)
Concessions, flowers, and fund-raising booth available at functions in BOLD
**At the door tickets available for purchase ("Into the Woods" theater performance)
Fill out this form to subscribe to our email list and learn more about membership and volunteer opportunities.

Stay tuned for our "Call for volunteers" to help us manage the "Into the Woods" activities including, at the door ticket sales, escorting folks to the performance, and concession help.

Would you like to see your name in the "Stars"? Now is your chance. By donating a sum of $250 or more to the Arts Boosters fundraising effort, we will paint a star with your name on the wall near the gymnasium at school. Your shining star will be showcased for 3 years, and the funds will enhance what you see, hear and experience throughout the school. Visit https://www.mooresquarearts.com to initiate your star experience.
The following contributors are already stars: Walas Family, Brian Hicks, Medlin Family, Elkins Family, Jennifer Chancellor and William Hall, Riya Singh and Family, Sam Aiken, Sage Aiken, Cox Family, Sayers Family, Peuler Family, LeStrat Family and Mutch Mitzelfeld Family. Thank you!!
If you have a musical instrument at home that is collecting dust, please consider donating it to the school or if you are interested in supporting social events, please contact info@mooresquarearts.com
To provide a monetary contribution of any value, please fill out form below, and deliver with funds in an envelope to one of the Moore Square Art Staff (listed below). Or visit www.mooresquarearts.com/donations-membership to contribute online.
Thank you for helping us enhance, promote, and encourage the Arts for every member of the Moore Square Magnet Middle School family.
Sincerely,
Moore Square Arts Booster Officers
Paris Harris (Chair), Allison Medlin (Vice Chair), Carey Forman (Treasurer) and Jason Sayers (Secretary)
Moore Square Art Staff
Emily Casey (Band), Todd Miller (Orchestra and Arts Booster Staff Liaison), Kiona Ervin (Chorus), Nicole Duncan (Dance), Olivia Robinette (Theatre) and Frank Kreacic (Visual Arts)
9/12/22 Flag Football Intramural 2:30-3:30

9/13/22 Basketball Intramural at 2:30, Dungeons & Dragons at 2:30, Comic Book Club at 2:30

9/15/22 Volleyball Intramural at 2:30, Be The Man at 2:30, GSA at 2:30

9/19/22 International Dress (and Talk) Like a Pirate Day

9/20/22 Garden Club at 2:30

9/21/22 Picture Retakes/Makeups, 7th Grade Walking Field Trip (2nd-7th periods), FBLA Club at 2:30

9/23/22 Quarter 1 Ends