Return to Headlines
All notes to excuse absences must be signed and dated by the parent/guardian and submitted in person to our Data Manager, Storm Stuart (office 1128), or emailed to msms-data-attendance-data@wcpss.net. Notes must be submitted within two (2) days of the student's return to school.
We have been made aware that the Here Comes the Bus app is not showing routes for some students utilizing the express bus from Southeast Raleigh High School. There is an update underway for all bus software from 3g to 5g and this is impacting many of our families. We will continue to keep you updated on this transition.


We need volunteers to share their careers in the Business Expo and Mock Interview portions of our day. See Career Day 2022 for more information and the signup. Please consider signing up today to let us know you can join the fun and help our students to be "Career and College Ready!"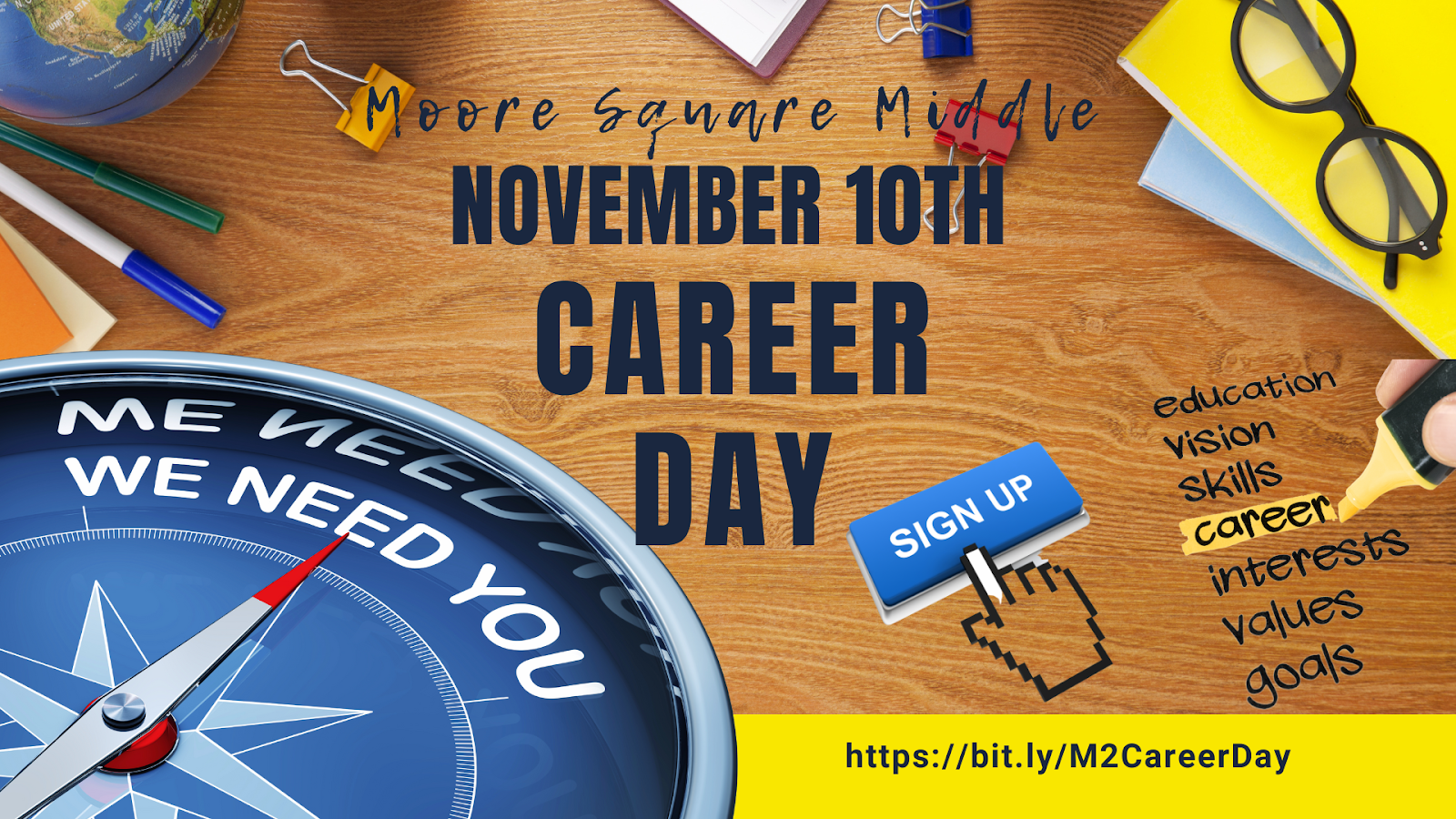 The Contemporary Art Museum of Raleigh partners with Moore Square to: learn techniques of public speaking (starting conversations and giving information to the public during First Friday nights), meet Contemporary Artists from all over, learn about different forms of Contemporary Art, create art, make new friends, and have fun! View Mr. Kreacic's page for details on how to apply- https://m2m2visualart.weebly.com/cam.html
Cheer Tryouts at Ligon begin on September 7th and go through the 14th. Flyer with details below! Tryouts for Football, Girls' Soccer, and Volleyball will start on Tuesday, September 6th. More info to come soon. Please fill out this Athletics Interest Form if your 7th or 8th grade student plans to attend tryouts for any fall sport at Ligon. New this year- the physical and other required documents will now have to be uploaded to the new DragonFly Website or App. When choosing the school name, make sure to select Ligon. You will not be turning in paper copies to Mr. Scheck this year. If you have any questions, contact Coach Scheck at nscheck@wcpss.net.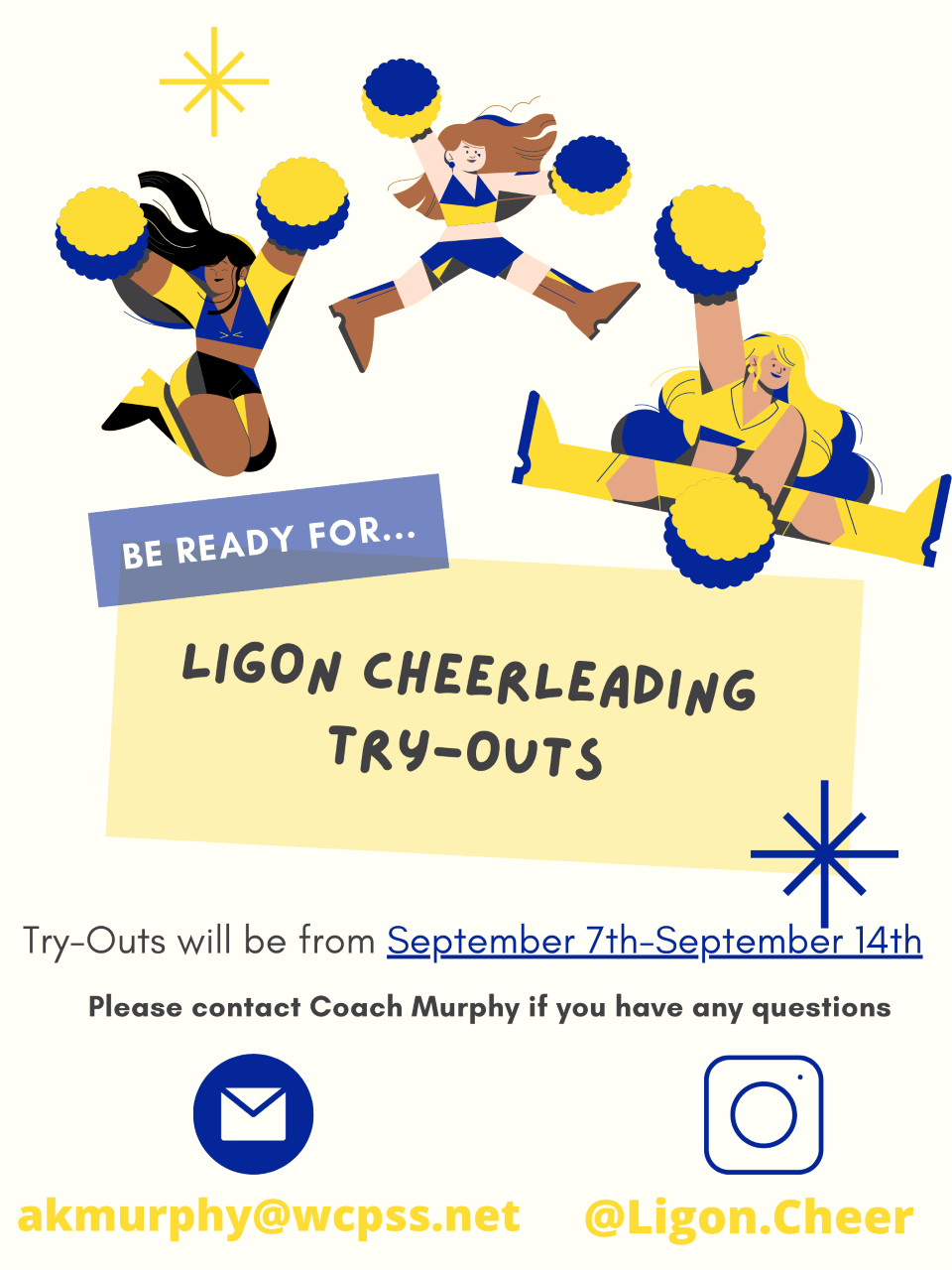 Moore Square's 2022-2023 intramural schedule is live! Monday-flag football, Tuesday-basketball, and Thursday-volleyball. Students will report to the Moore Square gym from 2:30-3:30 on their respective days. If you have any questions, please contact Coach Scheck at nscheck@wcpss.net.
Yearbooks are currently on sale for the lowest price of the year, $40, if you order now through September 30th! The price will increase to $52 after this back-to-school promotion. Order now at https://www.jostens.com/.
8th-grade families can recognize their students by purchasing a yearbook ad. These ads are created online, by you, and are a great way to send kids off to high school with love and support. They must be ordered and finalized by 2/9/23. Go to https://www.jostens.com/yearbooks/students-and-parents/yearbook-ads to purchase and design your ad!
This year Moore Square Middle School will be forming a team of Runners and/or Walkers at the annual event in Raleigh. The race is Saturday, October 8th.
If you are interested in running or walking, please go to this link: Triangle Run/Walk for Autism;

Then click the tab Join a Team.

Then type in Moore Square Middle School into the team name window to register.
Mr. Lesher is facilitating this year's team. Please reach out to him with any questions:kclesher@wcpss.net
9/5/22 Holiday-No School

9/6/22 Basketball at 2:30, Dungeons & Dragons at 2:30

9/8/22 Volleyball at 2:30, Be The Man at 2:30