Return to Headlines
Mark your calendar! Our Virtual Open House will be next Thursday, August, 18 at 5:30pm. Parents/guardians will need their student's Wake ID login information to sign in and follow their student's schedule via Google Meets. Each meet will last approximately 8 minutes, with a 2 minute transition and follow the "m2(teacher last name)" format. View our complete list of the schedule and codes here.
We need volunteers to share their careers in the Business Expo and Mock Interview portions of our day. See Career Day 2022 for more information and the signup. Please consider signing up today to let us know you can join the fun and help our students to be "Career and College Ready!"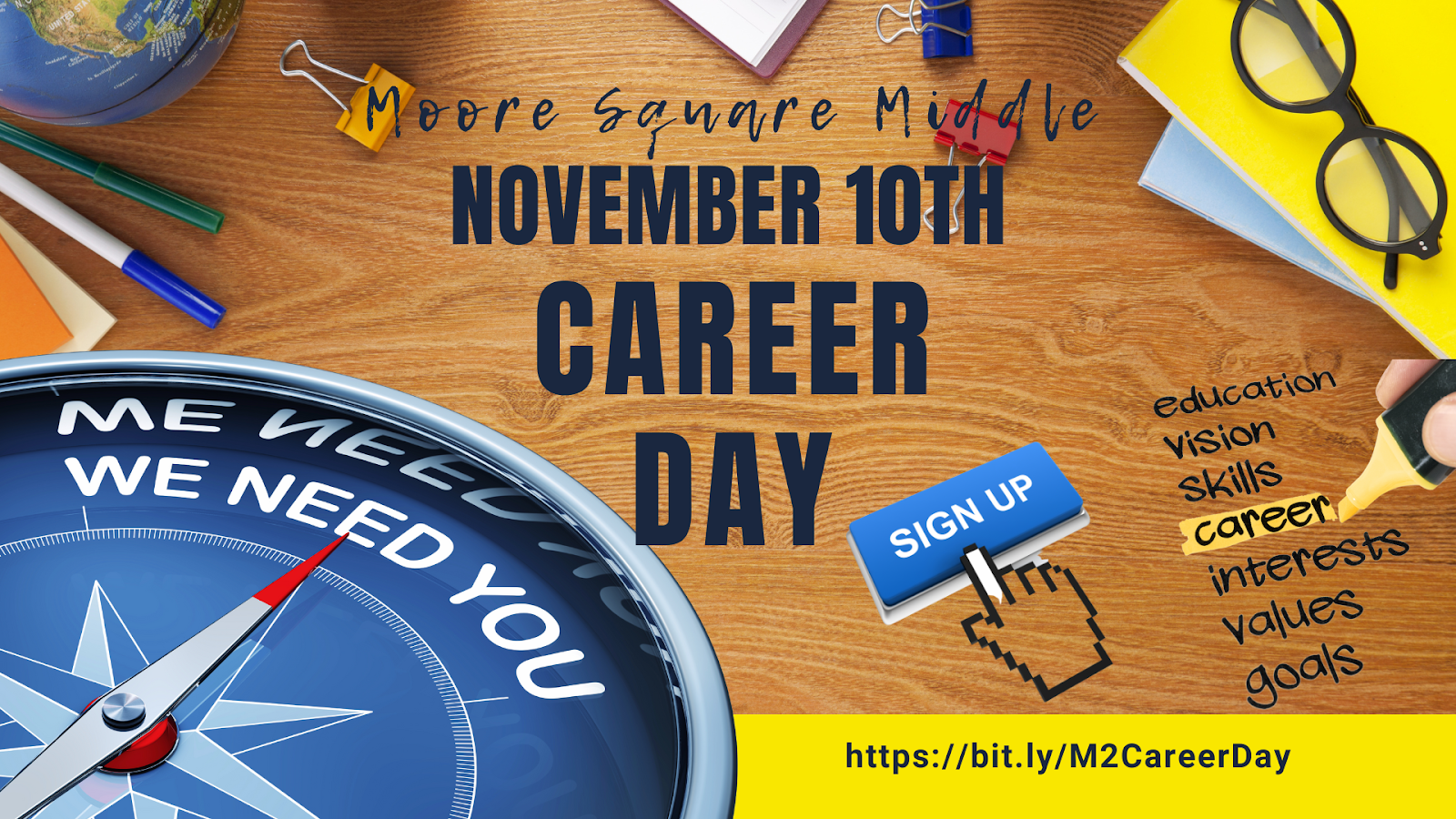 Moore Square Business Alliance is a partnership between business, community, and school leaders committed to educating each student to be a responsible and productive citizen who can effectively manage future challenges. Through the support, dedication, and commitment of our volunteers, we are able to provide a variety of opportunities to our students that help them understand the skills needed to become successful in their future. Business Alliance members assist with career days, practice job interviews, field trips, site tours, guest speaking, and life skill programs such as Reality of Money.
During the 2021-22 school year, our community engagement and career development experiences included 7000 student contacts with over 500 community volunteers. These experiences included off-site learning experiences, classroom guest speakers, and participation SECU Reality of Money, and in NCBCE Students@Work program.
School-sponsored sports for 7th and 8th graders through Ligon Middle School have tryouts beginning in September. Please view our website for a complete list of available athletics and requirements.
Our 2022-2023 intramural schedule is live! They will start the week of August 15th. Monday-flag football, Tuesday-basketball, and Thursday-volleyball. Students will report to the Moore Square gym from 2:30-3:30 on their respective days. If you have any questions, please contact Mr. Scheck at nscheck@wcpss.net.
Our Dungeons and Dragons, Be the Man, GSA, and After-School Theater Production info is live! We will continue to update our club info on the school website as it becomes available.
Yearbooks are currently on sale for the lowest price of the year, $40, if you order now through September 30th! The price will increase to $52 after this back-to-school promotion. Oder now at https://www.jostens.com/.
8th grade families can recognize their students by purchasing a yearbook ad. These ads are created online, by you, and are a great way to send kids off to high school with love and support. They must be ordered and finalized by 2/9/23. Go to https://www.jostens.com/yearbooks/students-and-parents/yearbook-ads to purchase and design your ad!
The Moore Square Community trip for this school year will take place during March track out and includes: Paris, Monaco, Niece, Florence, Rome, Pompeii, and Capri.
Interested in learning more? Attend the virtual meeting Thursday, August 18th at 7 PM. RSVP below to receive the Google Meet Code. https://bit.ly/3A1HVd8
(This is not a school-sponsored trip)
School Meals

Costs: Breakfast - $1.75 and Lunch - $3.25

With a MySchool Bucks account paying for school meals is easy. Go to www.MySchoolBucks.com or call (855) 832-5226 to enroll. You'll need your child's NCWISE ID number, available in your registration materials or at your school. Once your account is established you may:

Securely deposit funds to your child's account

Check balances

Set spending limits
This year Moore Square Middle School will be forming a team of Runners and/or Walkers at the annual event in Raleigh. The race is Saturday October 8th.
If you are interested in running or walking, please go to this link: Triangle Run/Walk for Autism;

Then click the tab Join a Team.

Then type in Moore Square Middle School into the team name window to register.
Mr. Lesher is facilitating this year's team. Please reach out to him with any questions:kclesher@wcpss.net
Please donate to PTSA's Annual Fund now through next week! Your donations support teachers and students in classrooms, as well as advocacy and cultural initiatives for our community. Every amount helps! We are growing towards our $25k goal, and we need your help to get there! Donation link: https://www.paypal.com/us/fundraiser/charity/1266695 or send a check payable to Moore Square PTSA to school by student dropoff or mail. Don't forget our first PTSA meeting of the year (online), join us Tuesday at 7pm at this link: meet.google.com/bze-fnzp-iix
Calling all parents of arts kids! The Moore Square Arts Boosters Foundation is dedicated to fundraising to support ALL of Moore Square's amazing arts programs. Our organization is responsible for fundraising to provide essential materials like new instruments, costumes, sheet music and visual arts supplies. Fill out this form to subscribe to our email list and learn more about membership and volunteer opportunities. You can also visit www.mooresquarearts.com/donations-membership to donate now. Questions? Email info@mooresquarearts.com.
-Arts Boosters Council
8/15/22 Intramurals Begin

8/16/22 PTSA General Membership Meeting at 7:00pm

8/18/22 Virtual Open House at 5:30pm

8/19/22 Teacher Workday