Return to Headlines
As we make it through these last three weeks of school with road contraction, please be reminded that your student should be exiting your car in the morning if they are on E Davie St. from the yellow fire hydrant, up. See picture below. If you are the first car in line, please pull as far up the sidewalk as possible to allow more cars to drop off or pick up at one time. Please also allow extra time for your commute in the mornings and afternoons as we work through these construction impacts.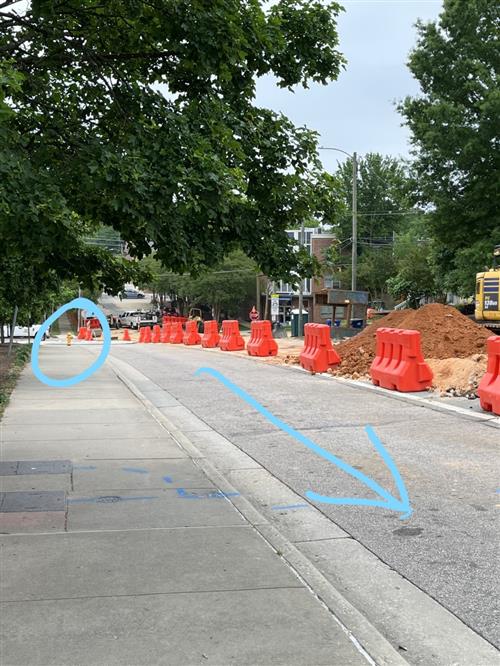 End of Grade Testing

Friday, May 20th: 8th Grade Math, Math 1, and Math 2
Monday, May 23rd: 6th Grade Math, 7th Grade Reading, 8th Grade Science
Tuesday, May 24th: 6th Grade Reading, 7th Grade Math, 8th Grade Reading
Please make sure students bring their school-issued laptops and chargers on testing days.
There are only 8 yearbooks left for purchase! No more can be ordered once we sell out. Order yours now at jostens.com. Yearbooks will be delivered to the school in mid-May.
WCPSS Spring 2022 Family Survey
The Wake County Panorama Family Survey closes TODAY! We need your help to ensure we hear from as many family voices as possible! The survey link for families is https://surveys.panoramaed.com/wakecounty/family/.
8th Grade Families

Moving Up Ceremony- May 27, 8:00 am
Due to capacity restraints, we are strongly encouraging limited attendance to 2-3 guests per student.
We are working on making the event available virtually via a live stream link (YouTube Live).
Options for downtown parking can be found by visiting the City of Raleigh interactive map- https://raleighnc.gov/apps-maps-and-open-data/find-parking#paragraph--262556
Marbles Events

Bike Rodeo- Bring your bike, trike & helmet, and get rolling! Roll your way through obstacle courses, learn about bike safety and create bike bling! This event is for all ages and skill levels. View the flyer here.
Traffic Garden- Traffic Gardens are a safe, play-based world of miniature streets for children to learn about road safety & interactions. View the flyer here.
Attention teens ages 12-18! Come out to John Chavis Memorial Park on May 13 to show off your basketball skills. There will be music, a basketball skills challenge, a three-point shooting contest! EVENT DETAILS Friday, May 13, from 6 p.m.-8:30 p.m.
Summer School at Enloe HS

Enloe HS has been approved to offer an in-person summer school program this summer. It is only available for students that will be attending Enloe HS, Broughton HS, Garner HS, Millbrook HS and Southeast Raleigh HS next year.
The dates are July 6th - August 4th. You can view the details and the registration request form on the Enloe High School website. Requests will be accepted through Friday, May 20th.
Summer Camps

Broughton Fastbreak Football Camp- This year's camp will run from Monday, 6/27 to Friday, 7/1 and is open to boys and girls in rising 4th - 8th grades. Fastbreak Football Camp is unique in that it focuses on character education, general athletic development, and weight room fundamentals in addition to football-specific instruction. Coaches will teach young athletes the key character traits required of good teammates, the fundamentals of the game of football, and the athletic postures and movements necessary to excel in any sport. Instruction will be clear and concrete. Activities will be fun and fast-paced. Register today by visiting www.fastbreakfootballcamp.com. The cost of camp is $250, but financial aid is available. No camper will be turned away for financial reasons.
Millbrook High School Boys' Soccer Camp- the camp is fully insured, and all profits go directly to the Millbrook High School Boys' Soccer Program. 2022 MHS Youth Day Camp July 18th through 21st 2022; 5:00 to 7:30 pm.
Artspace Summer Camp- This summer we are offering 64 various art camps over the span of 8 weeks (June 13-August 12). Each session is a week-long and families can sign up for half-day or full-day sessions. Artspace is also currently accepting scholarship applications for families interested in participating in our summer camp program, but due to financial or pandemic-related circumstances cannot financially commit. For more information, visit- Summer Camp Program.
Join us for final M2 PTSA General Membership Meeting on May 19, 2022 at 6:30p; voting in the new slate of officers: Registration link: M2 PTSA General Membership Meeting Registration link.
Dear Parents and Care Providers,
Thank you for your continued support of Moore Square's Arts Boosters 2021-22 Fund Raiser. Money raised funds visual art supplies, registration fees for art competitions, and artists in residence. Additionally, funds support the purchasing of scripts and associated copyright fees, costumes, lighting, set building materials, props, and instruments.
Below are a couple of ways to get and stay involved in Arts Program's success:
We are excited to welcome guests to additional Spring shows, and will be offering multiple ways to concessions, flowers and to make donations. There will be cash and card lines. The card line will accommodate most credit cards, in addition to apple pay, banking apps, etc.
May 11th - Orchestra Concert (6:00pm)
May 12th - Theater/Dance Concert (6:00pm)
May 10th - Choral Concert (6:00pm)
Would you like to see your name in the "Stars"? Now is your chance. By donating a sum of $250 or more to the Arts Boosters fundraising effort, we will paint a star with your name on the wall near the gymnasium at school. Your shining star will be showcased for 3 years, and the funds will enhance what you see, hear and experience throughout the school. Visit https://www.mooresquarearts.com to initiate your star experience.
The following contributors are already stars: Walas Family, Brian Hicks, Medlin Family, Elkins Family, Jennifer Chancellor and William Hall, Riya Singh and Family, Sam Aiken, Sage Aiken, Cox Family and Sayers Family. Thank you!!
If you have a musical instrument at home that is collecting dust, please consider donating it to the school or if you are interested in supporting social events, please contactinfo@mooresquarearts.com
To provide a monetary contribution of any value, please fill out form below, and deliver with funds in an envelope to one of the Moore Square Art Staff (listed below). Or visit https://www.mooresquarearts.com to contribute online.
Thank you for helping us enhance, promote, and encourage the Arts for every member of the Moore Square Magnet Middle School family.
Sincerely,
Moore Square Art Booster Officers
Paris Harris (Chair), Allison Medlin (Vice Chair), Carey Forman (Treasurer) and Jason Sayers (Secretary)
Moore Square Art Staff
Kevin Byrd (Band and Art Booster Staff Liaison), Todd Miller (Orchestra), Kiona Ervin (Chorus) Nicole Duncan (Dance), Olivia Robinette (Theatre) and Frank Kreacic (Visual Arts)
Reminders

Tuesday, May 10- Comic Book Club, GSA Club, Chorus Performance
Wednesday, May 11- Dungeons and Dragons Club, Orchestra Concert
Thursday, May 12- CAM Docent Meeting, Be The Man Club, Dance & Theater Performance