Return to Headlines
School Messenger Announcement Sent 7/8/21
Hello and welcome to Moore Square!
We invite you to attend our annual Mountain Lion Climb on Thursday, July 22. This is an orientation opportunity for all students (6th, 7th, and 8th grades) to receive copies of schedules, explore the grounds, and meet members of our Moore Square team. You are welcome to drop in as your schedule allows between 10am - 1pm or between 3pm - 6pm. Note that an informational Open House event is tentatively scheduled for the evening of Tuesday, August 17th.
Due to Covid restrictions, this will be an informal event with no scheduled presentations. However, in advance of the Mountain Lion Climb, we will provide a document with links to various informational videos that will answer some of your burning questions! We will also provide a form to collect any questions that are not answered in the videos. You can anticipate the videos to be made available by Thursday, July 15th. Supply lists and other general information from grade-level teams will be distributed & posted to our website during the week of July 19, when staff members return to campus, so be on the lookout for those!
We realize this orientation date cannot accommodate everyone's schedule. Because of this, we will also provide information online at https://bit.ly/welcomem2families.
While this event is open to students and their parents/guardians, at this time, Covid restrictions require schools to limit nonessential visitors. As such, we are currently planning this event with some restrictions in place such as limiting/monitoring the number of visitors in the school building at one time. Masks are required for entry.
Please note that we are currently adjusting/updating student schedules and they are not finalized at this time. Completed schedules will be available by July 22, and can be picked up at Mountain Lion Climb or accessed electronically through PowerSchool at that time. We will also provide a new hard copy of the schedule to each student in 1st period on the first day of school. If you have any scheduling questions or concerns you can contact our counselors, Mrs. Estes (jestes2@wcpss.net) or Mr. Wray (mwray@wcpss.net). Thank you for your patience as we complete this process.
Lastly, once we are back in the swing of things for the 2021-2022 school year, you can stay updated with our social media, school website, or weekly Friday emails via School Messenger (which are also uploaded to our website). In the meantime, enjoy your summer break!
With eager anticipation,
Your Moore Square Magnet Middle School Team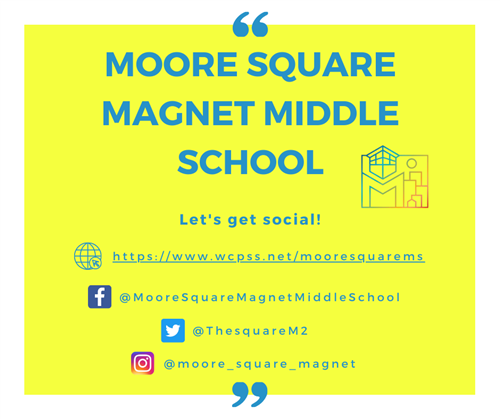 Important Schoolwide Dates:
WCPSS Modified Calendar is linked

here

Thursday, July 22

- Mountain Lion Climb (informal orientation event) for all 6th, 7th, and 8th grade students - drop in between 10am & 1pm or between 3pm & 6pm

Monday, July 26

- First Day of School

Tuesday, August 17

(tentative) - Open House Evening Event

Wednesday, August 18

- Teacher Workday

Monday, September 6

- Holiday

Monday, September 27 - Monday, October 11

- Track Out

Tuesday, October 12

- Quarter 2 begins, students return to campus
Upcoming PTSA Sponsored Events:
Saturday, July 10th

- Moore Square Park,

6:00-8:00pm
Bring a chair or blanket, picnic dinner (or grab a bite at Square Burger), and meet fellow M2 families. We will try to gather at the tables or fields just west of Square Burger, at the south side of the park block.
Saturday, July 17th

- Williams Field (Dorothea Dix Park), "BYO Picnic," 12pm - 2pm