Return to Headlines
Weekly Update 5/27/21 Facebook Live with Mrs. Crowley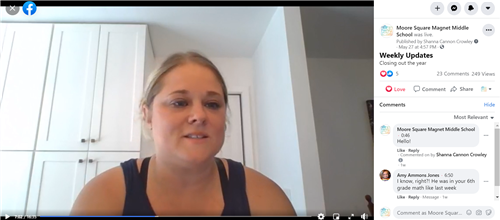 Did you catch our weekly Facebook Live video? If not, you can view it here- https://fb.watch/5V-z75Kd_g/
Announcements:
Yearbook: Thank you to Mrs. Myers and her team for a job well done! Despite this unique year, they all did a great job putting our yearbook together.
All Students Will Receive Free School Meals For the 2021-22 School Year: Breakfast and lunch will be available at no cost to students for the 2021-22 school year. While the district may be able to offer free meals to all students, it is very important for eligible parents to complete a meal benefits application because this data enables schools to obtain funding to provide other important educational resources to benefit students. Other benefits that are issued directly to families that have applied and are eligible for meal benefits may also be available (such as the P-EBT cash benefit). Meal benefits applications for the 2021-22 school year will be available online at myschoolapps.com starting July 1, 2021. Paper applications will also be available at all schools. More: www.wcpss.net/free-reduced-meals.
Virtual Summer Camp at the WELL:

The school year is almost over, which means summer fun with the WELL is nearly here! WELL, staff will be hosting six virtual weeks of engaging, entertaining, and educational fun for interested middle and high school students.

Summer camps days run from 9 am – 3:30 pm, Monday – Thursday, with a 90 min break in the middle. Each week costs $50 and you can sign up for a few or as many as you'd like! Visit our website www.wade.org for more information on each week and to register, or feel free to reach out to Pierce Watson at Achievement@wade.org with any questions.

Here are the topics and dates for each week:

Arts in Action (6/21 – 6/24)

Exploring the World Through Model UN (6/28 – 7/1)

Design Week (7/12 – 7/15)

Musical Journeys with the WELL (7/19 – 7/22)

L.A.W: The Art of Storytelling and Story Making (7/26 – 7/29)

STEM in Action (8/2 – 8/5)
Book Turn In: Mrs. Skinner would like to have library books turned in as soon as possible. Before she can order books to replace lost/overdue titles, she wants to make one last plea to see what possibly could be returned. There are no overdue fines/fees at this time! Take advantage of an amnesty period with library books! She can also accept books that belong to your old elementary school, too.
Hot Spots for wi-fi should be turned in anytime from now til June 9th! Once turned in, they will be checked in and removed from a student's library account. Hot Spots will be turned off for the summer and families will need to reapply for one again next year.
Information for 8th graders:


Open gym workouts for Broughton JV and Varsity Cheerleading start June 16, 2021 at 2:30 in the "small" gym at Broughton. Dates are: June 16, 23, 30 and July 14. Open gym consists of: cheer/open workout 2:30 - 3:30 in the small gym then tumbling at Cheer Extreme in Raleigh from 4:00-5:00 (this is a class that students have to pay for which is $10 per session but charged as $40 per week and sign up as "Purple Open Tumbling" on CEA Website). This is open for rising 9th graders and a current physical is required on the first day they come to workouts.
Broughton Football is excited to present the fourth annual Fastbreak Football camp. This year's camp will run from Monday, 6/28 to Friday, 7/2 and is open to boys and girls in rising 4th - 8th grades. Fastbreak Football Camp is unique in that it focuses on character education, general athletic development, and weight room fundamentals in addition to football specific instruction. Coaches at Fastbreak Football Camp will teach young athletes the key character traits required of good teammates, the fundamentals of the game of football, and the athletic postures and movements necessary to excel in any sport. Instruction will be clear and concrete. Activities will be fun and fast-paced. Register today by visiting www.fastbreakfootballcamp.com. Financial Aid is available. No camper will be turned away for financial reasons.
Enloe Magnet High School is hosting a Google Meet for all Ligon, Carnage, Martin, and Moore Square students interested in Enloe Athletics for the 21-22 school year on Wednesday, June 2 at 7:00pm. Meet code: EnloeAthletics
5/31 Holiday-No School

6/1 Plan A EOG: Grade 6-ELA and Grade 8-Science, VA EOG: Grade 8 Science

6/2 Plan A EOG: Grade 6-Math and Grade 7-ELA, VA EOG: Grade 6-Math

6/3 Plan A EOG: Grade 8-ELA, VA EOG: Grade 7-Math

6/4 Plan A and VA EOC: Math I Students, Plan A and VA EOG: Math 8 Students

6/7-11 Our last Spirit Week for the 2020-2021 school year! View the details here.

Our official start date for the 2021-2022 school year has been approved for Monday, July 26th. More dates and details will be forthcoming.