Return to Headlines
Weekly Update 5/20/21 Facebook Live with Ms. McCaskill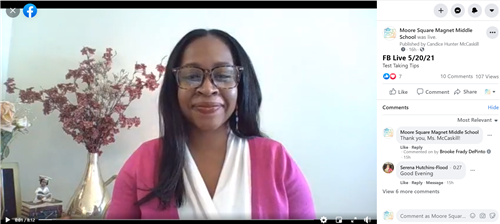 Did you catch our weekly Facebook Live video? If not, you can view it here- https://fb.watch/5DrmUscKvz/
Good evening Moore Square Families! We understand that testing can be a stressful time and we would like to offer some helpful tips to ensure you feel comfortable with the testing process.
As a reminder, testing begins on May 26th for our Virtual Academy students. Testing will resume on June 1st-4th and makeup testing will occur the following week, June 7-11. Please view the testing schedule and testing FAQS; email our Testing Coordinators Brooke DePinto (cdepinto@wcpss.net) or Shanna Crowley (scrowley@wcpss.net) with any questions.
If you have been issued a WCPSS chromebook, please bring that device each day of testing along with the charger! This is important to ensure we are able to begin on time. Tests are offered online via NC Test app; Students will not be able to test on their personal devices.
All students will report to their 5th-period classroom on testing days. We ask that students arrive by 7:30am. We plan to begin testing at 8am and testing should be done around 11am.
Our video production class students have created an EOG instructional video. Please take a minute to watch!
Testing Tips:
Students, please talk to your parents/teachers about any concerns that you may have about testing in advance. Please don't wait until the day of testing to ask questions as test administrators will be busy and may not be able to answer them. It will also ease your anxiety to know what to expect ahead of time.

Get a good night's rest. 8 hours if possible!

Engage in relaxing activities the night before or morning of your exam. Examples include deep breathing, meditating, stretching, listening to motivational or relaxing music, exercising, repeating a mantra, etc...

Go into the exam confidently by arriving on time (by 7:30am). Do your best to arrive to school a few minutes earlier than normal -- rushing or coming in late can start testing off negatively and raise anxieties

Do not lose confidence or waste time if you encounter confusing or difficult questions. Answer the questions you know first. NCTest allows you to flag questions and return to them before you end the test.

Listen to teacher read directions and be sure to read student read directions carefully

Read the passage, question and answer choices before rushing to answer any questions

If you finish early check to make sure you answered all questions. There is no prize or extra points for finishing first!

Remember to stay positive! This is a time to celebrate all that you've learned throughout the year.

Remind yourself that you have been learning the content of this test all year and this is just one test score. It is not the only measure of your abilities and potentials. This one test does not measure your total success. Just do your very best! :)
Other Tips/Guidelines
Please speak with students regarding cell phones/smartwatches-- if they have to bring their cellphones to school they should be powered off during testing and the administrator may choose to collect them to maintain test security. If cell phones or devices disturb the testing environment it can result in a misadministration and all students will have to retest.
Unless there are specific accommodations… there should be no eating or drinking during the test. Please be sure to provide breakfast or allow your student to arrive early enough to get breakfast in the cafeteria. Breakfast and Lunch will still be provided at no charge to students during the week of testing.
School announcements and reminders
It's time to return library, ELA, bookclub books to the Media Center as soon as possible

Hot spots are due back by the last day of school, but can be returned to Mrs. Skinner now. Hotspots will be deactivated over the summer and must

be turned in to request another device for next year. More information on applying for a hotspot for Fall 2021 will be released soon.
8th Grade Moving Up Ceremon

y: Thursday, June 10th at 10am. In-person students will report to the gym and VA students/families are invited to view the ceremony via live stream. View the ceremony program

Here

.

Wednesday, 5/26 is an Asynchronous Day for In-person students & Testing Day for Virtual Academy Students

Yearbooks will be distributed soon. Please lookout for more information on delivery and/or pickup. If you would still like to purchase a yearbook you can go to Jostens.com and order as long as supplies last.

Our official start date for the 2021-2022 school year has been approved for

Monday, July 26th.

View the Modified Traditional School Calendar

Here

.