Return to Headlines
Weekly Update 4/29/21 Facebook Live with Mrs. Crowley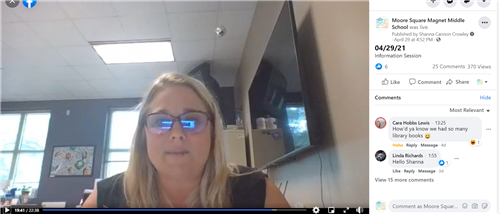 Did you catch our weekly video? If not, you can view it here- https://fb.watch/5b_7SAPMqh/
Testing:
Testing Dates:

Wednesday, May 26th - all Virtual Students taking ELA
Tuesday, June 1st - 6th grade plan A taking ELA, Virtual and Plan A 8th graders science
Wednesday, June 2nd - Virtual and Plan A 6th graders math, 7th-grade plan A ELA
Thursday, June 3rd - Plan A and Virtual 7th graders math, 8th grade Plan A ELA
Friday, June 4th - Plan A and Virtual Math 1 EOC, Plan A and Virtual 8th-grade math EOG
Makeup testing will be held the week of June 7-11

Who takes what test?

6th graders - take the 6th-grade math and ELA EOG
7th Graders

All 7th-grade students will take the 7th-grade math and ELA EOG
7th graders enrolled in math 1 will take the math 1 EOC

8th Graders

All 8th graders will take the 8th grade ELA and Science EOG
8th graders enrolled in Math 1 will take the math 1 EOC
8th graders enrolled in Math 8 will take the 8th-grade math EOG
8th graders enrolled in Math 2 will take a teacher made exam which can be completed at home

Is there a penalty for not taking the tests?

Tests are state-mandated and have to be given in person
If a family has chosen to stay home due to safety concerns with COVID 19, they can not be made to come into the building. If a family opts out of testing the student will be marked as absent from testing and will not receive a score. This will create a 2-year gap in assessment data which is used to help with next year's instructional decisions and placements.
If a student comes into the building and refuses to take the test, that student will receive a score of a 1, not students who opt out of taking the test this year.
Math 1 EOC will only count as 20% of the final grade if the grade will improve their current class average. All grades will be entered into Power School. If the grade will hurt your child's final average, it will be exempted and not count towards their final average. Students will not receive a score of less than 60% on the EOC.
Devices - if your child has a WCPSS issued device, please make sure they bring that device and charger to school with them. Students that have been using a personal device will be given a school device for testing. Personal devices can't be used for state-mandated testing.
We will be following all covid protocols and social distancing guidelines.
If you have not completed the VA testing survey, please get done ASAP. Even if you are opting for your child to not come in the building for the tests, we need to know to better prepare groups and how many kids we will have in the building that day. All transportation requests have to be submitted by the school no later than Friday, May 7th. We will use survey data to submit these requests.
All tests will be completed online in person.
Leaving after testing is complete - Students will be allowed to leave after the entire testing session is complete. This is to ensure that all students have the most conducive testing environment and are all provided with an uninterrupted time to take the test. Please plan on picking up your VA child at 11:00 on testing days. If we see a grade level is going to finish early, grade level chairs will communicate via grade level communication. Please use the traditional carpool lane to pick your child up.
All students will report to their 5th-period classroom on testing days. Please make sure all students are here no later than 7:30. Our goal is to start testing no later than 8:00.
If you have any other questions please email me or Brooke DePinto.
Announcements:
Tardy Procedures: Please remember that our daily start time is 7:30, and all students should be in class by this time. Beginning on Monday, April 26, we will begin issuing tardy passes to students who arrive after 7:30. It is important that students are in class on time to engage in daily instruction.
Our Student Council presents "Autism Awareness Month"! Thank you for taking the time to research the topic and share it with your peers!
Technology Reminder: Students are reminded to bring their charged devices charged and power cords with them to school daily. Hotspots will be due by the last day of school and can be returned to Mrs. Skinner in the Media Center. Information on hotspots for next year will be sent later.
Parents are asked to assist us by having students return textbooks, library books, and other school-owned materials so that we can inventory and reuse these items. Please return any Module 1 ELA books you may still have as soon as possible: The Lightning Thief, Long Walk to Water, or Inside Out and Back Again.
Through June 30, 2021, all children age 18 and under may receive breakfast and lunch at no cost via Curbside and Big Bus Food Truck Pop-up locations. Meals are also free to all Wake County students when they are at school for in-person instruction. Meals will not be available on holidays designated on the student's calendar. For more information, visit- wcpss.net/food
Free Family Workshops for Stress Management, Wellness Skills, and Keeping Kids Safe: WCPSS offers free wellness workshops that focus on helping students and families during this challenging time. Topics available include Circle Connections, keeping kids emotionally and physically safe, stress management and wellness skills, and a Virtual Parent Summit. These workshops can help families learn about emotional support strategies being used in our schools, which can also benefit families at home. Learn more.
Elective registration information for rising 7th and 8th graders:

If you are unable to register in PowerSchool or have any questions you can email Mrs. Estes (jestes2@wcpss.net) or Mr. Wray (mwray@wcpss.net). You can also call us at 919-664-5737 ext 26648 (Estes) or 919-664-5737 ext 26638 (Wray) and leave a message.
Carpool Tips and Procedures

The carpool line follows along the building. There is limited space for carpool, even when we utilize our allotted space. Please be patient as we serve our families.
Carpool lasts from 2:15 pm - 2:40pm.
Families that arrive to carpool after 2:25 pm may experience a shorter wait time and available space in the line.
Virtual Summer Camp at the WELL

The school year is almost over, which means summer fun with the WELL is nearly here! WELL, staff will be hosting six virtual weeks of engaging, entertaining, and educational fun for interested middle and high school students.
Summer camps days run from 9 am – 3:30 pm, Monday – Thursday, with a 90 min break in the middle. Each week costs $50 and you can sign up for a few or as many as you'd like! Visit our website www.wade.org for more information on each week and to register, or feel free to reach out to Pierce Watson at Achievement@wade.org with any questions.
Here are the topics and dates for each week:

Arts in Action (6/21 – 6/24)
Exploring the World Through Model UN (6/28 – 7/1)
Design Week (7/12 – 7/15)
Musical Journeys with the WELL (7/19 – 7/22)
L.A.W: The Art of Storytelling and Story Making (7/26 – 7/29)
STEM in Action (8/2 – 8/5)