Return to Headlines
Weekly Update 4/22/21 Facebook Live with Mrs. Poindexter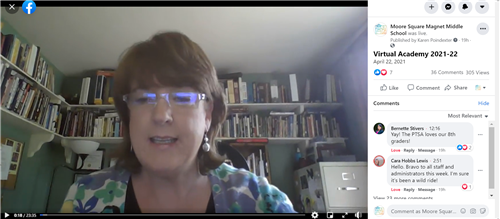 Virtual Academy information for the 2021-22 school year:
Registration Window Opens April 22

The registration window for Virtual Academy opened yesterday, Thursday, April 22 and will close Sunday, May 2 at 5 p.m. Anyone wishing to register outside this window will not be guaranteed a seat in the Virtual Academy, due to staffing and scheduling issues.

Course Offerings in 2021-22

Virtual Academy will provide core curriculum classes, along with select elective courses. The focus, as with in-person learning, will be on providing students with the learning tools and attention they need to succeed.

There will be no CONCURRENT sections: a class period will not have both VA and in-person students. There will be separate VA and in-person classes.
Students will need to be in the Meet to be marked present for attendance.

Student/Teacher communication and/or turned in work will not be accepted as attendance for the class.

For families who were registered in Virtual Academy this year, it is important to keep in mind that next year's Academy will be different. Namely, while the core curriculum will be in place, an anticipated lower number of registered students will most likely result in fewer elective classes being offered.
Due to the uniqueness of each individual magnet program/theme, students who elect to participate in the Virtual Academy in the 2021-22 school year may not be guaranteed the full magnet program offered for the theme of their assigned magnet school.
Teacher Assignments

To the degree possible, students will be assigned teachers from their assigned schools. However, students may be assigned to teachers from different schools within the district in order to adequately populate classes or courses.

Co- and Extracurricular Activities

Virtual Academy students will be allowed to participate in co- and extracurricular activities, such as athletics and band at their assigned schools. We will not have enough bus drivers to provide transportation for these students.

Calendar Information

The WCPSS Virtual Academy calendar will align with each school's calendar: for modified calendar schools, the WCPSS Virtual Academy program students will follow the modified calendar.

Family and Student Responsibilities

Families will be asked to commit to remaining in the Virtual Academy for one year unless vaccines for students become widely available. If that occurs, the commitment will be reduced to one semester, and any requested movements could occur between the first and second semester. This is because even a small amount of movement within a semester could result in the reassigning of teachers, even for those students who aren't moving. Families must also agree to a Statement of Understanding to this effect.

VA students will receive 6 hours of instruction, with a minimum of 3 hours of Live instruction: similar to this year.
The virtual learning environment presents unique opportunities that require the student, teacher, and family to work together to promote a positive learning experience. We have developed a list of responsibilities that students and families, along with teachers, must work together to uphold.
Reminders and Announcements:
Tardy Procedures: Please remember that our daily start time is 7:30, and all students should be in class by this time. Beginning on Monday, April 26, we will begin issuing tardy passes to students who arrive after 7:30. It is important that students are in class on time to engage in daily instruction.
Carpool Tips and Procedures:

The carpool line follows along the building. There is limited space for carpool even when we utilize our allotted space. Please be patient as we service our families, as we are seeing 200+ cars come through the line daily.
Carpool lasts from 2:15 pm - 2:40pm.
Families that arrive to carpool after 2:25 pm may experience a shorter wait time and available space in the line.

Testing Dates: Although we have not determined exact dates for EOG/EOC testing, we will begin testing on Wednesday, May 26 for our Virtual Academy students. Testing will continue June 1-4 for both VA and Plan A students. There will be makeup testing dates, as needed. More information will be shared soon about specific dates for each grade level/subject area test. If you have a student in Virtual Academy and have not filled out the testing survey, please do so now so that we can plan accordingly.
Our Video Production class presents: "What Students Need to Know to Return to Plan A"! Thank you, Mr. Leslie's class!
Technology Reminder: Students are reminded to bring their charged devices charged and power cords with them to school daily.
Parents are asked to assist us by having students return textbooks, library books, and other school-owned materials so that we can inventory and reuse these items. Please return any Module 1 ELA books you may still have as soon as possible: The Lightning Thief, Long Walk to Water, or Inside Out and Back Again.
Intramurals: Basketball on Tuesdays and soccer on Thursdays will continue each week through the middle of May. If you have any questions contact Mr. Scheck (nscheck@wcpss.net).
Yearbook: Out of the 250 yearbooks ordered, we only have 12 left so get yours before they're gone! Order online now! They will be delivered to the school in mid-May.
Through June 30, 2021, all children age 18 and under may receive breakfast and lunch at no cost via Curbside and Big Bus Food Truck Pop-up locations. Meals are also free to all Wake County students when they are at school for in-person instruction. Meals will not be available on holidays designated on the student's calendar. For more information, visit- wcpss.net/food
Free Family Workshops for Stress Management, Wellness Skills, and Keeping Kids Safe: WCPSS offers free wellness workshops that focus on helping students and families during this challenging time. Topics available include Circle Connections, keeping kids emotionally and physically safe, stress management and wellness skills, and a Virtual Parent Summit. These workshops can help families learn about emotional support strategies being used in our schools, which can also benefit families at home. Learn more.
Special Education Services Offering Virtual Parent Sessions in April

The Special Education Services Family and Community Connections team is excited to offer four live virtual sessions for WCPSS parents in April. The last one is April 27 from 6:30-7:30 p.m. on Parent Advocacy.
Elective registration information for rising 7th and 8th graders:

Registration will happen through PowerSchool (Homebase). Here is a link on how to log in to register. You can also view this example video and/or the Powerpoint on registration. The PowerPoint has directions in English and Spanish. Please note that the video is an example and all the examples do not apply to Moore Square.
Students will need to choose 12 primary electives and 5 alternates. You cannot rank your choices in PowerSchool, so there is not a first-choice elective. Also, your alternates should be completely different courses from your primary. Some electives require an audition or application, which would be noted beside the elective.
Flyer about our CTE courses
Students who are interested in taking Ukulele should email Mrs. Estes or Mr. Wray
If you are unable to register in PowerSchool or have any questions you can email Mrs. Estes (jestes2@wcpss.net) or Mr. Wray (mwray@wcpss.net). You can also call us at 919-664-5737 ext 26648 (Estes) or 919-664-5737 ext 26638 (Wray) and leave a message and we will get back to you.
Here are some documents to help you with registration:
Applications Due soon
Science Olympiad: due date April 30th, please also read this statement about participation. Check out the flyer for reviews from students!
Yearbook: due date May 1st
Information for rising 8th graders: The district has a grant that is supporting a summer camp opportunity for rising 8th graders to work with Career Academies that align with high schools in Wake County. The application is due by April 30th. Please see the attached camp flyer with the application link: http://bit.ly/WCPSS_STEMCamp2021
ROAR expectations: Please consider reviewing our updated ROAR expectations with your child as we have more students join us in person.