Return to Headlines
Weekly Update 4/15/21 Facebook Live with Mr. Wray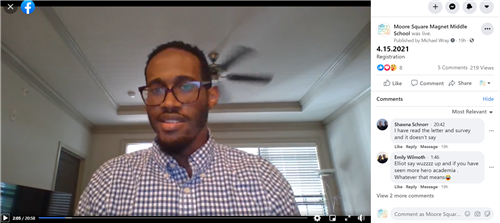 Moore Square Calendar Reminders:

Monday, April 19

Virtual Academy students who requested the switch to Plan A will return to daily in-person instruction.
Thursday, April 22, and Friday, April 23

are Asynchronous Days (no live instruction), however, ALL students (virtual and Plan A) are required to complete online assignments provided by teachers for this day.
(Morning)
Please make sure your student is prepared to exit the car with all materials, once you enter the carpool lane.

Students should exit cars beginning at the fire hydrant.

After your student exits the vehicle, please move safely to the left onto Davie St.

The bell rings and instruction begins at 7:30am.
(Afternoon)
Enter Carpool from Bloodworth St.

The carpool lane wraps around the building. Please use Martin and Person St if the carpool line extends. Please do not cut in front of other cars, instead move to the end of the carpool lane on Person St.

If carpool extends towards the bus line, remain in line behind the buses until they move, by staying on Person St.

(this is usually only five mins).

Our goal is to have students return to you safely and orderly above all. We hope to complete carpool by 2:40 each day.
You can find all this information on the school website under the Parent tab and Transportation. Review these with your family and talk with your students about their responsibility to help carpool flow for everyone.
Health reminders:

Health screenings will no longer be conducted on-site. Students should tell a staff member immediately if they are not feeling well at any point in the school day.

Remember to take your child's temperature before coming to school each morning.

Students should stay home if they aren't feeling well, have a fever of 100.4 degrees or higher, a sore throat, new cough, new shortness of breath or difficulty breathing, new loss of taste or smell, diarrhea or vomiting, or a new severe headache.

Someone experiencing

any symptom of illness

not related to an already documented medical condition must be sent home

and they can return to school after 10 days, with a negative PCR test, or a note from a healthcare professional to explain the COVID-19-like symptoms.

wcpss.net/WhenToReturn

If your student is diagnosed with

COVID-19

, they will need to remain home in quarantine for ten days.

If your student is exposed to

COVID-19

, they may return to school after it has been 14 days since the last date of exposure. They may not return any sooner,

even if they test negative for COVID-19

. If they then test positive during the 14-day exposure quarantine, it will then be 10 days from the date of that test when they can return.

If you live with someone who has COVID-19, your 14-day quarantine does not begin until the end of the 10th day of isolation for the person with COVID-19. This means you must stay home for 24 days.

CDC considers someone exposed if they were within 6 feet of an infected person for a cumulative total of 15 minutes or more over a 24-hour period starting from 2 days before illness onset or, for asymptomatic patients, 2 days prior to test specimen collection. If your student has been exposed at school, a member of the WCPSS Heath Services Team will contact you.

Please call or email our Covid Coordinators, Lauren Shepard (

lshepard@wcpss.net

) or Barry Squires (

bsquires@wcpss.net

) if you have any questions or concerns.
Updated Attendance Guidelines
Please note that there have been some changes in the WCPSS attendance policy. If your student is absent due to illness or an appointment, please email notes to our data manager, Georgette Tolson-Harrington (gtolson-harrington@wcpss.net).
If a student is in Plan A and does not physically attend, the student should be marked absent

per Policy 4400

. If a student is not physically attending for reasons that would not be considered excused under section C of Policy 4400, then the student should be marked absent as unexcused.

If a student in Plan A requires quarantining due to a positive diagnosis for COVID-19 or exposure, the student should be marked absent-excused, similar to a student who is absent for any of the reasons in section C of Policy 4400. Any students who are absent for excused reasons per Policy 4400 should be provided remote learning access that is available at the school.

During Remote Learning Days, including inclement weather days, students in Plan A who are present should be marked 1R (present off-site) if within three days:

a student completes their daily assignments, either online or offline; and/or if a student is present in synchronous instruction.

a student has a daily check-in, a two-way communication, with each course teacher.
Technology Reminder:

Students are reminded to bring their charged devices charged and power cords with them to school daily.
Parents are asked to assist us by having students return textbooks, library books, and other school-owned materials so that we can inventory and reuse these items. Please return any Module 1 ELA books you may still have as soon as possible:

The Lightning Thief, Long Walk to Water, or Inside Out and Back Again

.
Survey:

Virtual

Academy parents have received a survey concerning EOG and EOC testing.

This survey

was sent by messenger on Wednesday and responses are due by Monday, 4/19. We are asking all VA families to complete this survey to help us prepare our testing plan.
Intramurals:

Basketball on Tuesdays and soccer on Thursdays will continue each week through the middle of May. If you have any questions contact Mr. Scheck

(

nscheck@wcpss.net

).
ROAR expectations:

Please consider reviewing our updated ROAR expectations with your child as we have more students join us in person.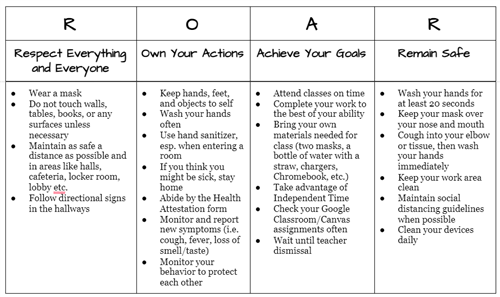 Yearbook:

Out of the 250 yearbooks ordered, we only have 12 left so get yours before they're gone!

Order online now

! They will be delivered to the school in mid-May.
Through June 30, 2021, all children age 18 and under may receive breakfast and lunch at no cost via Curbside and Big Bus Food Truck Pop-up locations. Meals are also free to all Wake County students when they are at school for in-person instruction.

Meals will not be available on holidays designated on the student's calendar. For more information, visit-

wcpss.net/food
Free Family Workshops for Stress Management, Wellness Skills, and Keeping Kids Safe:

WCPSS offers free wellness workshops that focus on helping students and families during this challenging time. Topics available include Circle Connections, keeping kids emotionally and physically safe, stress management and wellness skills, and a Virtual Parent Summit. These workshops can help families learn about emotional support strategies being used in our schools, which can also benefit families at home.

Learn more

.
Special Education Services Offering Virtual Parent Sessions in April
The Special Education Services Family and Community Connections team is excited to offer four live virtual sessions for WCPSS parents in April. All sessions will be held 6:30-7:30 p.m.
April 21 - All About Related Services

April 27 - Parent Advocacy
Due Friday (April 16):
Registration information for rising 7th and 8th graders:

Mrs. Estes and Mr. Wray will begin meeting with 5th-period classes to talk about registration and the process for registering for electives for the next school year.

Registration will happen through PowerSchool (Homebase). Here is a link on how to

log in

to register. You can also view this

example video

and/or the

Powerpoint

on registration. The PowerPoint has directions in English and Spanish. Please note that the video is an example and all the examples do not apply to Moore Square.

Students will need to choose 12 primary electives and 5 alternates. You cannot rank your choices in PowerSchool, so there is not a first-choice elective. Also, your alternates should be completely different courses from your primary. Some electives require an audition or application, which would be noted beside the elective.

Here are some documents to help you with registration:

If you are unable to register in PowerSchool or have any questions you can email Mrs. Estes (

jestes2@wcpss.net

) or Mr. Wray (

mwray@wcpss.net

). You can also call us at 919-664-5737 ext 26648 (Estes) or 919-664-5737 ext 26638 (Wray) and leave a message and we will get back to you.
Information for rising 8th graders:
The district has a grant that is supporting a summer camp opportunity for rising 8th graders to work with Career Academies that align with high schools in Wake County. The application is due by April 30th. Please see the attached camp flyer with the application link: http://bit.ly/WCPSS_STEMCamp2021