Return to Headlines
Weekly Update 3/31/21 Facebook Live with Mrs. DePinto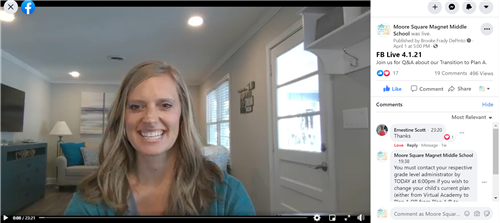 Moore Square Families,
We hope you enjoyed some fun and relaxation over our spring track out. Typically, we send out our weekly update on Friday afternoon, but we wanted to get this one out earlier as a reminder of the decision deadline tomorrow for Plan A and Virtual Academy. The following information is derived from parent questions we have received following the announcement of the transition to Plan A.
Parent Questions from Return to Plan A Letter
Q: For Moore Square does anyone know when "full-time in-person" school starts? In the WCPSS email, it looks like it says "no later than April 19"?
A:
Monday, March 29 - Wednesday, March 31: Plan B Cohort 1 students will return to the building (per the school calendar)
Thursday, April 1:Teacher Workday (adjusted from June 15). Any family requesting to return from Virtual Academy to in-person instruction or from in-person instruction to Virtual Academy must request that change to their grade level administrator by this date.
Friday, April 2: Holiday (no school)
Monday, April 5: All students who are currently on Plan B (cohorts) will return to Plan A (daily in-person instruction). Any student with a 504 or IEP who has requested daily in-person instruction will also return on this date.
Monday, April 19: Students moving from VA to Plan A will return to daily in-person instruction
Q: When plan A begins, will students still have their temperatures checked? How will social distancing work with more students in the building?
A: We will continue to follow district guidelines to maintain health and safety throughout the building. While only 3 feet of social distancing is required, 6 feet of social distance is still the standard. Plan A is "Minimal Social Distancing," but still requires NC Department of Health and Human Services protocols:
Social distancing protocols to the extent possible and as practicable;
Cloth face coverings;
Cleaning and hygiene protocols;
Conducting regular screening and ongoing self-monitoring of symptoms; and
Appropriate steps to address suspected, presumptive, or confirmed cases of COVID-19.
Q: Will the students still work on computers? If we're coming from VA, would we need a device?
A: Yes, students will still need to bring their devices and chargers. If you are moving from VA to Plan A and are in need of a computer, please contact Mrs. Skinner (sgskinner@wcpss.net) and she will add you to the list.
Q: Once the board approves plan A, what happens to those of us who don't want all virtual but aren't comfortable with plan A either? Can we choose Plan A but stay home/virtual on days we are not comfortable sending our students into the building?
A: You may choose to keep your Plan A child at home. They may log in and complete the assignments. However, they will be marked absent.
Q: Does anyone have any information about when the kids are supposed to register for classes/choose their electives for next year (staying at Moore Square, not for high school)?
A: Our school counselors will begin working with Moore Square students on this in the coming weeks.
Q: When do electives change?
A: Our third quarter is over on Friday, April 9th. There is a Teacher Workday on Monday, April 12th. Fourth-quarter classes begin Tuesday, April 13th.
Q: Will intramural sports also be in Plan A? (No cohorts)
A: The dates for intramurals will remain the same. We will make any necessary changes, as needed, based on how many participants attend when we move to Plan A next week.
Q: We are requesting a change from Plan B to VA for the remainder of this school year, but we want In-Person for next year. Do we have to do anything for our child to be In-Person for the 2021-2022 school year?
A: No, not at this time.
Q: Will there still be remote learning/asynchronous days?
A: Yes, we will continue to follow the WCPSS Modified Calender.
Q: Does anyone know if the length of in-person instruction will increase? What will the Plan A schedule look like? Will there still be an asynchronous time in each class?
A: The schedule will largely remain the same, except for 5th period since we will now be moving to three separate lunches. You can view our schedule here.
Q: Will my child's teacher change if I am moving from VA to Plan A or vice versa?
A: We hope to be able to move to Plan A without requiring schedule changes for any student in either Plan A or VA. If schedule changes are needed for any reason, we will reach out to you individually to discuss.
Q: Will there be after-school clubs or activities since we are moving to Plan A?
A: We are currently working on getting an updated list of club offerings ready for the 4th quarter. We will continue having intramural basketball (Tuesday) and soccer (Thursday) until mid-May. Stay tuned!
Please contact your respective grade level administrator by April 1 at 6:00 pm, if you wish to change your child's current plan (either from Virtual Academy to Plan A OR from Plan A/B to Virtual Academy).
6th Grade: Brooke DePinto cdepinto@wcpss.net
7th Grade: Dr. Tracy Purvis ttpurvis@wcpss.net
8th Grade: Barry Squires bsquires@wcpss.net
Other Announcements:

Weekly Facebook Live at 5:00 will resume on Thursday, April 1.
Join our Interactive Murder Mystery Play brought to you by the Acting I & II classes on Thursday, April 1 at 6:00 pm.
Information regarding testing this spring for Single Subject Acceleration (SSA) in the 2021-22 school year:
No asynchronous day next week!
If your student has any schedule holes for 4th quarter, please email Mr. Wray (mwray@wcpss.net) or Mrs. Estes (jestes2@wcpss.net). You can view the elective offerings by period here.

Quarter 3 ends on Friday, April 9. ALL work from this quarter is due by this date. Please check PowerSchool, Canvas, and/or Google Classroom for any missing work and work with your child to get these assignments completed. Grades will be updated to reflect final Q3 grades in PowerSchool by Friday, April 16 and we will also mail hard copies of these report cards after this date.