Return to Headlines
Weekly Update 3/4/21 Facebook Live with Crystal Reardon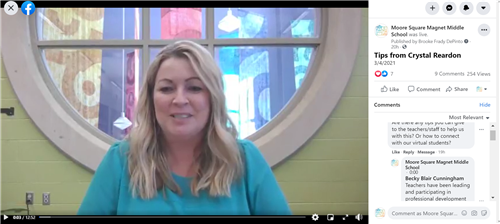 Did you catch our Facebook Live video? If not, you can watch it here- https://fb.watch/428ZEfT7Ce/
View Keeping Students Motivated document from Crystal Reardon, WCPSS Director of School Counseling.
Weekly Updates:
Welcome new families!

You can visit our

welcome website

that was

designed to be a guide for all incoming families during this crazy pandemic year. We will be updating it throughout the next few months as we receive more guidance on what the 2021-2022 school year will look like, so stay tuned!
Spirit Wear Sale

: Our PTSA spirit wear sale is now live and accepting orders through

Sunday, March 14

! All rising 6th-grade and Virtual Academy families will need to pick up their spirit wear orders on either: April 8th

or

9th, 10AM-12PM OR 3-5PM. Plan B students have the option of having their items sent home through their 5th Period Teacher (students will receive their items the next time their cohort is in school on or after April 8).

After this sale closes, you'll have to wait until next school year. This is it for this school year!

https://mooresquare.memberhub.store/store?category=SPIRIT%20WEAR

.
Intramurals:

Intramurals for basketball began this week! Basketball is on Tuesdays and Soccer on Thursdays and they will continue each week through the middle of May. Intramurals will begin after school and run until 3:30. Parents need to pick up their student(s) at 3:30. There will not be any gameplay in either of the intramurals. We will work on skill development and skills be done on an individual basis, there will be no group drills, to maintain social distancing. All students will be required to wear a face-covering at all times. Students are only allowed to attend intramurals if their cohort is in the school building. If you have any questions contact Mr. Scheck

(

nscheck@wcpss.net

).
Yearbook:

You do not want to miss out on purchasing a yearbook to document this crazy pandemic year!

Order online now

! The deadline to purchase a yearbook is April 16th! There is no guarantee we will have some to purchase in person. The deadline to turn in your own portrait picture for the yearbook is March 5th. You must go to

https://www.ybkplus.com/

and follow the directions. Use the parent email on file with the school.
We need subs!

Our district has recently launched a

campaign to recruit substitute teachers

. Our subs receive training, work flexible hours and earn bi-weekly pay and incentives based on the number of jobs they pick up. If you have an interest in supporting our schools and shaping bright futures, visit

wcpss.net/subs

to learn more,
Meals will be free for all students through June 2021

. Breakfast and lunch will be available at no cost for

all students.

In addition, meals will continue to be served at curbside feeding sites listed at

wcpss.net/food

.

Meals are limited to one breakfast and one lunch per student per day, and students do not need to enter their student ID to receive meals.
Ms. Bumsted has created a Donors Choose project to hopefully bring a ukulele program to Moore Square next school year! We are so close to our goal! You can

view the information here

.
High School Registration:

HS registration materials are in the Moore Square 8th Grade Counseling Google Classroom. Course recommendations were sent to the students' school email.

If you were unable to attend the parent sessions, you can view the

recording

for registration information. (

*please note that the presentation ends at the 1:14:00 mark

). If you have any questions, please contact Mrs. Estes at jestes2@wcpss.net.

Students will begin registering for classes on Thursday, March 4th. Please see the

registration schedule

for your school's registration day. If you have any questions or need help with registration, you can book an

appointment

here.

https://www.picktime.com/m2msjestes
WCPSS is offering

Restorative and Community Building Circles

over the next few weeks and opening it up to families and caretakers.

View the flyer

for more infor

mation.

En Español
Moore Square Community Travel Program:

We are excited to announce an international travel program* to England and France for the summer of 2022 through EF Tours! Visit

www.eftours.com/2378275zr

for more detailed information. Contact our travel coordinator, Mrs. Meyers, for questions and interest (bmeyers@wcpss.net). *This is not a school or county-sponsored trip, it is offered as an opportunity for families and friends of Moore Square.
Information regarding testing this spring for Single Subject Acceleration (SSA) in the 2021-22 school year: