Return to Headlines
Weekly Update 2/18/21 Facebook Live with Mrs. Poindexter
Facebook Live Transcript from Mrs. Poindexter 2.18.21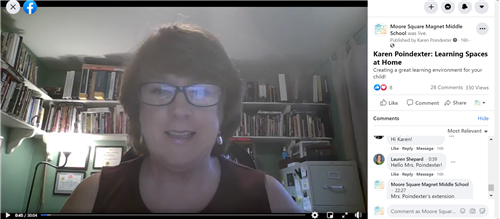 Hello Moore Square Family! I hope all our students were able to log-in and do their async activities and hopefully take the opportunity to get some work completed yesterday! Cohort 2/B will finish out their in-person learning today and Cohort 3 or C will begin on Monday, February, 22. Please reference the second-semester calendar for your child's rotation schedule. We have a scheduled Asynchronous Day next Wednesday, February 24. There will be no in-person instruction at The Square or live instruction online that day; however, it's important for students to log in to their classrooms for attendance and assignments.
Interim Grades will be updated by Friday, February 26.
Staff Commitment: This week our School Improvement Team met, which is made up of staff leaders: Grade Level Chairs and Department Chairs, Administration, Support Staff, and a PTSA Representative. During this meeting, we analyzed our school's plan to reach our goal of 100% student growth by 2022. We will use EOG data from this year and next to track academic growth. I want to continue to support you as you in turn encourage and support your children to put forth their best effort in their academic studies. Teachers understand the challenge our students are presented with this year as we work to improve our instruction and support growth both social/emotional and academic.
Just a reminder that students are required to wear masks at all times in school. Please make sure your child is prepared every day with his/her learning materials and masks.
Setting up a Learning Space at Home:
Learner Agency: Child's input/choice: Home Learning Spaces
1. Choose a space based on your child's learning preferences
Auditory:
a. Silence: spare room
b. Background noise: kitchen island or dining room table
c. EX: As a child, I liked knowing what was going on! I was a multi-tasker
Visual:
a. Scenic View: Window
i. Easily distracted: facing away from distraction...
b. Aesthetically pleasing...Spare room with a desk
i. Neat
ii. Organized
Kinesthetic:
a. Standing desk
b. Yoga ball for a chair
c. Room to pace
Eliminate Distractions:
Phones, TVs, Video Games...children are bombarded with distractions. Use this as an opportunity to talk with your middle schoolers about their interests and possible distractions and turn these into incentives for your kids. Work first...play later! Helping our children develop a great work ethic.
Make it Comfortable but not too comfortable:
a. Chairs/Exercise balls: they sit for long periods of time
b. 'Hack out a nook'!
c. Flat surface: books, computer, paper, workbooks…Dinner Trays, Floating shelves, Coffee Table
d. Avoid working on the bed! 7:30 classes are early
e. Get up: move around!
Good Lighting:
a. Natural Lighting
b. Lamps
Supplies:
a. Materials are available at school
i. Math workbooks
ii. ELA workbooks and Novels for 6th and 8th grade
iii. Botany
iv. Interior Design
b. Clean and clutter-free
Personalize their space:
a. Motivate
b. Inspire
When Possible: use only for learning
Resources:
https://www.khanacademy.org/khan-for-educators/resources/parents-mentors-1/khan-academy-accounts/a/seven-tips-for-setting-up-a-productive-learning-space-at-home
https://www.parents.com/kids/education/back-to-school/how-to-set-up-an-virtual-learning-space-at-home-for-kids/
https://www.commonsensemedia.org/blog/keeping-kids-motivated-for-online-learning?fbclid=IwAR3wf4_iiAseN6uiR_4toDJcSOQwyZR-VU0AW9mqS1EUVSvPCrtisCP00bk
*As always, please notify your school counselor, school psychologist, or school social worker if you need assistance or support. The Heath and Wellness Supports for Students and Families site provides additional resources to students and families to improve their health and wellness.
Yearly AIG Professional Development Plans:
6-8 AIG Program Service Delivery Methods for AIG Identified and High Performing Students Provided
by the AIG Teacher
Consultation/Collaboration with Classroom Teachers

Curriculum Enrichment (Push In)

Asynchronous Learning

AIG Basics School
6-8 Differentiated Curriculum and Instructional Practices for ALL Identified and High Performing Students Provided
by the Classroom Teacher
Cluster Grouping within the Classroom

Differentiated Instructional Units or Centers
Please reach out to our AIG teacher, Karen Poindexter (kpoindexter@wcpss.net) or (919) 664-5737 ext. 26626 with any questions.
2/18/21 Family Weekly Updates:
Picture Day

: Retakes and makeup day for ALL Cohorts and VA students is on Wednesday 02/24/2021. Families must use this link

(

Picture Appointment Parent Link

)

to sign up their students for an appointment. Parents should arrive prior to their appointment time and park in the visitor section of the Moore Square main lot. Only students will enter the building. Students are required to wear masks/face coverings. Health Screening questions and a temperature check will be administered before students are allowed to enter the building. Pictures will be taken in the main lobby. Once inside, students will maintain social distancing. Face coverings will be removed briefly while the picture is taken. We ask that anyone not feeling well, please stay at home.
Interim Grades

: It is hard to believe, but we are almost halfway through Quarter 3! All grades will be updated in PowerSchool to reflect Q3 interim grades by next Friday, 2/26/21. Remember to check your child's Google Classroom or Canvas sites and PowerSchool grades regularly.
Peer Tutoring:

NJHS and Student Council are sponsoring

peer tutoring

sessions for any interested Moore Square students next Wednesday, 2/24 on our next asynchronous day!
Hero Squad:

Students, parents, teachers, any other individuals are welcome to take part in this year's Leukemia and Lymphoma Society fundraiser and competition. Each 1st-period classroom has a webpage through our main donation page:

https://events.lls.org/pages/nc/Moore-Square-Magnet-Middle-School-2021

.

Our Moore Square goal is $2,021 this year. There are individual prizes given to students who donate the most. The proceeds from this online donation competition go toward cancer research. Our school-wide event ends Feb. 26.
We need subs!

Our district has recently launched a

campaign to recruit substitute teachers

. Our subs receive training, work flexible hours and earn bi-weekly pay and incentives based on the number of jobs they pick up. If you have an interest in supporting our schools and shaping bright futures, visit

wcpss.net/subs

to learn more,
Meals will be free for all students through June 2021

. Breakfast and lunch will be available at no cost for all students who are learning in-person within the school, as well as students who are remote learning, including students in Virtual Academy. Meals will be served via the service method that is chosen by the principal and cafeteria staff. In addition, meals will continue to be served at curbside feeding sites listed at

wcpss.net/food

.

Meals are limited to one breakfast and one lunch per student per day, and students do not need to enter their student ID to receive meals.
Families in need of free or reduced-price meals should complete a

meal benefits application by 2/22/21

. Although an approved application is not required to receive free meals through June 2021, school system education funding for students depends on meal benefits applications being completed. Information about applying for Meal Benefits for next school year can be found at

School Meals/Free/Reduced Meals.

Applications can be completed online at

MySchoolApps.com

,

or a paper application can be requested by calling 919-588-3535.
Ms. Bumsted has created a Donors Choose project to hopefully bring a ukulele program to Moore Square next school year! You can

view the information here

.
6th-grade families: We are hosting a Sixth Grade Virtual Talent Show. Details can be found here.
7th-grade families: Please make sure students are staying up to date with their PowerSchool and checking the Independent Work Tracker.
8th-grade families:

February begins high school Open Houses and Curriculum Nights. Please view the

link

for the events for your high school.

Coming up this week:

Feb. 23-Broughton and Feb. 25th-Apex, Athens Dr, Cary, Enloe, Fuquay Varina, Garner, Leesville Rd, Middle Creek, Sanderson

Magnet and Early College results come out on Feb. 23rd

Mrs. Estes will be in 8th grade Science classes on Friday, Feb. 26th to talk to 8th graders about HS registration and graduation requirements. Please email Mrs. Estes at jestes2@wcpss.net if you have any questions.

Mrs. Estes will host virtual parent high school registration informational sessions on March 1st at 8am and 5:30pm.
Your 8th grader has the incredible opportunity to participate in WCPSS Career Connections 2021 Event on our asynchronous

day, Wednesday, Feb 24th. This is an event being hosted by WCPSS Career Development Coordinators and Community Professionals for 8th graders through 12th graders. The assignment and information is being given through Science classes with the help of Mrs. Gressett, our Career Development Coordinator. Students will participate in a Career Development Activity and an Industry Fair with community professionals who will share their career and career path. Please email Wendy Gressett

at wgressett@wcpss.net

if you have any questions.
WCPSS is offering

Restorative and Community Building Circles

over the next few weeks and opening it up to families and caretakers.

View the flyer

for more infor

mation.

En Español