Return to Headlines
Weekly Update 2/11/21 Facebook Live with Mr. Squires
Facebook Live Transcript from Mr. Squires 2.11.21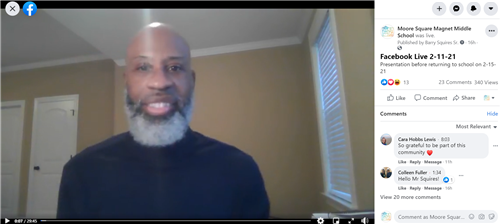 Welcome Back!
Greetings Moore Square Family. As you know we are preparing to return to Plan B this Monday, February 15. We will begin with students in Cohort B or Cohort 2. Please reference the Second Semester Calendar for your child's rotation schedule.
The staff is cognizant of the fact that the decision to attend school or not to attend school is not an easy decision. And no matter what choice you made, many of you will continue to wrestle with that decision as the school year advances. We want you to know that we are here to support your decision, not to judge your decision. Our commitment is to educate our students no matter the environment families have chosen. Our belief is the best environment is the one you have chosen for your family. We are grateful that you have continued to remain at Moore Square and allow us to journey with you in your child's education.
Today our staff was engaged in a full day of professional development activities to perfect our craft towards teaching students in all our available platforms and environments. Our focus included differentiation, student engagement, and participation, organization, SEL, etc. The pandemic has presented a challenge but we are up to the challenge. We have not stopped seeking to improve what we do. We have not stopped seeking to be our best for our families. We know remote learning is tough. We are going to get through it together.
There are several families who will be physically joining us for the first time. Students, if you are coming to the building for the first time, please be sure to print or write down your schedule. This will help you find your classes and/or assist staff in locating your class. There will be counselors, teachers, administrators, and other staff members throughout the building to guide you.
Students are required to wear masks at all times in school. Please make sure your child is prepared every day with his/her learning materials and masks. We will continue to follow the daily schedule as normal during Plan B. Teachers will be reviewing ROAR expectations and procedures on the first day of class. This includes how to walk in the hall, accessing the bathroom, cafeteria procedures, arrival, and dismissal, etc. If you are unsure of any procedures, please reach out to staff after Monday.
We're in this together,
Barry Squires
COVID Information and Reminders:
For any families new to Plan B

(first time going into the building this second semester): visit

https://bit.ly/M2newplanb

for required forms and the link to our Covid procedures and guidelines videos. You do NOT need to fill these forms out if you have already done so during the first semester.

Students experiencing ANY symptoms of illness should be kept home until they have a negative COVID PCR Test or Alternate Diagnosis and have felt well and fever-free for 24 hours.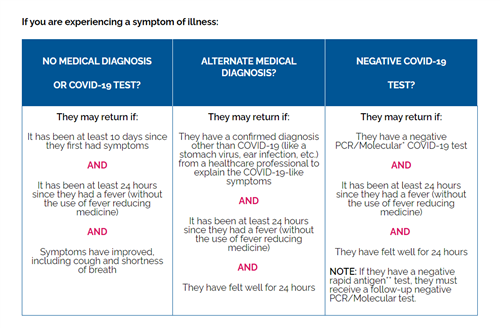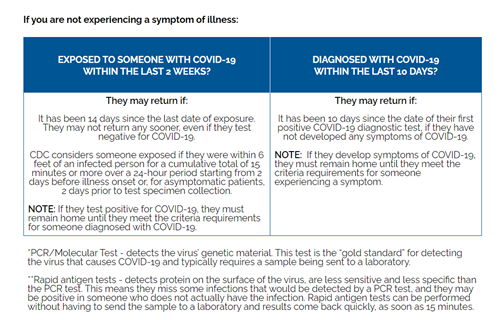 i-Ready Testing:
If you have a child who was scheduled this week to take the middle of year (MOY) i-Ready diagnostic test; please ask them if they have completed it. If not, they can continue to work on it (without assistance) during the asynchronous time. Shortly after, you should receive an email with your student's results.
Picture Makeup/Retake Day:
Picture day for ALL Cohorts and VA students is on Wednesday 02/24/2021 (asynchronous day). Families must use this link (Picture Appointment Parent Link) to sign up their students for an appointment. Please know that we want your students to be in the yearbook and we want to reserve as many traditions as possible. Please take the time to participate in picture day. Parents, because of safety protocols, you must remain outside the building while your child takes a picture.
Picture Day Procedure:
Parents should arrive prior to their appointment time and park in the visitor section of the Moore Square main lot. Only students will enter the building. Students are required to wear masks/face coverings. Health Screening questions and a temperature check will be administered before students are allowed to enter the building. Pictures will be taken in the main lobby. Once inside, students will maintain social distancing. Face coverings will be removed briefly while the picture is taken. We ask that anyone not feeling well, please stay at home.
Hero Squad is here!
Students, parents, teachers, any other individuals are welcome to take part in this year's Leukemia and Lymphoma Society fundraiser and competition. Each 1st-period classroom has a webpage through our main donation page: https://events.lls.org/pages/nc/Moore-Square-Magnet-Middle-School-2021.
Our Moore Square goal is $2,021 this year. There are individual prizes given to students who donate the most. The proceeds from this online donation competition go toward cancer research. Our school-wide event ends Feb. 26.
Peer Tutoring/Study Groups on Asynchronous Days:
Student Council and NJHS are working together to create optional peer tutoring and study group meets on Asynchronous Days. This will begin today, Friday, 2/12/21 Check your Social Studies Canvas or Google Classroom page for meet links if you want help in a core subject area or want to meet with other students to work or study together on asynchronous days!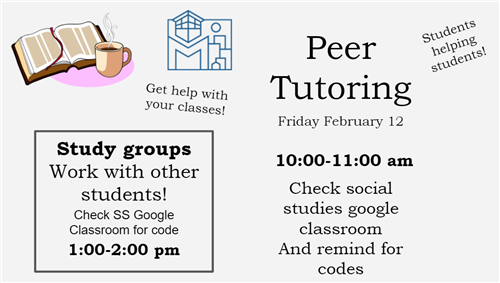 Middle School Athletics Updates:
Ligon and Moore Square student-athletes will have the opportunity to participate in skill development, conditioning workouts, and, for some sports, intramural competitions beginning in the second semester. This means contests and games between schools will not be held.
Students will be able to participate in athletic activities only on days when they are in school for face-to-face instruction. Athletics are limited to students who are in attendance on the day of school for face-to-face instruction and students from the Virtual Academy, as determined by the school. Due to season length, students will have one week of participation per sport.
Students must have an up-to-date athletic physical that was signed by a physician on or after March 1, 2019. Students also must complete the Pre-Participation Health Questionnaire. The number of participants is to be determined by the school staff based on available space. Athletics is open to all 7th and 8th-grade students. 6th-grade students may be added after determining available space. Please use the following link to access the LMS participation form to let us know what sports your child would be interested in. The form is for both Ligon and Moore Square students. In addition, there will be a Virtual Parent Meeting on Thursday, February 18 at 6pm. Questions about athletics can be directed to Mr. Scheck, nscheck@wcpss.net
Ligon Athletics Virtual Parent Meeting Link
Calendar:
Season 2/Fall Sports - February 22-March 19

Volleyball, Girls' Soccer, Football, and Cheerleading

Season 3/Spring Sports- March 22 - April 30

Softball, Boys' Track and Field, Girls' Track and Field, Boys' Soccer

Season 1/Winter Sports - May 3 - May 21

Boys' Basketball, Girls' Basketball, and Cheerleading
6th Grade Team Announcements:
Every Monday at 3:00, you have been and will continue to receive a Remind message with our weekly announcement. If you are not receiving the Remind messages, please send Mr. Hunter or Mrs. Rice an email.
In that weekly message, you will find a link to our Assignment board, the school calendar, important messages, and information from each subject area teacher for each class. The Assignment Board is the perfect place to find updated information for each class.
Please remember that grades are updated by every Friday at 3:00, so that is a terrific time for parents to check PowerSchool and reach out to teachers with questions.
8th Grade Team Announcements:
The 8th-grade students have the opportunity to attend a WCPSS county-wide Career Development event for 8th-12th graders on the morning of Wednesday, February 24th which is asynchronous. Students will attend a portion of the morning for a 30-minute Career Development activity and to speak to community professionals about their careers. It is a great way for students to explore what they will do when they finish their schooling. More information about the sessions and the businesses our students can speak with can be found on the Career Connections 2021 Flyer or email Wendy Gressett at wgressett@wcpss.net
FAQ:
When will my child's class materials be ready for pick-up? Where do I go to pick up the items?
We have the materials available at the school and you can come by to pick those up during regular school hours (7:30-3) this week. If you will let an admin know when you are thinking about coming, we can notify the staff that will be in the building so that they can be prepared for you. When you arrive, you will just ring the buzzer and let them know you are there to pick up materials and they will be able to bring them to you.
How do I get a car tag number for picking him up from school whenever they are allowed back?
Here is the link for carpool tags. If you will fill this out, we will have them printed to give to students on their first in-person school day.
If my child takes his lunch, will there be a place for him to reheat a meal?
We do not have a microwave in the cafeteria for students to reheat their lunches. Many students use a thermos to keep their food warm until lunch. Also, this school year, any student can receive a free hot lunch from the cafeteria if he is interested.
Is there a day that we can come tour the school? This way my student can feel confident with where to go when school is in session.
Since we will have other 6th graders who will be attending school in-person for the first time in the coming weeks, the 6th grade team is planning a tour when students return to campus to make sure they all know where to go. We also have plenty of adults throughout the building during transitions to direct and/or answer questions for students. Let them know that even though they are new to Moore Square, they will definitely not be the only student who has not been in the building before!