Return to Headlines
Weekly Update 2/4/21 Facebook Live with Mrs. Skinner
Facebook Live Transcript from Mrs. Skinner 2.4.21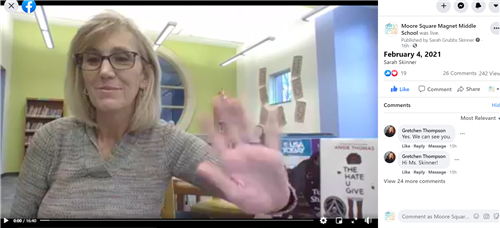 Hello, and good afternoon!
It's Mrs. Skinner, our Media Specialist, here today to share some great books that I love for February -- Black History Month.

About Black History Month: As a Harvard-trained historian, Carter G. Woodson, like W. E. B. Du Bois before him, believed that truth could not be denied and that reason would prevail over prejudice. His hopes to raise awareness of African American's contributions to civilization was realized when he and the organization he founded, the Association for the Study of Negro Life and History (ASNLH), conceived and announced Negro History Week in 1925. The event was first celebrated during a week in February 1926 that encompassed the birthdays of both Abraham Lincoln and Frederick Douglass. The response was overwhelming: Black history clubs sprang up; teachers demanded materials to instruct their pupils; and progressive whites, not simply white scholars and philanthropists, stepped forward to endorse the effort.
My favorite author, Pam Munoz Ryan, has my #1 most favorite book to share with students. It's not just a black history book, it's a great history book to me."When Marian Sang" tells the story of Marian Anderson, arguably one of the world's greatest opera singers, and her life as a child prodigy, singing in church, but unable to sing in most venues in the U.S. due to racial prejudice. It wasn't until she moved to Europe, studied under a famous maestro, and was known well-enough around the world, to get the attention of Eleanor Roosevelt and sing on Easter Sunday 1939 at the Lincoln Memorial. It's a wonderful book, a moving story, and even better when you show kids the video on YouTube as well.
Another great book is "One Crazy Summer" by Rita Williams-Garcia. This story is set in the summer of 1968, in Oakland, California. Three sisters fly from New York to California to get to know the mother who left them years before. It'll make you laugh, cry, and think… one of my favorite combinations in books. You should also checkout Rick Riordan Presents "Tristan Strong Punches a Hole in the Sky" by Kwame Mbalia and Trumaine McCaskill's "A Child's Dream".
Face to face instruction resumes February 15, 2021, with Cohort 2 rotating through the building first.
Also, this week is School Counselor's Week! Let's send a shout out to our awesome counselors, Mrs. Jacinta Estes and Mr. Michael Wray! Thank you for the many ways you make our school even Moore!!
Thanks for listening... as many of you know, I could talk books for hours. If you're interested in the titles I've displayed, please consider purchasing one or more for your personal collection.
Also, these books may be placed on HOLD and checked out through our school library…. If you need help with putting books on hold, I can certainly help with that, too. Many families have been using the Books on Hold system since the beginning of the year. If you do hold books, I will fill the order, bag up the books, and leave them out by the lobby doors for you to pick up. I'll also take back library books, ELA books, etc… just drop them off!
Thanks,
Sarah Skinner (sgskinner@wcpss.net)
Did you catch our weekly Facebook Live video? If not, you can view it here- https://fb.watch/3t2ewU9xO2/
2/4/21 Weekly Family Updates:
The Lions Park Community Center in Raleigh is hosting a Black History Month essay contest for students in grades 6th -12th. Visit https://raleighnc.gov/news/2021-01-27-black-history-month-essay-contest for detailed information.

Some students will be taking the Middle of Year i-Ready Diagnostic test starting Friday, February 5. The 6th graders will be first on Fri., followed by 7th grade on Tues. Feb. 9, and 8th grade on Wed. Feb. 10. The majority of students will test during their 6th & 7th periods. Students will be notified by their teacher if they will be participating in this testing.