Return to Headlines
Weekly Update 1/21/21 Facebook Live with Mrs. Rice
Facebook Live Transcript from Mrs. Rice 1.21.21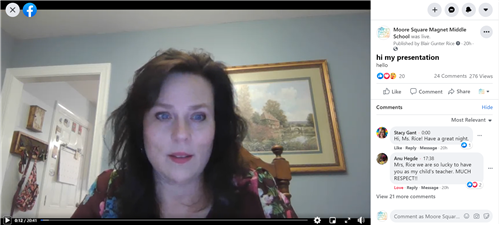 Strategies to help Students learn:
Come to class.

Attendance matters. I've seen this with EOG scores. Kids who are out for a repeated, consecutive days more than a week will not increase their scores as much as kids who are absent for a few days here and there. Do whatever you can to come to class.
Come early or on-time.

Teachers often review content or have important messages at the beginning of class. If you have a phone you can set an alarm. You can also use an alarm clock. It may be 1970s technology, but it works. Coming early often provides you with some much needed social time.
Do your work on time. You'll make better grades on it.

Students who do late work make more mistakes than students who turn their work in on time. Often when teachers are assigning work, they provide verbal information in addition to the written directions of the assignment. Kids forget things. If you wait too late to start an assignment, you may miss a hint or previously-mentioned clue that can help you do this work.
Students who do late work make lower test grades.

If students turn in late work, they often don't get feedback in assignments (from teachers or self-grading Google Forms/Canvas Quizzes). They cannot use that information or corrections to help them with present and future assignments (including tests). They may not even know what questions to ask to prepare themselves for a test.
The old adage is true: practice makes perfect.

Well, no one's perfect. Teachers cannot grade all assignments, but if kids only do graded assignments, they will score lower than kids who do all their work.
It's OK to be shy.

But not asking questions is costly when it comes to learning.

Muster up the courage to ask questions. Teachers are more patient than in the past. We get that this isn't easy. If kids are too shy, there's the power of email. In 6

th

grade, there are two ways to e-mail teachers: in Canvas and in Outlook. Use the technology tools at your disposal. (Mrs. Sommerville will like that you are practicing your typing!)
Ask specific questions to the teacher.

Your parents are a resource, but relying exclusively on parental help is not associated with higher grades. Saying "I don't get it" isn't productive either. It doesn't help a teacher pinpoint your confusion. Oh, and you do get something. What part of what I'm doing don't you understand? Or ask the teacher – this mostly applies to math – to do a similar problem.
Collaboration with peers increases academic achievement.

This way of teaching and learning complicates this, but you can e-mail, share a Google Doc or collaborate during the asynchronous time. If you want a study partner, the teacher will help you.
If teachers

share links with you during class

and you would like to view a link on the internet or a video that was shown, and you don't have access to this, please ask the teacher to share this with you. You can also ask for additional videos in some subject areas.
Always have writing utensils with you and extra paper if you have to write something down.

Figure out a way to be organized about your assignments. Everyone can have a different way, but if you need help, reach out. (Harry Potter reached out several times in his adventures defeating Voldemort, right?) Use cool pens, Sharpies, pencils that you especially like. They make these erasable pens/markers now. Consider using them.
Have tools for all your subjects at your disposal as well. Rulers, calculators, erasers, Post-It notes…etc.
If you have a question during a test, you can always ask the teacher.

The worst he or she can say is, "I'm sorry, I cannot help you with that question." Please be quite aware that this is what the teacher will probably say. However, I will read a question aloud for you if you like and in some cases, I will rephrase the question. Note that not all teachers can do this, and note that this isn't allowed on EOGs.
If there is a vocabulary word that isn't specific to your subject, you can always ask a teacher what it means.

For example, on a ratio test, I won't tell students what ratio means. That makes sense, right? But if I write about a person being a tailor in a word problem, and a student doesn't understand what that means, I will tell him/her. A tailor is someone who mends/sews clothing to fit you better.
Cameras

. Kids who have them on make substantially higher grades than kids who do not. Teachers make a better connection talking to a person than they do an icon of Darth Vader. Teachers also use a lot of nonverbal communication from students. For example, I could be droning on, but if it looks to be that I'm putting kids to sleep, I'll change my "teaching tune." Kids who are off cameras are more inclined to be distracted and play video games and watch YouTube.
Student-teacher relationships are important.

Teachers have bad days. Students have bad days. If a student feels that a teacher has treated him/her unfairly, the first thing he/she should do is e-mail that teacher. We make mistakes. Note that we can get mad/annoyed at kids, but that doesn't mean that we don't like kids. I get mad at my own three kids all the time.
Note that during this time it is virtually impossible for a teacher to have a one-on-one conversation with a student.

There is always someone in my meet. People pop in at all times. In-person, I can't do this either. We need to stand 6 feet apart and have a private conversation? There are other kids in the class. There are kids in the meet. On the other hand, there may be a time in the morning, after school, during lunch to meet with a teacher, and there is always e-mail. Reach out if you have questions or concerns.
Kids need to know how to log into Powerschool to understand their grades.

If kids need help, they should reach out to teachers and if we cannot help, we will find someone who will. Note – and this is important – we don't see Powerschool and Canvas as students do. Kids should check grades. Parents should check them too, but kids who are constantly checking them can ensure – better than anyone else -that the grades are correct. Teachers, as I have noted earlier, can make mistakes. We are staring at screens all day. It's a wonder I can sleep at night. I gave a student a 10 when she earned a 100. Needless to say, she emailed me right away to politely let me know that I made a mistake.
Be polite. Always

. I have a young man who always writes something kind at the end of his e-mails, and it's very refreshing. Being kind is the right thing to do; we know that. But think, this kid has made an impression on me. I won't forget him when it comes time for a recommendation or whatnot. I have gotten all my teaching jobs because someone knows me and thinks somewhat highly of me. You never know who your peer or teacher will become. Dr. Goodnight from SAS was a teacher (professor) at one time.
Fixed mindset vs. growth mindset.

It's all about attitude and willingness to be brave to try. People are not born with an innate ability to do math well. Actually, we are all born with the ability to do math. Be open-minded. You never know. Programming, music, and the law are all mathematical.
Speed really means nothing

. The kids who finish their EOG first? They USUALLY do not have the highest score. In a remote learning environment OR in the physical classroom, you can have as much time as you need to complete a test/assignment. Timed multiplication tests are not good; all they do is make kids anxious about math. (I have the research to support this.)
Make mistakes.

They grow your brain. Do not think that your mistakes make you dumb. Mrs. Rice said 3-3 = 1 the other day. I made an "A" in calculus, but there are days I cannot do first-grade math. Today I had to re-grade a test because I made a fifth-grade mistake.
Covid learning and teaching is not fun.

You need to learn to make the best of a bad situation.

When you make a mistake, and you will make them, learn from those mistakes. Do not look at the situation like, "I cannot learn in Covid." Kids are figuring out how to manage this situation. And you can too. I have kids who have learning difficulties who are acing my class. I have ADHD; yet, I am managing it. Excelling? No. But I'm doing my very best. I put strategies and supports in place to help myself and students to do their best.
Please eat real food.

If most of what your eating has an ingredient list, you may not be getting the nutrients you need to be successful.
Sleep.

It's important. You are growing. Make sure you are getting enough sleep. It's a great thing! Take all the electronics out of your room so they don't distract you as you sleep.
Move.

Five minutes before class do a bit of exercise. It is good for your mental and physical health!
Reminders and Announcements:
The

magnet application

closes on January 28!

8th-grade parents

, don't forget you still have to apply for your student's magnet high school (unless they are joining a sibling

or

your base school is a magnet). Please reach out to our Magnet Coordinator, Lauren Shepard, with any questions (

lshepard@wcpss.net

).

We still

need your pictures

!! Every student that submits pictures for the yearbook will be entered into a drawing that will be held at the end of February. You can email pictures to

mooresquareyb@gmail.com

or upload them to

https://images.jostens.com/415464728

(The UID is 415464728).

Dreambox:

Students are expected to complete 5 lessons weekly on the Dreambox learning platform. This is to reinforce skills being taught in class as well as close learning gaps due to the pandemic. Beginning January 4th, any student that completes at least 5 lessons each week, will be entered into a drawing for a $10 gift card to Bojangles, Cookout, McDonald's, Chick-fil-a, or Starbucks. There will be one winner per grade level per week. Please encourage your child to complete their lessons! They are able to access the platform through their

Rapid Identity- WakeID Portal

.

Materials Pickup

for the third and fourth quarters will be rescheduled as soon as we have the "green light" for staff to be back in the building.

Picture packages and proofs will be given out on this day as well.

Picture Makeup Day has been changed to Wednesday, February 24, 2021, which is an Asynchronous Day. Appointments will be needed. More information to come as we get closer to the date.
Comfort Zone Camps:

Comfort Zone Camp is a national nonprofit organization that provides a safe and fun place for kids grieving the death of a parent, sibling, or significant person in their life. CZC offers FREE 3-day weekend camps, family camps, and virtual programs. All programming empowers children to grieve, heal, and grow in healthy ways. For more information please check out the

flyer

.

8th graders that will be attending Broughton High School:

Broughton is having a Rising 9th Grade Night on Tuesday, February 23rd at 6pm. Please view the

link

for more information.

8th graders that will be attending Millbrook High School:

Millbrook will be hosting a Curriculum Night on Thursday, February 18th at 6:30pm. More information to come.

8th graders attending will be attending Southeast Raleigh High School: Southeast is having an Open House/Curriculum Night on Thursday, February 11th from 5:30pm-7pm. More information to come.