Return to Headlines
Weekly Update 1/14/21 Facebook Live with Mrs. DePinto
Facebook Live Transcript from Mrs. DePinto 1.14.21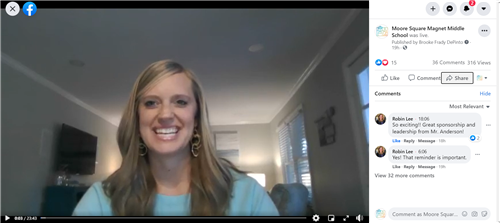 Hello Moore Square families,
I hope that everyone is staying safe and healthy as we finish out the first semester of this unique school year. Today I will be sharing some updates and information as we prepare to begin the second half of the year. As always, if there are any changes to this information based on district or state directives we will adjust accordingly and provide any necessary updates.
The Board of Education voted last night for all students in grades Pre-K-12 to remain in remote instruction through mid-February. You can learn more by reading the latest update from WCPSS.
PowerSchool and Grading
Quarter 2 ends tomorrow, Friday, January 15, and in order to continue to offer as much flexibility and support as possible, teachers will take missing work for Q2 through tomorrow. We know that when a student submits a missing assignment they are hopeful that those 0's will automatically turn into the updated grade. . . the teachers would love this to be true too! As you can imagine, our teachers are being flooded with late and missing assignments and are working tirelessly to get the assignments graded and entered into PowerSchool, but this process takes time. Please consider having your child email their teacher or contact them through their preferred method to let them know that they have submitted work, while understanding that there will still likely be a time delay between submission and grading. All grades will be updated in PowerSchool and finalized as "report card" grades by 1/25/21.
Speaking of PowerSchool grades, thanks to some of our vigilant parents who reported PowerSchool calculation errors, we have asked all teachers to check their weightings for the quarter. As a reminder, tests/projects/quizzes will be 60% of the quarter grade while classwork/homework will account for the other 40%. Quarter 1 and Quarter 2 will each be 50% of the Semester 1 grade. If you notice any continued discrepancies in calculations, please contact the teacher or grade level administrator.
Semester 2 Cohorts
Cohort assignments were sent out last week to all families who will be returning for in-person instruction for the 2nd semester. If you did not receive a cohort assignment and had requested in-person instruction please contact Ms. Harrington at gtolston-harrington@wcpss.net
Bus Transportation
If you will be returning to the building and plan to use bus transportation please check PowerSchool to make sure that you are assigned to bus transportation. In order to do so, you must fill out the Bus Rider Registration 20-21 form to indicate that you would like to participate in Transportation. You will also need to complete the bus rider attestation form at: https://busriderattestation.wcpss.net/, or download the printable version- https://www.wcpss.net/busform
Cameras during Live Meets
The Google Meet application has now added the options of blurred or stock photo backgrounds. For example, I was in a swanky cafe during my meets yesterday, while Mr. Squires visited the Alps, Dr. Purvis was surrounded by her signature rose gold, and Dr. Jordan was with the wild horses. Students can turn their cameras on while not having to share their area or location and teachers are already thinking of creative ways to encourage this change. We ask that you request this of your child, if possible, too!
"Cameras on" allow:
teachers to receive nonverbal information from a child. If children give the "huh" look, they can quickly alter teaching to address any confusion. When teachers are able to "read" nonverbal cues, they have the ability to change instruction to meet students' needs much like in the face-to-face classroom.
teachers to know if kids understand or not. Calling on students takes more time when they need to "unmute" their microphones. Often teachers ask questions or just want to know if kids understand. They look for a thumbs up or thumbs down which takes seconds for a child who is learning with his/her camera on.
teachers to see students' work. Perhaps students harbor a misconception that can be cleared up, but teachers won't know if they cannot see their work until they are assessed, so grades MAY suffer.
teachers to learn names and faces better, creating a meaningful student-teacher relationship which is VITAL for increases in academic achievement.
We know there are times when kids will still want to turn their cameras off for good reason (bathroom break, blowing nose, baby sister is screaming, etc.), but we just wanted to give you a little more information about ways this can be helpful in the virtual environment and ask for your support.
Materials Pickup
The materials pickup event scheduled for Tuesday, 1/19 has been POSTPONED because of security concerns. We know how important it is to get supplies for the 2nd semester into your hands and will have this rescheduled soon. Please continue to access online materials and lookout for a new date!
Yearbook
Our yearbook team is finishing up the year's yearbook. We still need your pictures!! Every student that submits pictures for the yearbook will be entered into a drawing that will be held at the end of February. You can email pictures to mooresquareyb@gmail.com or upload them to https://images.jostens.com/415464728 (The UID is 415464728).
Moore Square Student Council elections
It's time for the second semester elections and we have 2 great candidate teams! The video speeches were shown in Social Studies classes Wednesday and Thursday of this week during asynchronous time and are also available on our website. Tomorrow, every student will be able to vote for their choice for leadership by electronic ballot. (For students who don't have internet access, they can come by our school and vote via Paper Ballot and insert their vote into the Ballot Box located just outside the Lobby doors from Friday morning until Tuesday at 4pm.) By Tuesday at 4pm, all votes will be counted. A new Student Body President and VP will be announced on Wednesday, 1/20/21 through the School website and in Social Studies classes. What a great way to get involved in the democratic process!
Chorus Concert
Our winter chorus concert was fabulous last night! Thank you to Ms. Bumsted and her students for all of their hard work to pull off the concert in a virtual setting.
Magnet Application Window
The magnet application closes on January 28! 8th-grade parents, don't forget you still have to apply for your student's magnet high school! Please reach out to our Magnet Coordinator, Lauren Shepard, with any questions (lshepard@wcpss.net).
Dreambox
Students are expected to complete 5 lessons weekly on the Dreambox learning platform. This is to reinforce skills being taught in class as well as close learning gaps due to the pandemic. Students that completed at least 5 lessons last week were entered into a drawing for a $10 gift card. This week's winners are: 6th Grade - Dylan F, 7th Grade - Joshua K, and 8th Grade - Libba L. Mrs. Crowley will reach out to you for your choice of gift card. Keep up the great work and complete those lessons each week for your chance to win. Also, thank you to our wonderful PTSA for making this possible!
Comfort Zone Camps
Comfort Zone Camp is a national nonprofit organization that provides a safe and fun place for kids grieving the death of a parent, sibling, or significant person in their life. CZC offers FREE 3-day weekend camps, family camps, and virtual programs. All programming empowers children to grieve, heal, and grow in healthy ways. For more information please check out the flyer.
Thank you for joining us tonight and continuing to work alongside us as we make this another great year of learning, growth, and development. We continue to be grateful for the patience, understanding, support and grace you have shown us! Stay safe, stay well, and we will see you next week!