Return to Headlines
Weekly Update 1/7/21 Facebook Live with Dr. Jordan
Facebook Live Transcript from Dr. Jordan 1.7.21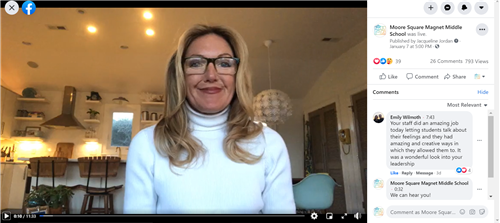 Moore Square Families,
I'm happy to come to you tonight and be together for a few minutes. Time alone to reflect during difficult days is good, but it is equally comforting to be reminded of our place as a part of a larger community. When that community is positive, kind, supportive, and inclusive, such as our school community, it is especially comforting.
Since yesterday, I've pulled back from social media and news. I've purposely found quiet spaces today to process alone. I hope each of you have had the luxury of time in order to do so as well. Our contemporary world has become so overwhelmed with images, ideas, opinions...quite a contrast to sitting quietly. When we find the time and space for quiet, we realize just how loud and intense all the distractions have become. As a 50-year-old it clutters my thinking and adds to my stress. It is important, as people directly working with children, to keep in mind how much more this constant bombardment impacts the heart and mind of an 11-year-old or a 12-year-old or a 13-year-old.
I've heard people asking, "What can we do?" Some feel hopeless and overwhelmed by the severity of the issues we face as a nation, powerless. These problems seem just too big and impossible to solve. However, the fact that we hurt and that we recognize the depth of the challenges we are facing is actually encouraging to me. We see that things must change. We realize there is work to be done. Acceptance and apathy toward what is would be so much more troubling.
So now what? As a small school in Raleigh, North Carolina, how can we possibly help change things, especially given the enormity of what has happened, is happening in our country, and the roots of these problems? It is simply overwhelming and hard to conceive.
My course of action will be to tap into my core values and let those be my true North each day. When students, staff, and families ask me what to do, or how I feel about what is happening, where I stand, I will hold tighter than ever to those values.
When I'm tempted to feel rage toward a certain leader or group, I'll redirect my energy and thoughts back to my values. I believe leaders protect those they serve. I believe they work to create collaboration, compromise, and understanding. I believe they offer calm reason when emotions begin to get out of hand. I believe the practice of forgiveness and grace can open doors that were shut. I believe humility in the presence of all others is warranted. Every person deserves respect. Every person has a compelling why and we can never come together and overcome our difference if we don't seek first to understand.
Tonight our staff, students, and families end their day with different degrees of anxiety and frustration and fear, and fatigue. I hope that your membership as a part of this community can prove to be a step toward restoration and relief. You are not alone. Our collective goodwill can make change happen. Tonight that change may only be felt inside our homes as we love one another and comfort one another, but tomorrow it can ripple out beyond our immediate families. By finding peace with each other tonight, we recenter ourselves to be ready to offer peace to someone who needs it tomorrow. We must help our children see the power of each individual to make a change. Start small and go from there. Do what you can and go from there.
This afternoon you received an email from WCPSS with helpful resources for responding to the events from yesterday. School staff received this information as well. We will continue to provide a safe space for our students to process their emotions. As always, school counselors and grade level administrators are available if further assistance and support are needed.


On a lighter note, how wonderful to see snow in the forecast! Moore Square parent Elizabeth Gardner has me thinking it may not be a thing for us, but I'm still enough of a kid at heart to get really excited by just the thought of it. One upside to snow days is that now we don't have to worry about makeup days, we can have asynchronous days on snow days. I love silver linings.
Finally, I'll share this thought from the poet and philosopher, Rumi. "Your heart is as big as the ocean." It is hard not to be disconnected. Emotions to the events in our world can hurt. Tonight, remember that your heart is as big as the ocean. Don't be afraid to love each other. That is what the world needs and we can do it.
---
Weekly Family Updates:
Mark your calendar! Our winter chorus concert will be virtual on Thursday, January 14th at 6:00 pm.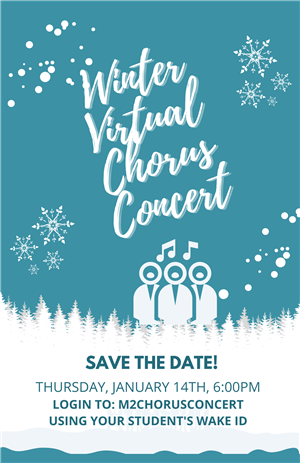 The

magnet application

period is October 15 - January 28. If you have a friend or neighbor who is interested in attending Moore Square, have them check out

our digital school flyer

, to view specifics on the magnet application process, pictures, current elective offerings, sign-up for a virtual Q&A session, and more!
We still need your pictures!! You can read our latest yearbook update here-

https://www.smore.com/xbvca

. Every student that submits pictures will be entered into a drawing that will be held at the end of February. AirPods, gift cards, art sets, MS blanket, a free yearbook, and other prizes will be up for grabs! You can email pictures to

mooresquareyb@gmail.com

or upload them to

https://images.jostens.com/415464728

(The UID is 415464728).
Dreambox

- Students are expected to complete 5 lessons weekly on the Dreambox learning platform. This is to reinforce skills being taught in class as well as close learning gaps due to the pandemic. Beginning January 4th, any student that completes at least 5 lessons each week, will be entered into a drawing for a $10 gift card to Bojangles, Cookout, McDonald's, Chick-fil-a, or Starbucks. There will be one winner per grade level per week. Please encourage your child to complete their lessons! They are able to access the platform through their

Rapid Identity- WakeID Portal

.
Materials Pickup:

We will have 3rd and 4th Quarter materials, including novels, workbooks, etc., available for pickup on January 19 from 10-4 at Moore Square. While many materials are available online, these paper items are also helpful. Please plan to come on 1/19 to pick up these items for the rest of the year!
3rd Quarter Schedules:

Third Quarter will begin on January 20, 2020, but we are beginning our work now to make sure that all students have a full schedule for the quarter change. Please have your child check PowerSchool to see that they have a full schedule for next quarter. If they are missing an elective class, please review the slide for the specific period

here

and make a choice from the available options. You can email your choice to your counselor, Ms. Estes:

jestes2@wcpss.net

or Mr. Wray:

mwray@wcpss.net
Comfort Zone Camps:

Comfort Zone Camp is a national nonprofit organization that provides a safe and fun place for kids grieving the death of a parent, sibling, or significant person in their life. CZC offers FREE 3-day weekend camps, family camps, and virtual programs. All programming empowers children to grieve, heal and grow in healthy ways. For more information please check out the

flyer

.