Return to Headlines
Weekly Update 12/10/20 Facebook Live with a Special Guest
Facebook Live Transcript from Mr. Claus 12.10.20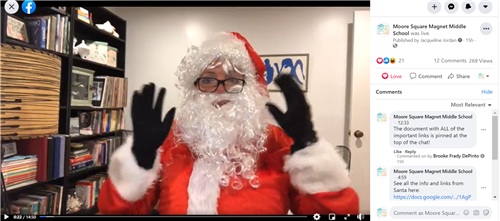 12/10/20 Weekly Updates:
Quarter 2 Spirit Week 12/14-12/18 (click the flyer to view in full screen)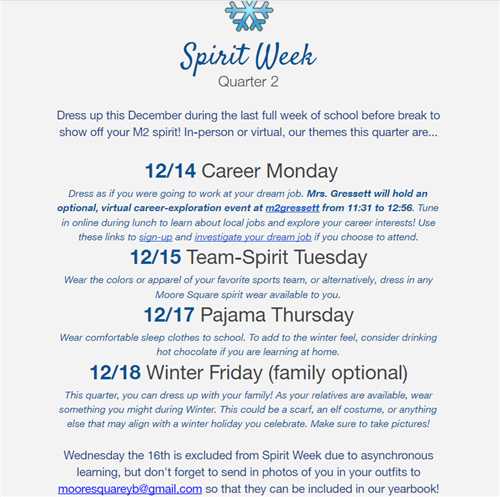 Bring back your books! If you are a current 9th grader who still has their copies of "

A Mighty Long Way: My Journey to Justice at Little Rock Central High School" or "The Omnivore's Dilemma" from your ELA class last Spring, please drop them off in the green bin outside of our front doors.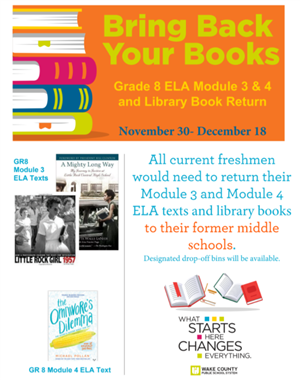 Mark your calendar! Our winter chorus concert will be virtual on Thursday, January 14th at 6:00 pm.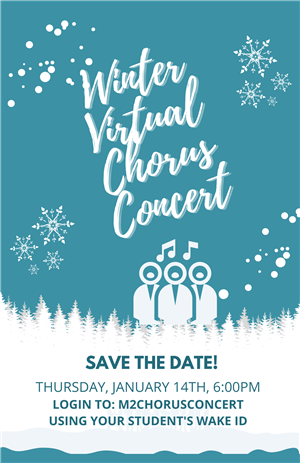 Friendly reminder that 12/16, 12/21, and 12/22 are asynchronous learning days.

The

magnet application period is October 15 - January 28. If you have a friend or neighbor who is interested in attending Moore Square, have them check out

our digital school flyer

, to view specifics on the magnet application process, pictures, current elective offerings, sign-up for a virtual Q&A session, and more!

Virtual Academy students should be on the lookout for their agenda coming soon to a mailbox near you!
Are you missing the weekly WCPSS email updates? You can

view an archive here

.

We still need your pictures!! You can read our December yearbook update here-

https://www.smore.com/xbvca

. Every student that submits pictures will be entered into a drawing that will be held at the end of February. AirPods, gift cards, art sets, MS blanket, a free yearbook, and other prizes will be up for grabs! You can email pictures to

mooresquareyb@gmail.com

or upload them to

https://images.jostens.com/415464728

(The UID is 415464728).

We want to remind families that students with temperatures reading 100.4 or higher are not permitted to attend school. Some families have expressed concern that the thermometer readings may be affected by the car heating system, especially on cold mornings. With that in mind, you may want to adjust your car's heat setting and/or have your student remove their outer layer a few minutes prior to arriving on campus. Also, if your student starts to experience any symptoms during the day, they will be

brought down to the Care Center

and you will immediately be contacted. If you have any questions about our daily temperature checks or health screenings, please don't hesitate to contact us. For your reference, you can also view the school system's

complete information guide

regarding returning to campus. Specific information about campus health screenings is found on pages 8-9 and information on when students can return to campus after having a temperature of 100.4 or greater is on pages 10-11.

Dreambox

- Students are expected to complete 5 lessons weekly on the Dreambox learning platform. This is to reinforce skills being taught in class as well as close learning gaps due to the pandemic. Beginning January 4th, any student that completes at least 5 lessons each week, will be entered into a drawing for a $10 gift card to Bojangles, Cookout, McDonald's, Chick-fil-a, or Starbucks. There will be one winner per grade level per week. Please encourage your child to complete their lessons! They are able to access the platform through their

Rapid Identity- WakeID Portal

.

3rd Quarter Schedules:

Third Quarter will begin on January 20, 2020, but we are beginning our work now to make sure that all students have a full schedule for the quarter change. Please have your child check PowerSchool to see that they have a full schedule for next quarter. If they are missing an elective class, please have them join the Google Meet: m2office between 8:00-2:30 on the asynchronous day on 12/16/20 to work with someone to fill the scheduling hole. To better prepare for this process, please review the slide for the specific period

here

and make a choice from the available options. You can also email your choice to your counselor, Ms. Estes:

jestes2@wcpss.net

or Mr. Wray:

mwray@wcpss.net

8th-grade families:

The Early College application has been extended to January 6th. You can apply at

earlycolleges.wcpss.net/apply
Comfort Zone Camps:

Comfort Zone Camp is a national nonprofit organization that provides a safe and fun place for kids grieving the death of a parent, sibling, or significant person in their life. CZC offers FREE 3-day weekend camps, family camps, and virtual programs. All programming empowers children to grieve, heal and grow in healthy ways. For more information please check out the

flyer

.