Return to Headlines
Weekly Update 12/3/20 Facebook Live with Mr. Tidd
Facebook Live Transcript from Mr. Tidd 12.3.20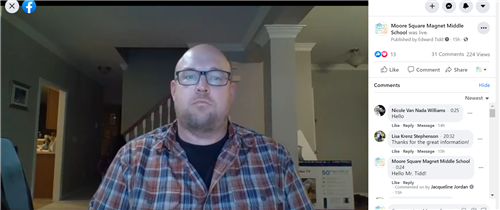 Greetings, Parents!
*Created by the 6th Grade Team for 6th-grade families, and adapted (with permission) to support all Moore Square families.
The Moore Square teachers of core content areas work together as a professional learning team (PLT). Part of the important work that we do when we are not providing instruction to students is collaborative planning and collectively analyzing trends and patterns in student data. We wanted to share some of our thoughts and insights based on our recent reflections and offer some words of guidance as we continue to navigate the uncharted waters of virtual learning.
Participating In Class
Cameras- Please encourage your students to turn on their cameras. We cannot require this, but we are noticing that those students who have their cameras on are more successful.
Students also now have the option to blur their background in Google Meet! So, messy room? Not a problem! With background blur, other students and the teacher will only see the student's face and nothing in the background!
Engagement- Students should be participating in class by asking questions, responding to the teacher's questions/instructions, and seeking clarification on assignments/tasks. If your child is perfectly quiet during virtual learning, then something is wrong! We encourage students to talk, work with peers, and engage in tasks online during class.
One way to ensure engagement is by asking your child to write down/take notes about what is happening during synchronous sessions. Even if you take one minute to ask your child to show you what they wrote down during synchronous time in classes each day, this is a huge step toward holding your child accountable for engagement.
Responsiveness- If a teacher or peer is asking a student a question and has to repeat that student's name three times over the course of a minute before getting a response, then it seems that the student is not listening/participating. We understand that it is cognitively unrealistic to expect our students to be fully engaged 100% of the time- virtually or face-to-face - and we know that occasionally students have technical issues that cause them to miss something that was said. However, it is so important for students to respond to what is happening in class for learning to occur. In a face-to-face classroom, the teacher is able to walk around and peer over a shoulder or ask the student a question and wait for a response. We are using interactive tools like Nearpod and Padlet online instead, but if the student is repeatedly not responding even by typing in the chat, then there is little room for learning.
Punctuality
Joining Class - Since our synchronous time is so precious, we rely on students joining meets promptly at the start time. Being a minute or two late is understandable, but joining 5+ minutes into the Meet can be disruptive and throws off class discussions/activities. More importantly, students who join late often miss important instruction.
Being Dismissed - In order to explain our asynchronous work expectations completely, it is also crucial that students wait to be dismissed before working independently. Leaving before the teacher is done speaking may lead to confusion on the part of the student or missing important information about upcoming work.
Keeping track of time - To assist with these issues, timers can be great. Using phone alarms or an app that provides reminders to switch classes is an easy fix! It may be worth trying several options to find what works best for your student.
Work & Grading
Late Work - We certainly understand that many students have challenges in completing work, and that is why we have accepted late work without penalty (and will continue to do so) during online learning.
We do ask, however, that you strongly encourage your child to turn in assignments on time. This allows us to provide meaningful and timely feedback in order to help students master learning targets prior to being assessed. If we are unable to ascertain how students are doing during the learning process and students don't get feedback from us, it is far less likely they will be successful on assessments. Additionally, it is more efficient for teachers to grade any particular assignment at one time; when students turn in late work, there will likely be a longer turnaround time in grading.
Retests - School policy on retests is that they will be granted for a failing grade (below 60) to allow students to show mastery. Retests are not granted as a means of grade improvement.
As always, reach out to us with any questions you may have!
Thank you!
---
Weekly Reminders:
All WCPSS food distribution will be closed from Dec. 22 to Jan. 1. Complete the

Winter Break Meal Bundle Form

by THIS Friday, December 4, at 3 p.m. to receive 8 breakfasts and 8 lunches per child for winter break. Visit

wcpss.net/food

for the form and more information.
Mark your calendar! Our winter chorus concert will be virtual on Thursday, January 14th at 6:00 pm.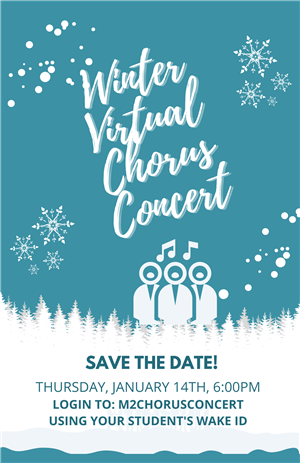 Friendly reminder that we will see Plan B Cohort 3 back in the building next week, with no asynchronous day.

The

magnet application

period is October 15 - January 28. If you have a friend or neighbor who is interested in attending Moore Square, have them check out

our digital school flyer

, to view specifics on the magnet application process, pictures, current elective offerings, sign-up for a virtual Q&A session, and more!

If you are a current 8th-grade family, check out our

https://bit.ly/M2highschooloptions

! Also, if you have a previous M2 student and would be willing to share your current WCPSS high school experience, please reach out to Magnet Coordinator, Lauren Shepard, at

lshepard@wcpss.net

If your Plan B student is bringing their own device to school when their cohort is in session, we must have a

completed BYOD form on file

! You can email your signed copy to Mrs. Skinner at

sgskinner@wcpss.net

Virtual Academy students should be on the lookout for their agenda coming soon to a mailbox near you!

Are you missing the weekly WCPSS email updates? You can

view an archive here

.

We want to remind families that students with temperatures reading 100.4 or higher are not permitted to attend school. Some families have expressed concern that the thermometer readings may be affected by the car heating system, especially on cold mornings. With that in mind, you may want to adjust your car's heat setting and/or have your student remove their outer layer a few minutes prior to arriving on campus. Also, if your student starts to experience any symptoms during the day, they will be

brought down to the Care Center

and you will immediately be contacted. If you have any questions about our daily temperature checks or health screenings, please don't hesitate to contact us. For your reference, you can also view the school system's

complete information guide

regarding returning to campus. Specific information about campus health screenings is found on pages 8-9 and information on when students can return to campus after having a temperature of 100.4 or greater is on pages 10-11.

Dreambox

- Students are expected to complete 5 lessons weekly on the Dreambox learning platform. This is to reinforce skills being taught in class as well as close learning gaps due to the pandemic. Beginning January 4th, any student that completes at least 5 lessons each week, will be entered into a drawing for a $10 gift card to Bojangles, Cookout, McDonald's, Chick-fil-a, or Starbucks. There will be one winner per grade level per week. Please encourage your child to complete their lessons! They are able to access the platform through their

Rapid Identity- WakeID Portal

.