Return to Headlines
Weekly Update 11/19/20 Facebook Live with Ms. Meyers
Facebook Live Transcript from Ms. Meyers 11.19.20
Welcome! I am Ms. Meyers, an 8th grade Social Studies teacher, and the Yearbook teacher. You can email me with any questions- bmeyers@wcpss.net
A lot of you probably already know that I have been asking for pictures. We have been able to complete a few pages, but we are not getting enough responses from a wide variety of families so I am working with the PTSA to give incentives for sending in pictures. The name of every student that submits a picture will have their name put in a drawing for prizes. We are working on the prizes and finalizing the plans and will blast out the information as soon as it's complete. I hope this will excite some of the students and get families who have not already sent us pictures to send some in.
Links to send pictures:
Email to- mooresquareyb@gmail.com
or
Add directly to our image library at Jostens-
https://images.jostens.com/415464728
The UID is 415464728 (sometimes it asks for this)
Link to our smore newsletter with all of this information:
Portrait Pictures: Thank you to the 270 students that came out last Wednesday to have their picture taken! We will be having a makeup/retake day in the future so be on the lookout for that date. In order to keep continuity, we will only use the LifeTouch pictures for the portrait pages, but you can send us a simple picture of your child with little background clutter and we design a page for those portraits.
Buying Yearbooks: You can buy your yearbook anytime at jostens.com. Right now, the price is $38 through Dec 18th, then they will go up to $40 through Jan 29th. After that, they will be $45 until we sell out. It is best to order your yearbook online! Sometime in February or early March, I will have to give Jostens a final number on how many books we want. Last year we sold out!! So, do not wait to buy one in person.
Timing of Yearbooks: We have to turn in half of the pages at the end of January and the second half of the yearbook pages at the end of March. They will be delivered to the school in late May/early June. We will set up pick up times for all of our virtual students once they become available.
8th Grade Parent Ads: You can purchase space in the yearbook to honor your 8th grader. The money we raise from the ads will help pay for any end of year activities that we may get to have. Here is the link to do that- https://www.jostens.com/apps/jcom/router.mvc?affiliateId=1345445
What will the Yearbook look like this year? We are doing things completely differently this year! We are setting it up by month and using a lot of different topics. We hope for it to be a reference book one day for what life was like under the pandemic.
List of topics we still need pictures for:
-M2Swag and Spirit Wear
-hobbies and talents
-arts and school projects (show us what you are working on at home!)
-Spirit Week
-favorite books/readings/quotes
-favorite hat
-snow days ( if we have any!)
-Winter holidays and track out
-March track out (there will be little turn around time for that one before the book is due!)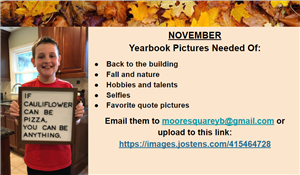 Reminders:
There will be a

food distribution event

on Saturday, November 21st starting at 9:00 am until all food has been given out.

Monday, November 23rd, and Tuesday, November 24th are Asynchronous Days.

Students should check in on Canvas/Google Classroom with each class for attendance and any assignments sometime each day, but there will be no live meets.

There will be no school November 25th-27th. Have a great break!

If you still need a carpool tag for afternoon dismissal,

please complete this form

.

If your Plan B student is bringing their own device to school when their cohort is in session, we must have a

completed BYOD form on file

! You can email your signed copy to Mrs. Skinner (

sgskinner@wcpss.net

)

Magnet season is here!

View this page

for a list of events from high school theme showcases to virtual information sessions.

Did you miss the Virtual Magnet, Early College, and Year-Round Schools Fair? -

You can still visit booths

! Not sure what a Magnet School or Early College is about? Here is more information on

Magnet Schools

and

Early Colleges.

WakeID Portal Unavailable Beginning Tues., Nov. 24 at 5 p.m. In preparation for required system maintenance to the WakeID portal (wakeid.wcpss.net), access to all WakeID portal applications will be intermittently unavailable beginning Tues., Nov. 24 at 5 p.m. Access to high priority WakeID portal applications (e.g. Email, PowerSchool, Google, Canvas) will be restored on Wed., Nov. 25 by 5 p.m, and all other WakeID portal applications will be available as soon as possible thereafter.

Important: Food Distribution During Thanksgiving Holiday: Curbside pick-up locations and Big Bus Food Truck sites will distribute two lunches and two breakfasts on Fri., Nov. 20 to also cover meals for Mon. Nov. 23 as all curbside pick up locations and Big Bus Food Truck locations will be closed on this date. On Tuesday, Nov. 24, our CNS team will distribute a four-day holiday pack at our curbside pick-up locations and Big Bus Food Truck sites as long as supplies last. Food distribution services will not be occurring Nov. 25-27.

If your student has i-Ready access, (on the school webpage under students tab- student apps), please have them complete the progress monitoring and lessons they can during the break. All students can also continue working on dreambox lessons as well.

Parents if you are looking for ways to utilize wellness skills to restore balance to the mind and body and deepen connections then check out Restorative Practice and Community-Building Circles

and

Wellness Training

for all WCPSS educators, parents, and caretakers.

Spirit Wear is back, for a limited time, and just in time for the holidays! Our best sellers are back, along with a few new items (including a throw blanket). Orders will close at 6PM on 11/29, and curbside pick up will be available 12/14-12/18. Don't miss out! Here's a sneak peek at some of what is available at our online store:

https://mooresquare.new.memberhub.store/store?category=SPIRIT%20WEAR

Who wants to help ensure that ALL Moore Square Students have a VERY MERRY HOLIDAY this year?! Mrs. Ashley Davis, the school's social worker, has identified 21 Moore Square families that could use a little extra help this holiday season. Can you help by providing one or more $25 Walmart gift card(s) for these students? 106 - $25 Walmart gift cards are needed in total & we need physical gift cards, not e-gift cards. Drop them by the school, pick them up & mail them in, or have Walmart ship them directly to Mrs. Davis. The deadline to have your donation in is Dec. 14. Thank you, Moore Square Families!

https://www.signupgenius.com/go/20f094ca59-moore1