Return to Headlines
Weekly Update 10/29/20 Facebook Live with the Family Academy
Facebook Live Transcript from WCPSS Family Academy 10.29.20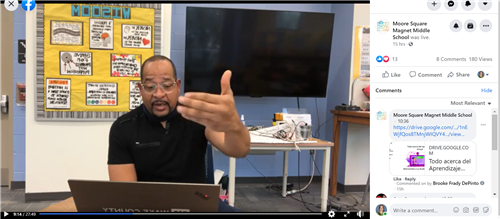 Due to technical difficulties, this broadcast was completed in two segments.
Video 1- https://fb.watch/1rUHU8Wd7k/
Video 2- https://fb.watch/1rNRn6yykN/
Click here to read through the presentation (en Español).
Reminders:
View our Covid Procedures and Guidelines google folder!

It is filled with descriptions, videos, and photos to help guide your student when we're back on campus together.

https://bit.ly/M2returntoschool

Please check Power School on 11/4 for first quarter's final grades. Report cards will not be mailed home.

The Virtual Academy registration window for the spring semester has been extended until November 4th. Use this link for more info:

https://www.wcpss.net/Page/46086

Please read over the

Student Accountability and Required Health Protocols

document and return a signed copy of

the last page,

stating you acknowledge that you have received and understand the expectations outlined if your student is returning to the building

for Plan B

, to

Mrs. DiBlasi (cdiblasi@wcpss.net).

The

magnet application period

is open through January! If you have friends or neighbors interested in Moore Square, please have them visit our magnet information Google site-

https://bit.ly/M2MMSmagnetinfo

. Also, if you have a former M2 student in high school and would be willing to share your parent perspective, contact Ms. Shepard (lshepard@wcpss) for

https://bit.ly/M2highschooloptions

Early voting has started!

Make a plan to vote! You can even

take the bus

to the polls, as

early voting locations

in Wake County are served by GoRaleigh, GoTriangle, GoCary & the Wolfline.

Let us know if they will be using carpool this year so we can have your tags ready for you! Getting you through the carpool line quickly is always our goal, but with health screenings and social distancing, it may prove a challenge this year. Knowing how many actual carpoolers we will have on November 9th will be a big help in planning. Use

this link

to submit the form!

School yearbook pictures will be taken on November 18th, in the main lobby by appointment only! Here's what you need to know-

https://bit.ly/M2pictureday

Yearbooks are on sale for $38 until 12/18. After that, they will go up in price until we sell out. Also, please continue to submit your yearbook pictures to

https://images.jostens.com/415464728

or email them directly to

mooresquareyb@gmail.com

.

Mrs. Skinner is available every Tuesday and Thursday until 4:00pm for

library book pickup

!

PTSA Announcements:

Moore Square Votes selfie challenge: Post a photo to Facebook or Instagram of you outside of your polling place (remember it is prohibited to take photos INSIDE your polling place) or mailing your ballot or of your BallotTrax with the hashtag #MOORESQUAREVOTES and you will be entered to win 1 of 5 Moore Square car magnets.